Did you know that 97% of Americans own a cell phone? And 85% out of these are smart phones? That's the size of your market when opening a cellphone repair shop in the USA.
This further highlights the fact that there are thousands of repair service providers in each state. To bring the heat to them, you need to stay on top of your repair game to attract a major chunk of customers, from this pool of smartphone users, to come to your store whenever they need a repair. Here are the top 10 cellphone repair services that you must be equipped to handle at all times: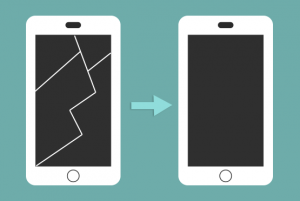 Time for another fun fact: 5,761 American people break their cell phone screens per hour – That's 2 broken screens every second. Crazy, right?
If at least one percent, out of these 5,761 screen breaking customers, walks into your repair shop, you'll have enough customers per day for your repair shop to be armed with this basic cell phone repair service. So do a regular check on your inventory for screen repairs and replacement parts and ensure that they're always in stock.
We can understand that the majority of these smartphone users are prone to be careless and vicious when it comes to charging their devices. Those users going about the plugging and unplugging process with incorrect chargers and (most importantly) manners, end up with devices that won't fluently charge anymore. So by the time these potential customers start seeking you out, make sure you have the availability of this repair service.
Battery Replacement
Similarly, owing to the bad habits of charging cycles, or a bad charging port can lead to this issue. Always ensure that you perform a quick battery check of all dead devices that come in for charging repairs. If the charging port repair doesn't breathe new life into them, chances are that they need a battery replacement. To cater to these issues, you'll need to maintain your inventory with fresh battery stock, so you can move ahead with the replacement.
Speaker damage is another common issue with smartphone users. Such complaints arise when users listen to music all day and every day. Primarily, phone speakers are very sensitive, so there can be different reasons for their malfunction. You should be able to check them all, diagnose the problem and then fix it.
All smartphone users will agree that this is the second most nerve wrecking problem to have in a phone, after the charging repair. People can walk around with a broken phone screen but they cannot even imagine to go about with a cellphone unable take high-quality pictures. So be there for all picture freaks to repair all minor and major issues of their smartphone cameras.
Water Damage Repair
Nobody wants to take their phone for swimming, but they cannot catch one when it's about to go for it. Water damage is the most unlucky and unlikely problem for every smartphone user. It doesn't happen quite a lot, but when it does it takes everything down. Therefore you'll need your full skills and a complete toolbox to repair a water damaged device and it's worth it.
Many a times customers don't like the way their phone is behaving but they don't know what is making it that way. So they look for someone that can help them figure out the real problem and get rid of it. So be ready for diagnostic services whenever you come across such cases.
A diagnostic service is the most interesting one because you not only get to entertain a customer, but you also learn new things about cellphone repair and problems.
Adult smartphone users are a victim of locking problems. This can happen when kids mess around with their phones and lock them. But whatever the reason may be, the phone owners want to get their devices unlocked as soon as possible. You should offer unlocking services for all cellphone types to get your shot at these customers.
Software Installations and Fixes
As a smart cellphone repair service provider, you must offer software installation and bug fixing services to smartphone owners. Keep yourself and your repair technicians updated with new cellphone models and how to install the most popular apps in them. You can also help them fix virus or other bugs in such apps to make them smoother.
A common issue of smartphones is damage of user's data. Most people manage to recover their lost data by themselves through videos and stuff. But others go running to a repair professional like you. So be sure to take such opportunities flaunt your IT skills to these customers.
Let them know!
With our cellphone repair shop software, you can organize a POS system for all these repairs in no time. If you are running a cellphone repair shop, you must already be showcasing all these 10 top cellphone repair services and more. But do these smartphone owners know that you have all the solutions to their cellphone problems? If not, may be that's the reason that they are not coming to you. So, display your cellphone repair services on your social media pages as well as on your physical store. Make attractive infographics of what your repair shop is capable of doing and spread it across.
If you also deal with computer repair services at your store, we have compiled lists for top hardware and software computer services. Repairdesk is an all-in-one repair shop software, it will manage both cellphone and computer repair sales of your store. Try it out!
Sign Up for a 14-day FREE Trial