Black Friday is all about people coming into your shop and getting some sweet deals. Of course, if you want to make the most of it, you'll have to look the part as well. In Part 2 of our Ultimate Black Friday Guide for Repair Shops, we'll be talking about how presentation factors into everything.
The RepairDesk Ultimate Black Friday Guide for Repair Shops

Presentation
Our complete guide covers all aspects of the Black Friday experience for cellphone and computer repair shops and helps you master each one individually. Let's get started with how to perfect your look and feel for Black Friday.
A guide to managing Black Friday presentation
If you want to have customers to do business with on Black Friday weekend, you've got to make things attractive for them. Presentation is a key aspect of whether a customer will buy into your deals or not. According to a survey, 95% of people choose where to shop based on the store's external appearance. That means that if you tweak your store's aesthetics, you could see a dramatic increase in customers.
We'll be talking about two major fronts on which your overall ambiance should be based – online and real-world.
Online relates to the way your website is laid out, how you're promoting your offers there, and the sort of content you're putting out.
Real-world deals with physical collateral in your brick-and-mortar stores which help promote your Black Friday offerings.
Working on a combination of the two, you can create the perfect hook for customers to come to your store and do business. This guide will tackle each front individually so you can have a holistic outreach program that ties in with everything perfectly.
Mastering ambiance in the real world
Black Friday weekend marks the beginning of the holiday season, and customers always look for the best deals during it. Since they need to get their holiday shopping done, it's a great opportunity for businesses to make some strong sales. During this time, customers will be trying out new stores, buying things in excess, and generally create a healthier spending environment for retailers. To have these customers end up in your store, you need to know what attracts them, and how to best display it.
Understand your customer
Understanding your customers is the first step. Learn about what demographic they belong to, what are their interests, what they are more inclined by. Use this data to then shape the look of your store on Black Friday. If they belong to a certain gender, age group, or income bracket, you'll need to tailor your collateral to their preferences. For example, if people in your area tend to spring for iPhones, having that featured in your branding would definitely help. Senior citizens might not be excited for the latest Galaxy Note or Google Pixel phone, but Millennials like seeing offers for it. Keep that in mind.
Arrange your store smartly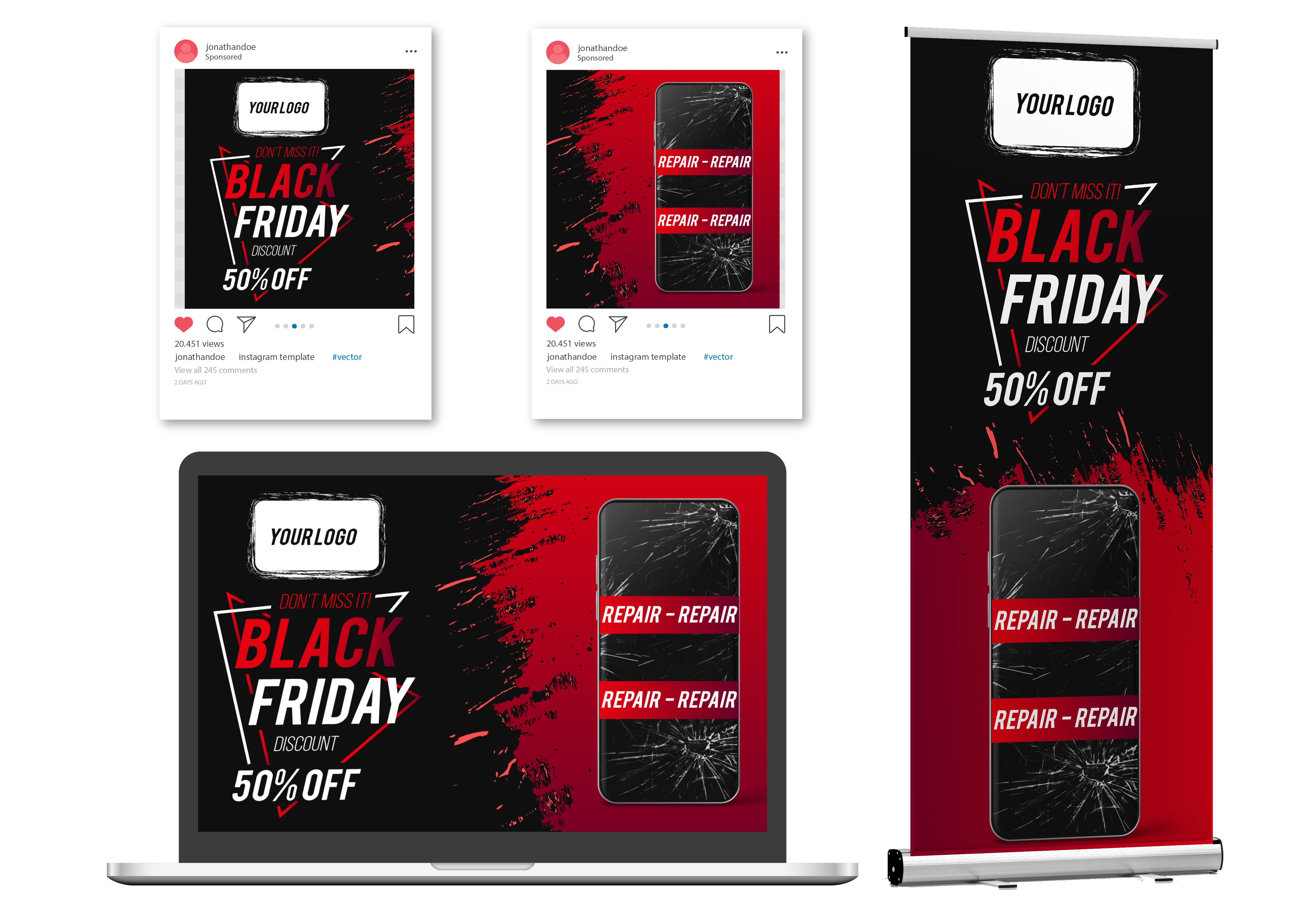 Once you have all your material created, you should put them in easy-to-view areas. Keep your major offers front and center. Use the spaces in your store smartly to display the offers you know will be hits. Your store windows or entrance areas are great for this purpose. One great idea is to stack your hottest-selling items around the store, and also keep them nearby so your staff can easily refill shelves. This serves to reinforce your big-ticket items, motivating customers to go for it with a little push.
If you're looking for material to put in your store, we've got a great design for a flex standee along with a bunch of other perks in our Black Friday Marketing Toolkit. You'll get instant access to social media posts, website banners, and a standee design that you can edit in Photoshop or any other program. Best of all, it's completely FREE!
Check it out now.
Get FREE Black Friday Marketing Toolkit now
Mark your discounted items
If your customers are walking around the store looking at items in displays, then marking items on sale will help. Display signage and add stickers to items that are discounted, so they can easily identify them. It would also help to make them more easily identifiable by grouping them together or creating a separate display or bin for them. Customers love convenience, so you should give them more of it.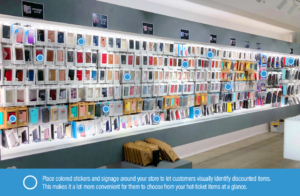 Set the mood with music and videos
Music can really help set the mood for customers that walk into your domain. Prepare a holiday music playlist that you can have running at your repair shop throughout the day. The music should be in tune with the shopping experience you want your customers to have. To make customers feel a sense of urgency, put in tracks that are faster and more lively. If you want your customers to take their time shopping around, consider putting in slow, somber mood music. Your music shouldn't be loud enough that it becomes annoying. It's there to lightly suggest, not completely dominate.
To make your customers' experience more interactive, you can put a video up next to the products you're selling. This creates a hotspot in your store where customers will stop for a while and check out your offerings. You can put the marketing video for the latest Windows Surface computer, for example, or the new iPhone's specs. Visual information is retained a lot more by customers, so be sure to use that to your advantage.
Accessorize your staff members
Finally, we'd recommend decking out your staff with accessories to help with sales. Have them wear t-shirts, caps, or badges that promote offers around your store. They can even carry flyers around that have offers listed down for easier reading. Preparing your staff for Black Friday sales also means that they're prepared to deal with people's queries. Make sure they know what offers are on sale and how to get the best value. Customer service ties into your overall presentation as well, but we'll be talking about that another time. *wink wink*
Keeping your digital storefront on-point
Now that we've discussed the experiences inside your store physically, it's time to talk about what you can do for people who are online instead. Your online presence matters a lot, especially with the way digital platforms have evolved (and also of because COVID-19). If you want to be able to make the best of the holiday sales, then make sure you have your online storefront on-point. Here's a couple of things to consider.
Make sure your website is ready
Your website is the most critical part of the digital equation. It needs to be appealing, responsive, and most important of all, super fast. Make sure that its speed is taken care of, and you don't have any loading issues. Research shows that more than 50% of visitors will leave a website if it doesn't load in under 3 seconds. So it's definitely important to have it running smoothly.
Have your website administrator optimize your site and keep it running steady under heavy loads. Tools like Google's PageSpeed Insights and GTmetrix can help you pin down the improvements you can make to your website speed. Use the suggestions they provide to optimize your website and have it load faster. Remember to test thoroughly when making any changes, and always keep a backup of your work before you start modifying things.
Don't forget that your traffic will also be coming in from mobile devices. Keep your website optimized for them by making sure it is responsive (i.e. mobile-friendly), and doesn't chug while loading on phones.
Update your website design and catalog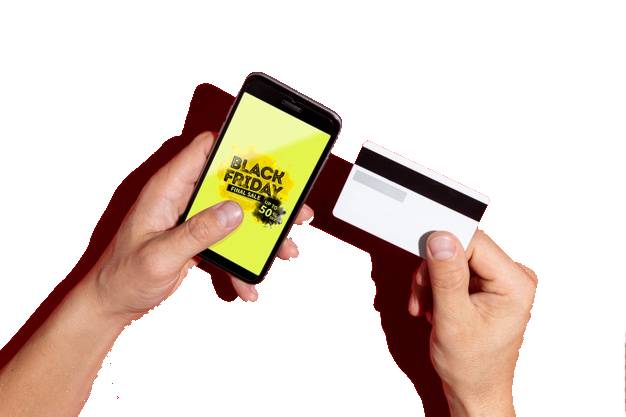 Getting your website ready for Black Friday also means you'll need to update prices, descriptions, and add new bundles to your catalog. Use new images that are tagged with your special offers and post them around your website. Have customers click on them to be taken directly to your special offers, so they can checkout faster.
For item descriptions, you'll want to use marketing-centric words that have a lot of pull. Words like "AI-powered", "high refresh rate", "OLED display" and "5G" can be pretty powerful when drawing in a certain crowd. It also helps that search engines will be able to rank the page based on these keywords.
Finally, make sure your SEO is up to the mark on your website. Filling in product descriptions, giving pages unique titles, adding images, and giving each image alt-text is necessary. Remember, you're going to want to play by a search engine's rules if you want people to search for you.
Closing Thoughts
Capitalizing on Black Friday sales means putting your best foot forward. You'll want to put extra focus on your repair shop's presentation during the holiday season. Adding festive decorations, placing marketing collateral, and arranging your store strategically will help guarantee your sales. Also, don't forget to make sure your website is up to snuff for those that can't come to your physically.
Whether it's online or in the real world, your appearance is going to heavily determine how people see you and if they want to do business with you. Think of it as a job interview – you really want to make a good impression, and the only way to do that is by putting on a good appearance. Leave no stone unturned and do everything that's necessary to present the best image that you can.
When the sales start pouring in, make sure you've got the right repair shop software for the job with RepairDesk. RepairDesk is the ultimate Black Friday repair shop POS that can help you create a repair ticket or process a sale in just sixty seconds. That's not all, though – you'll be able to manage your inventory, review your sales figures, create professional invoices, and integrate with 40+ partners, all using one single platform. With RepairDesk, you have everything you need in one place. Get started with RepairDesk today by signing up for a FREE 14-day trial.