We're super excited to introduce 🎉 RepairDesk 2.0 to the cell phone repair world. Our goal with this next-gen repair shop POS system is to help you efficiently manage your repairs and open doors to new business opportunities.
You've been (and still) dropping your feedback at our social media and support channels, requesting more features, more stability, and easier workflows.
We listened! 😎
With RepairDesk 2.0, you can carry out your most critical and frequent activities on this point-of-sale software without any glitches.
This means you save more time:
navigating across the POS software
managing products
tickets and invoices
employee commissions
communicating with customers
getting your team acquainted with RepairDesk 2.0
everything you do on RepairDesk 2.0
We've also added the most demanded features to this version:
Product variants
Invoices based on Hourly Billing
Chart of Accounts
Watch these fantastic features in action on the RepairDesk 2.0 launch, and let us know your thoughts.
We will continue to improve these feature, and more will be added by the end of this quarter. So, stay with us!
In 2021, we announced beta access of RepairDesk 2.0 in which we only provided highlights of RepairDesk 2.0. Today, we'll dive in and see how exactly RepairDesk 2.0 makes your life easier.
Introducing Product and Repair Parts Variants
Your repair shop deals with products and repair parts that have different models. In addition, some of these models come in different variations of size and color. Reflecting these variations in your repair shop POS system is vital for keeping an efficient track of your physical inventory. It also helps you to easily select the correct items from POS without getting confused in product descriptions.
Selling these product and repair parts variants is now possible in RepairDesk 2.0. You can add the product variants manually or import them by uploading an Excel file.
Import manually
You can easily add a new product to your inventory and enable variants while specifying additional information.
Import through the Excel-based Wizard
You can import the product with all its variants by using this three-step import wizard.
From the wizard, you can download the Excel template that you would fill with product data. The template includes data-entry instructions for each cell so that you may not falter. After filling the data, upload it back to the wizard, and proceed with the other steps. And that's it!
Introducing Invoice on Hourly Billing
In RepairDesk 2.0, you can now generate invoices based on the number of hours your technician has spent on a repair ticket. Your invoice will reflect these hours as a separate entry along with other line items.
You'll have to turn the hourly billing on for the services individually before you can use them. So, after you've turned it on, RepairDesk POS provides you with an additional set of options while working with tickets and invoices.
For example, you can specify the hours spent on each line item while creating an invoice on the go.
Introducing Chart of Accounts
Keeping the accounts up-to-date and accurate is critical for repair shops. Every day, your cell phone repair shop consumes repair parts, claims warranties, orders new stock, pays billables, and incurs costs.
No one has the time to record it manually. You need the right accounting tool that reduces your legwork. Even if you are using accounting software, like Quickbooks or Xero, for your cell phone repair shop, you still have to spend more time syncing it with your repair shop POS system.
Your financials won't be accurate without including operational accounting. You need to put the repair parts consumed in tickets automatically. You need to auto-calculate the stock valuation, hourly billings, and special orders that occur out of the blue.
Without an automated accounting system, you can never have the complete picture of your business standing.
RepairDesk saves hours of effort by offering an inbuilt Chart of Accounts system with detailed transaction history, balance sheet, and reports that reflect the true picture of your repair shop. All accounting information is represented in different account types like Income, Expense, Equity, Liability, and Assets. You can always add more account types to suit your financial workflows.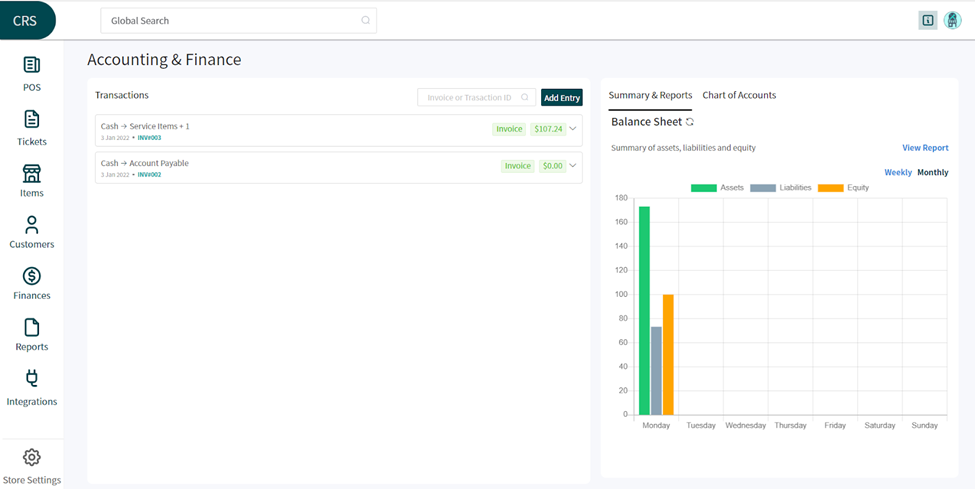 The inbuilt Chart of Accounts module enables you to view the accounts right in your point of sale system. In addition, you can download any report in standardized reporting formats, which will help you routing invoices and ledgers to third-party vendors on a professional level.
It's a 'Super Slick' Repair Shop Software
You've probably noticed that the previous version of RepairDesk is not always stable. This version of the cell phone repair shop POS system fixes almost all the bugs reported in the previous version, bringing you a more stable experience.
We want to make sure that your business has what it needs to succeed. That means giving you more stability so that your customers don't find themselves in limbo while waiting for your reps trying to fight a bug in the POS system.
It's a 'Blazing Fast' Point-of-Sale System
RepairDesk 2.0 comes with a complete redesign of its architecture to simplify the processes.
Back in the old days, the system processes would improve at surface level, which used to break things sooner or later. RepairDesk 2.0 is not just surface beautification – it's a mutation of the core engine of RepairDesk.
Let's see what that means.
Create tickets faster
The new version of RepairDesk point of sale system simplifies the ticket creation process.
You can create a ticket in just six quick steps, instead of nine. You can also add service items to favorites and completely avoid category navigation. This means, you can just instantly create tickets.
Easily generate invoices
The invoice creation is a new experience. In RepairDesk 2.0, we have reduced the visual noise to let you focus on numbers and items. Also, you can now easily change the details, like hourly billing, of line items on the go.
Efficiently manage your inventory
Products, repair parts, and services are now collectively called, "Items". You can now maintain both simple products and product variants in your inventory. By the way, I will write a separate article on item management in which I will also discuss how stock and retail prices are managed.
Now you can configure the Service items for hourly or fixed billings, create for multiple brands and multiple verticals in a single go. Moreover, you can instantly associate one service with multiple models, saving you hours of work.
Simply put, instead of you trying to make everything work for you, RepairDesk 2.0 make things work for you.
It's An 'Easy-to-Master' POS System
RepairDesk 2.0 cancels out any need for rigorous product training before you can actually start using it.
Guided tour
After signing up, the moment you land on the app and have the first glimpse, we will hold your hand and guide you step-by-step in an interactive way. Together we will perform tasks like setting up your profile, creating tickets and adding items.
User Guide
At any point you feel you are lost in the application, you can always access our knowledge-rich User Guide. To help you easily find the information you are looking for, we have organized the user guide into categories that better reflect the system hierarchy.
Videos collection
On the RepairDesk POS Home screen, you can access the videos collection. The videos collection provides a wholesome learning experience. For example, when you click a video in the collection it opens as a full-sized popup on the screen greying out the background to save you from distraction.
In addition, you can see easily navigate between videos by either using a preview list at the top or tiny navigation handles.
What's coming up next
RepairDesk 2.0 is the future of cloud-based cell phone repair POS. We want to make sure that your business has what it needs for success in this digital age, and we want to give you more stability and control.
With our new platform, you will be ever more connected with your customers and vendors and gain insights into operational and financial performance.
We are hosting a webinar on 1st Feb 2022 for a limited number of people interested in exploring RepairDesk 2.0. Show your interest here by joining us in the webinar.