Let's start off with a simple truism.
The fact that 'Every Business Exists to Make a 💰'.
Even when it is passion-driven – as most longstanding, successful ventures are – it is still bound by the dictates of material reality. Restricted by the fundamental premise that 'nothing gets created out of nothing': the real-est principle there is governing the perennial, unapologetic functioning of our world.
'For man is what comes reaped from the toil of the hand, the sweat of the brow', as the popular biblical paraphrase goes.
All companies, from the most basic corner shop outfits to massive-sized, multi-chain, repair brick-and-mortars, require both materials and human (increasingly machine) inputs to operate; in line with the said rubric. These acquisitions, ranging from a sturdy parts supply chain to a skilled labor pool, cost money. An expense that only grows as companies scale.
---
Automated financial accounting is non-negotiable these days 👨‍💻
Initially, these startup overheads have to be financed by the business owners through funds relocated from elsewhere. Later, the venture needs to become self-sufficient to remain viable. Specifically, it needs to retain net profits following 'investment plug-ins' for the next business cycle.
Ideally, after the requirements of owners' regular compensation (in the form of dividends) have been met, there should still be enough profit left to add to the business's investor valuation. This is the point where a company is said to have definitively 'made it'.
Now, as every business owner knows (and aspirants may relate), this journey towards growth requires constant documentation. Archaic, hand-maintained ledgers simply don't do in today's fast-paced work environment; not even for the smallest operations. The risks of missing out recording on what are deemed 'negligible' transactions – not to mention the big cashflows – and making faulty calculations are too dire to contemplate.
For repair shop owners, one way to alleviate this concern is to use dedicated, new-age, accounting software applications to do all the recording heavy-lifting. In this category, QuickBooks and Xero are two market-leading utilities widely acclaimed for making business communications more effective – rendering snap financials accounting a breeze.
---
All is not quite roses, though…🌹🥀
But their use comes with an elephant snag, at present; even alongside such intuitive, speedy interfaces like RepairDesk.
The problem with these separate, third-party subscriptions is that they require constant syncing with the shop's/business's deployed POS system.
Oftentimes, this manual alignment distracts from the actual work and other areas of day-to-day business management. Necessitating, sometimes, even an entire day devoted to streamlining the affair – an issue made particularly acute in the case of big corporations.
What merchants need, as we've long been informed through our customer interactions, is an automated fix to this seeming madness.
A software 'hack', if you will, integrated with the main POS and Inventory Management Systems – constantly running in the background, providing real-time financial health indicators and reports at the instant.
Such a useful framework – it can easily be imagined – would in many ways absolve a repair business of the need for hiring an accountant. Or for resorting to third-party applications, with their added expense and difficult learning curves.
---
Say Hello to RD 2.0's 'Chart of Accounts' Feature (Read: Real-Time Ledger) 📈📊💵
Well, meet RepairDesk 2.0's Chart of Accounts plug-in, where we've attempted to achieve just this.
Read the account below to gain a full, detailed gist of exactly what we're on about – as we go through each feature aspect of the new release.
---
A Quick Primer
Before we jump into the mainstay of the feature, it's probably wise to become (re)acquainted with a brief introduction.
According to Investopedia.com, a business's Chart of Accounts is a 'digestible breakdown of all the financial transactions that a company conducts during a specific accounting period, broken down into subcategories (such as expenditures, revenue, assets, liabilities, and petty cash balance, etc.)'.
So the tool, taken simply, is a fast-comprehension device designed to quickly reveal a commercial entity's financial health to appraising onlookers. These can be both investors interested in acquiring an ownership stake or the venture's own managers (keen on keeping track of their business performance by the numbers).
Our cited Investopedia resource further states that 'COAs can differ and be tailored to reflect a company's operations. However, they also must respect the guidelines set out by the Financial Accounting Standards Board (FASB) and generally accepted accounting principles (GAAP)'. Reporting regulations that mostly all popular financial accounting utilities and add-ons – including RepairDesk's latest outing – strictly adhere to.
When integrated into POS software dashboard interfaces, a Chart of Accounts appendage distills changing, real-time, financial information within minutes.
Our RepairDesk 2.0 Product Manager Mahad Sheikh sums up the intention behind the new feature nicely (made public during the upgrade's February 1 launch webinar):
'Our aim behind 2.0's Chart of Accounts plug is to provide a snap graphical representation of the synced repair shop's financials – categorized under revealing heads like assets, liabilities, equity, etc. – to the subscribing merchant. Even though the feature was a little tricky to create from a developmental standpoint, its incorporation reflects our receptivity to longstanding customer demand. Through automating revenue, profits, and loss tracking, we've designed it to relieve much of the need for a third-party accounting software integration. It can prove super handy for merchants attempting to file their annual returns'.
---
The Feature in Practice
---
Quick Views from the Home/POS Screen
The Chart of Accounts plug is viewable as follows on the main RD 2.0 POS home screen – inserted neatly in the page's lower right corner (where it doesn't impinge on the other deployables; flagged in red in the image).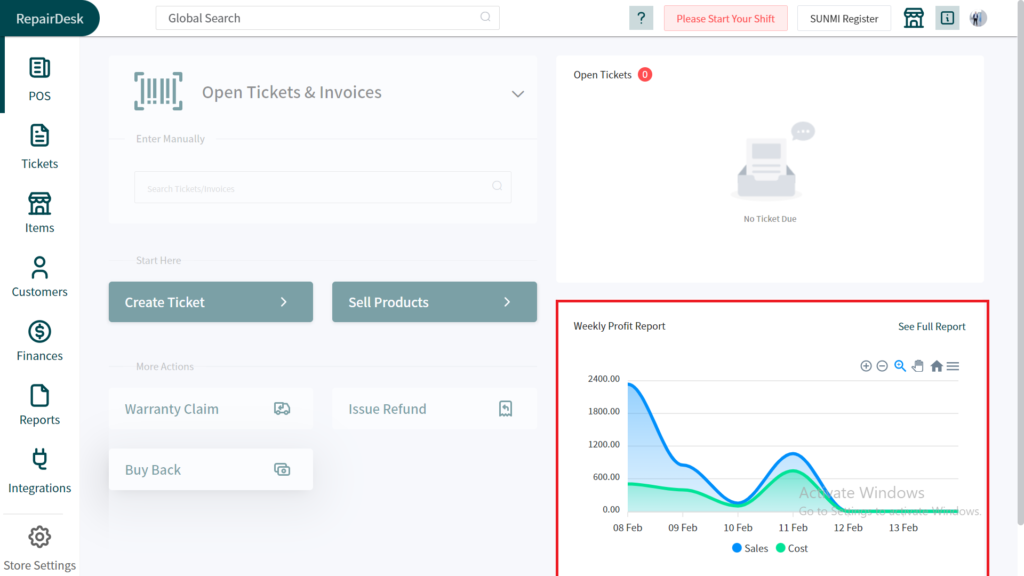 ---
As can be seen, the graphical overlay of the chart is both simple and easily discernible – inflicting only a minimum of what is referred to as 'cognitive load' on the user mind frame. The color-coded sales and costs curves impart both speedy and accurate overviews of current business performance; detailed enough (but not too much) to make time-pressed sales decisions.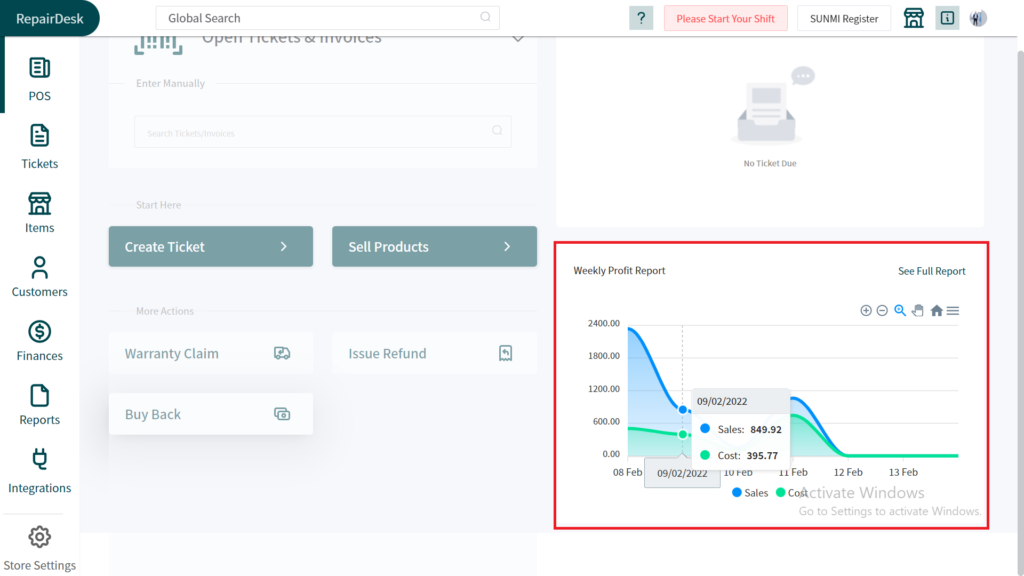 ---
The point-tracking option built into the chart adds to this snap assessments' convenience, narrowing down sales and costs accruals by date. To do this, the user simply needs to hover/trace their mouse cursor over any point on the joined curves.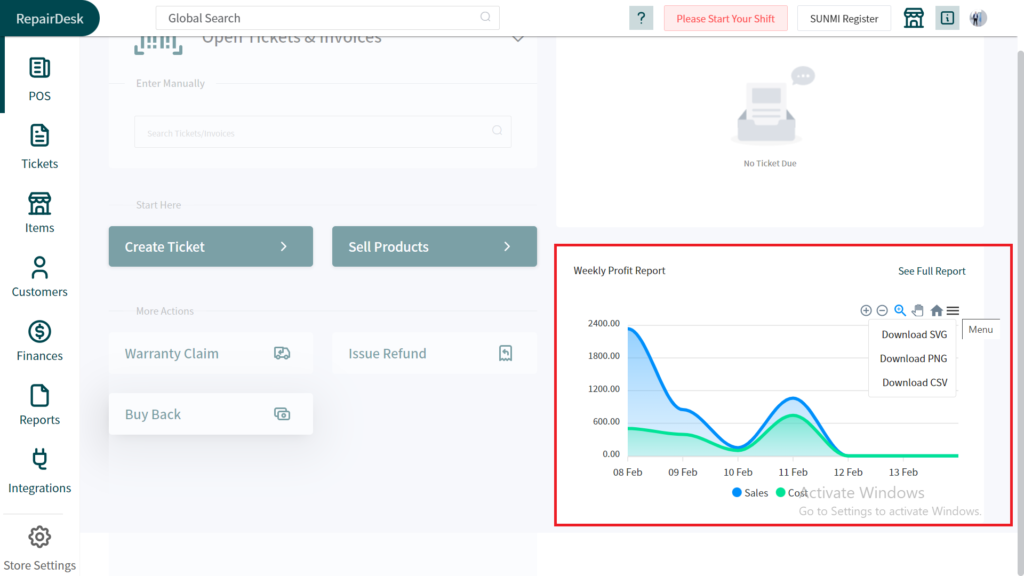 ---
The home screen chart relay also comes with the option for instant report downloads in three popular formats: SVG, PNG, and CSV.
---
The Alternative, Detailed Route
The Chart of Accounts feature – its more detailed semblance than the one above – can also be accessed via the Reports tab on the left screen pane (placed sixth from the top).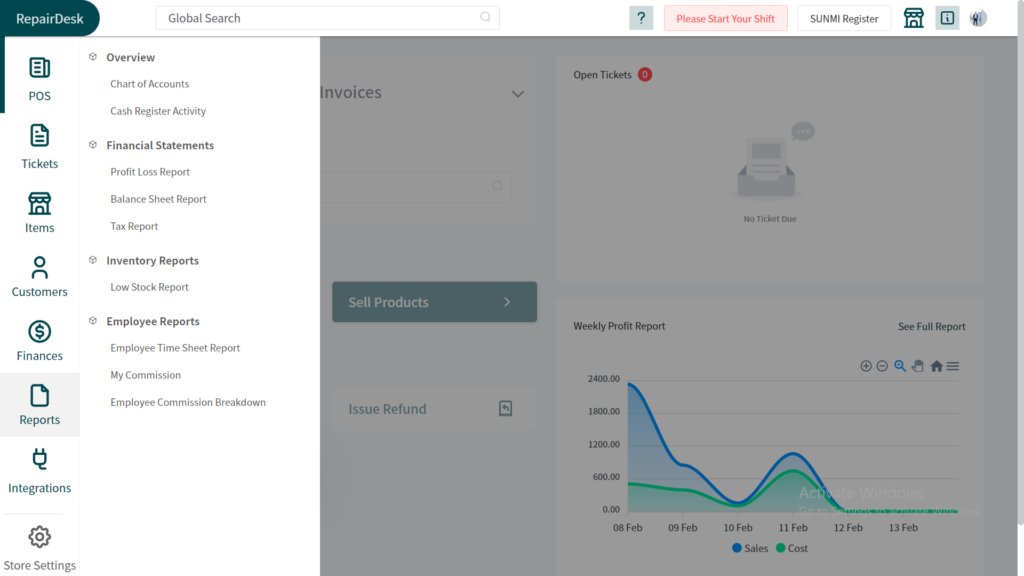 ---
The tab options come further subdivided into the Overview (contains the Chart of Accounts redirect), Financial Statements, Inventory Reports, and Employee Reports sub-categories.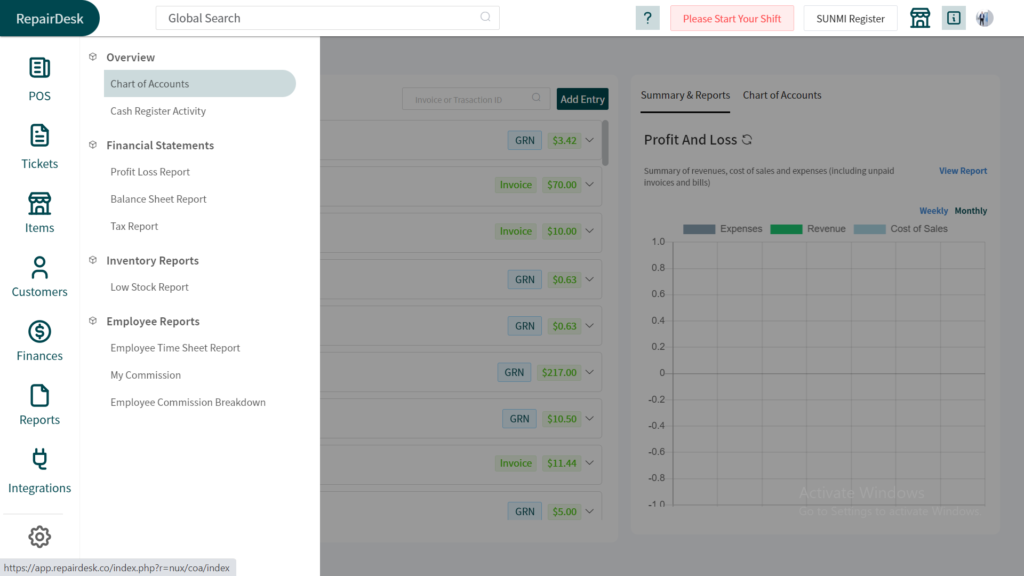 ---
The new screen comes bifurcated with the Accounting & Finance (on the left) and Summary & Reports/Chart of Accounts (right) columns – designed, again, for snap financials ascertaining.
The left-hand column, in turn, provides a clear, updated, list of all the currency exchanges (by type – such as Inventory, Stock-in-Transit, Cash, and Pre-Received Income) processed on the POS.
On the other hand, the right division, narrowed for Profit & Loss, provides a tabular overview of the business's Expenses, Revenue, and Cost of Sales – presentable in both monthly and weekly formats.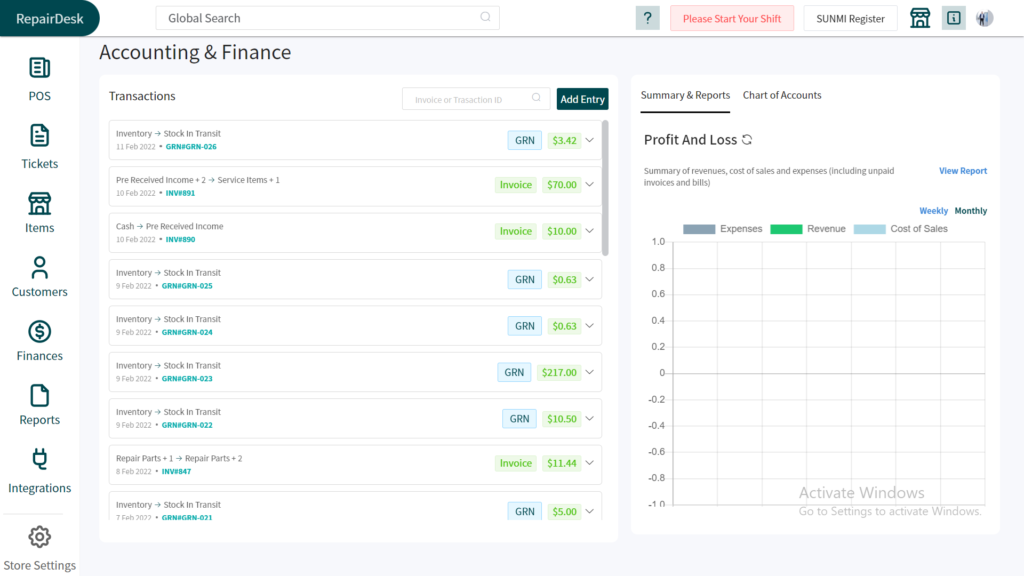 ---
A 'View Report' option is also available – which provides a detailed breakdown of the said heads (specifically, from the product categories where they come accrued – summed and refined for eventual net profit/loss calculations).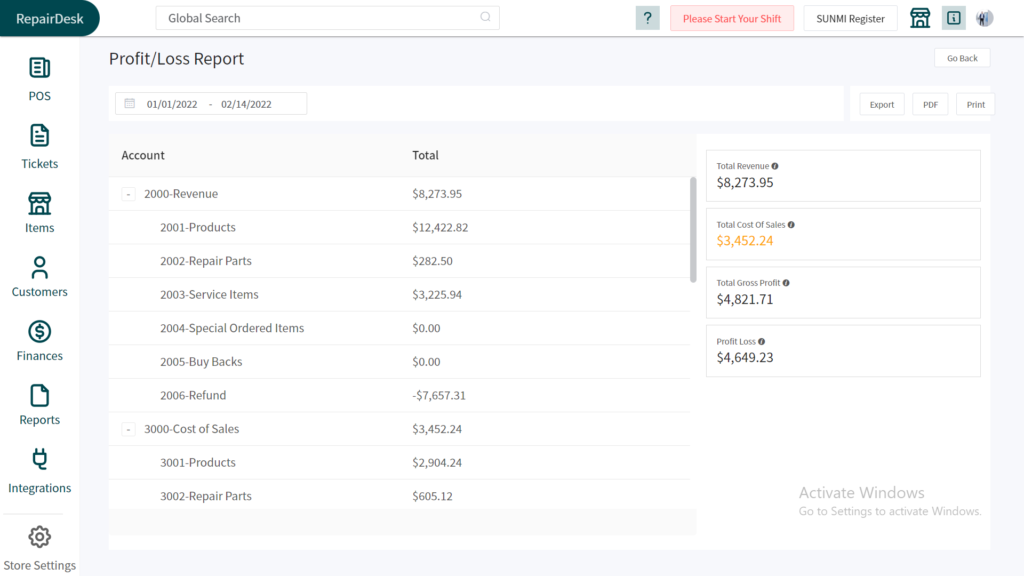 ---
The Chart of Accounts feature on the extreme right offers clumped (default) options for Expenses, Revenue, Cost of Sales, Assets, Liabilities, and Equity. These can be easily expanded into more minute drop-downs for individual cost and revenue exchange appraisals.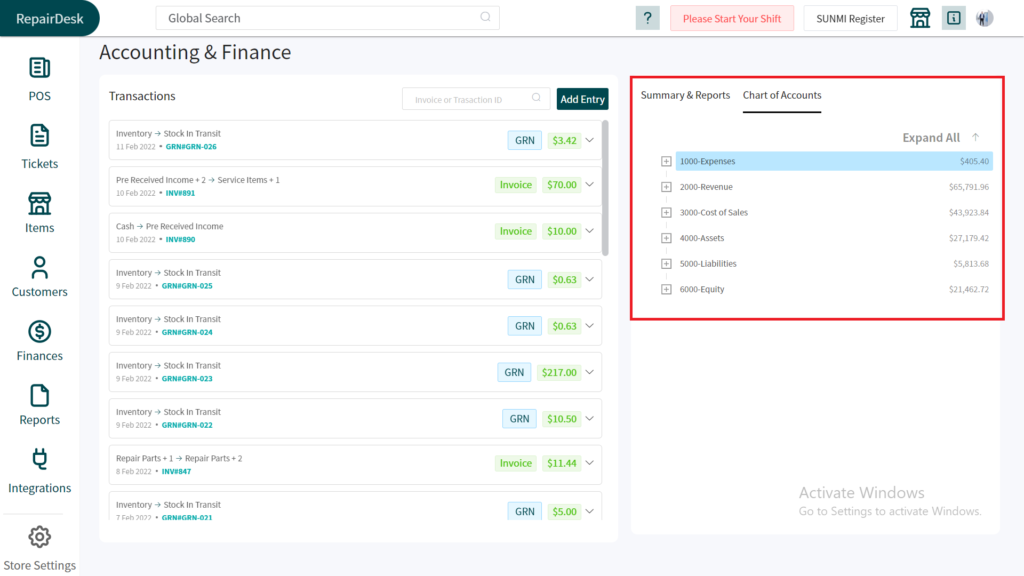 ---
To reap the quick reporting and repair shop finance analyses benefits offered – unmatched, as yet, by any other end-to-end POS + Inventory Management System in the field – subscribe to RepairDesk 2.0 today!
Say a resounding goodbye to all the accounting and record-keeping hassles that you've been used to – now made obsolete with our revised interface 👊.