Have you ever been extremely bothered with a customer that just does not understand what you are trying to tell them? Has the customer resorted to aggressive behavior and shouting? We have all been there. If you have a cellphone repair business, you'll have to deal with a variety of customers. Some will be right, and others will be wrong.
The happy ones will make you happy likewise, but once in a while, you will encounter the hyper customer who just won't stop yelling. In the retail world, the customer is KING & the key to success is knowing how to handle an unhappy king. 
Here are a few tips for you to diffuse a tense situation in your cellphone repair shop:
Stay Cool & Don't Take it Personally
Your intention should always be to provide the best customer service, whatever the situation.  When you are dealing with complaints, try not to take harsh words to heart.
If a customer starts yelling or being rude, the situation will get worse if you respond in a similar manner. In fact, it can affect your whole reputation if you treat one customer negatively.  Maintain your composure, control yourself and let him/her say their heart's desire.
Use your best listening skills: Assure them you care
The first thing an angry customer wants is for someone to listen to their complaint properly. Start listening and maintain proper eye contact with a concerned expression. Ask questions politely where relevant to convey that you are interested in their feedback.
Once the customer is done speaking, highlight what you have heard calmly and tell them how you can help them. Do not tell them what you CAN'T do for them, tell them what CAN be done.
Express Empathy: Put yourself in their shoes
Empathy is powerful, try to put yourself in their shoes and then rethink their problem. Assure them that you understand them and/or are experiencing the same inconvenience because of the existing problem.  
Make sure your body language also communicates this understanding and empathy. Use words like "I can feel…", "I can understand…" or "We realize your worries & concerns".
Apologize Gracefully
Tell Them They're Right! The best way to do this is to start by agreeing with them. Agree even if there's a misunderstanding because disagreeing will leave a negative impact on them. If you're at fault, make an apology for not conveying your services as promised & explain yourself right away. Don't make excuses and confront the complaints being presented with a solution-minded attitude.
Perform quickly: Respond to their problems proactively
The most critical phase is presenting the solution.
Do whatever is necessary to fix things; offer discounts, refund invoice etc. anything. Be careful not to make promises you cannot deliver but do promise to do everything you can, to assist. But make sure that your client is thrilled with your customer service.
When the anger situation is over, follow up with your clients to make sure things are going well and ask for their feedback.
In a business, even if you are successful in proving yourself RIGHT in this situation, you'll lose.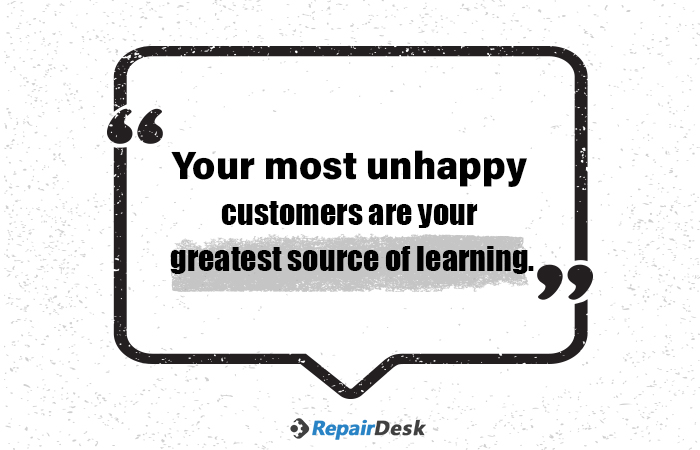 It's better to take the opportunity to create a loyal customer because a small expense now will yield great returns in the future.
Just like you, we value our customers, so leave us a comment, give us your feedback, and if you are not our customer yet, sign up to RepairDesk for a 14-day free trial of our cloud-based POS software.