Improvements:
Transaction Log Report
With this enhancement, the total cash difference between starting and ending shift (if given) will be displayed against each payment method. Also, in case of cash payments, you can view the opening and closing balance against any shift.
Start/End Shift
Following improvements have been made in start/end shift functionality on iPad POS Register app
View a breakdown of the amount paid through each payment method at the time of shift end.
A new field for adding notes has been provided while starting/ending an employee shift to let them add shift details.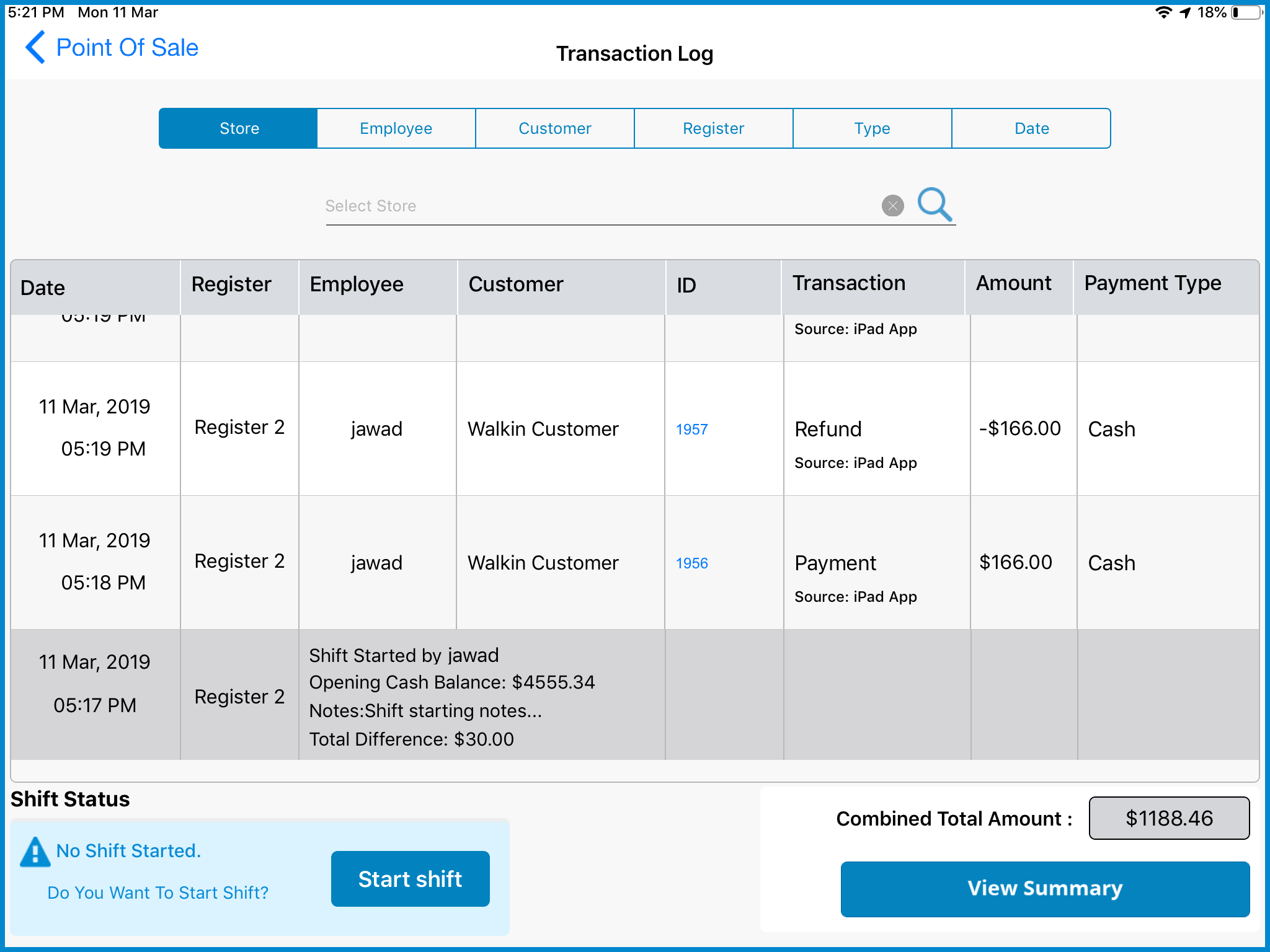 Hide Categories on POS
You can now hide repair categories or accessories from the POS screen if the trigger "Show on POS" is disabled from your web account. This setting will automatically be synchronized to your iPad POS Register app.
Default Tax Class
Now the users will have an option to change the Tax Class from iPad but by default same settings that are saved in your web account will be replicated on iPad POS register.
Also, the toggle to mark an item as tax inclusive or exclusive has been activated on the iPad POS Register app to work properly.
Bug-fixes:
There was an issue that the serialized inventory items were sold from the iPad POS register app without selecting serials. With this bug-fix, now it will not allow to checkout without selecting serials.
Some design issues were observed when printing thermal receipt from iPad POS register app. This issue has been fixed and the data will now be printed properly.
In case of repair items, the value for warranty applied to a repair device was doubled on an invoice. This bug has been fixed.
An issue was reported that the customer signatures were not captured on printing a thermal receipt. This issue has been fixed now and now you will get the signatures on the printed thermal receipt (in both cases, that is, customer-facing display & intake signatures).
Enjoy using the world's 1st iPad POS solution for cell phone repair business.
RepairDesk makes your life easier by helping you manage your work effortlessly and with just a few clicks. We have everything – from creating repair tickets to inventory management and more. Get a FREE trial of our all-in-one POS software for your cellphone repair store and see it for yourself!