Did you know that 46% of all searches are based on local SEO? When a person searches for something online, chances are that they are looking for whatever is within their immediate reach or close to their geographical location. This makes local SEO highly important for businesses who want to get noticed in their surrounding areas. However, even with this, 56% of businesses have still not claimed their 'Google My Business' spot. This is where you need local SEO!
What is local SEO?
Local SEO is the process of optimizing your online presence to attract more business from the searches around your locality. Say, for example, you search for – 'best restaurants in Los Angeles.'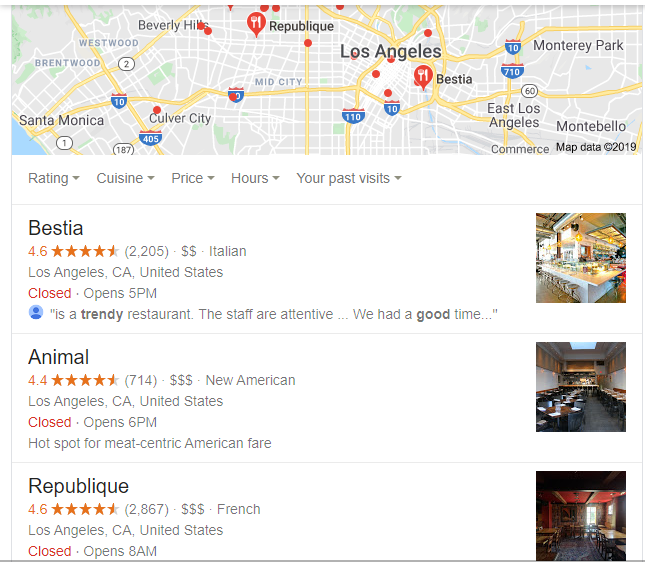 You get this box of reviews and recommendations. The above box is known as 'Snack Pack'. When you register your business in 'Google My Business', this is where you are most likely to appear.
Note: Snack Packs on average generate 33% clicks on the results page
Now, when we know we can get ranked and attract 33% of the Google Searches towards our business, the next thing that we need is to learn how to do it. Fortunately, this 2-minutes read ahead is all that you need to know how you can increase your chances of getting ranked as a local business.
Let's lay it down in a simple 7-step process.

Step 1 – Make your site mobile-friendly
Before even starting with the technicalities of SEO and ranking, make sure that your website is mobile-optimized. This is because more than 60% of users search for local business contact on their phone.
Your aim should be to make your website appealing and functional when viewed on a mobile phone. In fact, Google strongly recommends making your website mobile-optimized and even penalizes you if it isn't. They've even backed the Accelerated Mobile Pages (AMP) standard that basically allows a mobile-friendly version of web pages to be hosted on their servers for quick retrieval on mobile phones.
To test your website, just use Google's Mobile-Friendly Test Tool, and Google will tell you if your website is mobile-friendly or not!
Step 2 – List your business online
Create a listing for your business on 'Google My Business'. Also, optimize this listing for better ranking.
How to go about it?
Go to the 'Google My Business' page or Application
Enter your NAP – Name, Phone Number and Location of your business. Make sure that you do not try to stuff keywords here, such as "cellphone repair shop software" or "computer repair shop". Keep it impactful without going overboard.
When done, verify your business by following the simple steps given by Google. Once you verify, your listing should be up in no time.
In order to optimize for SEO your list, go to the 'Info' option and enter the following:
Your hours of operation
Photos of the actual location
Relevant links
Step 3 – Do some keyword research
Suppose your users are trying to find the best cellphone repair shop around them and you want your business to rank for the same. In that case, you have to think of all the possible keywords that the users/target audience for your business might be searching for.
Examples:
best iPhone repair shop in Los Angeles
Repair Shop near in Berlin
24/7 phone repair shops in Melbourne
(Also consider the synonyms for your business, if any)
You can also use Google's AutoComplete and tools like Ahrefs to find keywords that your competitors are ranking for. This will tell you which keywords you can rank for.
To get a totally FREE SEO audit of your existing website, just fill in the form below and RepairDesk's SEO team will offer you a comprehensive audit report with suggestions on how to improve your website.
[mailmunch-form id="848100″]
Step 4 – Perform on-page local SEO
Once you are done with your keyword research, you can now go for 'On-Page SEO'. To do that, you should follow these steps:
On-page SEO is simply about optimizing your website so it becomes search-friendly. You can do this by adding your selected keywords in your H1 tag, title tag, the page URL, etc. such as "cellphone repair shop software".
You can also optimize your home page with more local keywords (mentioning your location and key services).
Show your NAP details (explained above) on your home page or your website's footer.
You can add testimonials on your website. This will help you attack the Schema Markup for your business.
Schema Markup is the code that you can add to your website to improve the way search engines read and represent your business' page. You can use Google Structured Data Markup Helper to avoid complicated coding.
Step 5 – Use local citations
Your next focus should be on building local citations to improve your visibility. Local citations are online mentions of your business aside from on your website.
There are two types of citations.
Structured Citations: These consist of your NAP information. You have to make sure that your NAP information is consistent and complete everywhere. To check this, you have to run a citation audit. This can be done by using MOZ.
Unstructured Citations: These consist of blogs, vendor pages and other websites. If you are a relatively new business on Google, MOZ has a great starter guide on how you can get your business citations.
Step 6 – Build local SEO backlinks
For people starting out with local SEO, a backlink is simply a link one website gets from another site.
To get a good backlink, you need to build useful resources such as articles titled 'how to take care of your iPhone', 'how to save battery of your iPhone', etc. and submit these resources to local guest posting sites.
You can search for these sites by using the following search queries:
[location] intitle: "write for us"
[location] intitle: "write for me"
[location] "guest post"
These websites are likely to give your business a backlink which will help you in ranking for organic searches. Be sure to keep this as an ongoing activity, since most backlinks will only serve you for a time. Which brings us to our final point…
Step 7 – Keep reviewing & updating your activity
Make sure to keep a check on the on-going activities of your Google Listings.
Reviews: whether they're positive or negative, be sure to reply to all reviews that come in. People talking about you is a good thing and lets them know you're always there to help them.
Look for edits on your listings: Anyone can do edits on your listings. Hence, you need to keep an eye on them to make sure everything is in order and that you don't have any bad listings that hurt your business.
Use Google Post to keep your customers informed & engaged: Google Post is a micro-blogging platform. You can simply upload an image and add 300 words about the latest events, happening and blogs about your business for better visibility.
You can surely start exploring the power of local SEO by applying the above steps. Enjoy using the world's 1st iPad POS solution for cellphone repair business & sign up for a free 14-day trial with RepairDesk now. RepairDesk is the premium cellphone repair shop software that supercharges your business, and it's available for you now! So go ahead and sign up for RepairDesk, and watch as your business becomes the very best!