Everything that's new is appealing to the eyes. But we can't have everything new all the time. Things get old and with time they get less appealing. Same happens with the software screens that we use every day. Wouldn't it be good if we could have something new to add spice to our daily checkout process? We thought about it and made a new iPad checkout screen for our POS software.
Behold!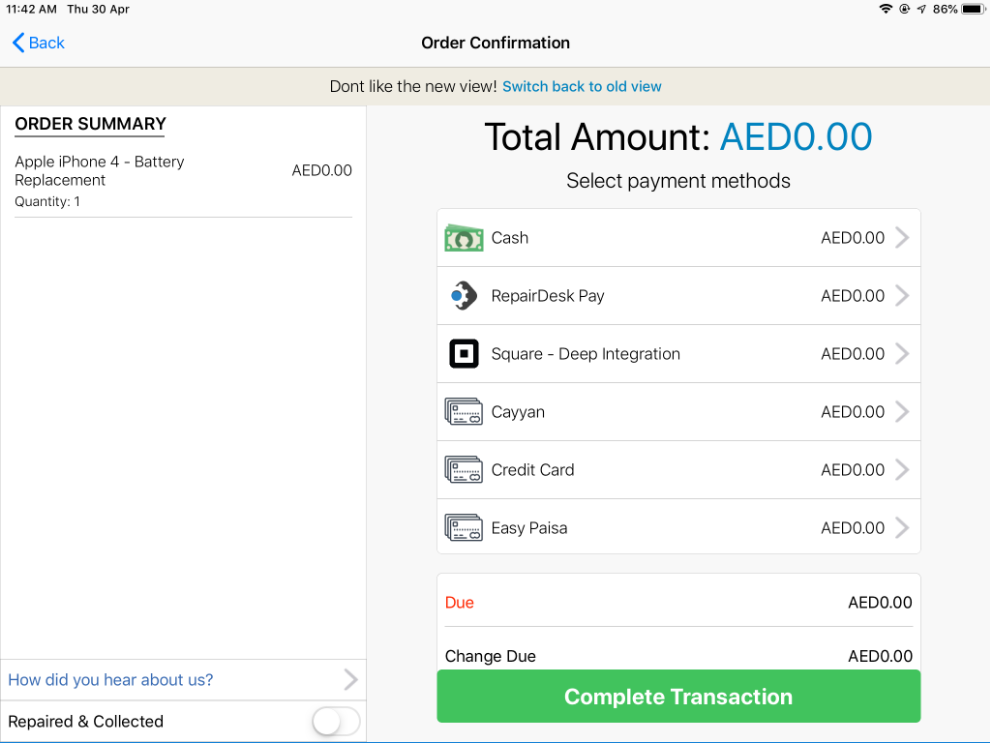 Isn't it pretty?
A fresh new screen to freshen your checkout process of our iPad POS.
If you don't like the new screen and would prefer the old one, you can always revert by clicking on the option available at the top. But the old iPad checkout screen looks like this:

You noticed what's missing there? No order details… No space that is pleasing to the eyes. We recommend that you try the new screen. It will be for the best.
Order Details in the iPad Checkout Screen
One of the major benefits of this new screen is that you get to see the order details on the left and get the payment options on the right. The screen is clean and spacious and certainly not cramped as the previous one. This new change will help you know all about what you are charging your customers for and also see whether you haven't added something extra or missed something out.
Keeping track of your sales and services is essential for business and this is precisely what keeps your profitable. It will also add transparency to your processes and your customers will trust you more. Trust is essential when you are running a business like repair stores in the USA. Trust and the little things.
Life is all about the little things. Little bits of happiness that make our day. Here is a little bit of happiness from us. Hope it brightens your day.
If you are a new visitor, we highly recommend that you sign up for our repair shop software service and give us a chance to keep brightening your days.