The RepairDesk iPad POS Register app has now been updated to version 5.7. The new update brings improvements to several existing features as well as some brand-new features.
This release has upgraded the stability of our iPad app to another level. From new improvements in customer management to additions of special parts orders, billable hours, and VAT margin, you can control more elements of your business with our iPad app. Let's see how.
Manage Customer Improvements
Now you can add multiple phone numbers and email addresses against a single customer, just like on the web app. You will have to mark one of the numbers or email addresses as primary and this information will be shown on the customer details pop up as well from the POS.
In the contact information, some new fields of Customer ID Type, ID Number and Driving License have been added as well. 
Customer Group option is also available in the iPad app. The customer group discounts are set from the web app and will be applied on the iPad app. You can also select third party billing for customers just like in the web app. The invoice will be created against that party if the customer belongs to a third party group and you will see a third party tag against the customer as well.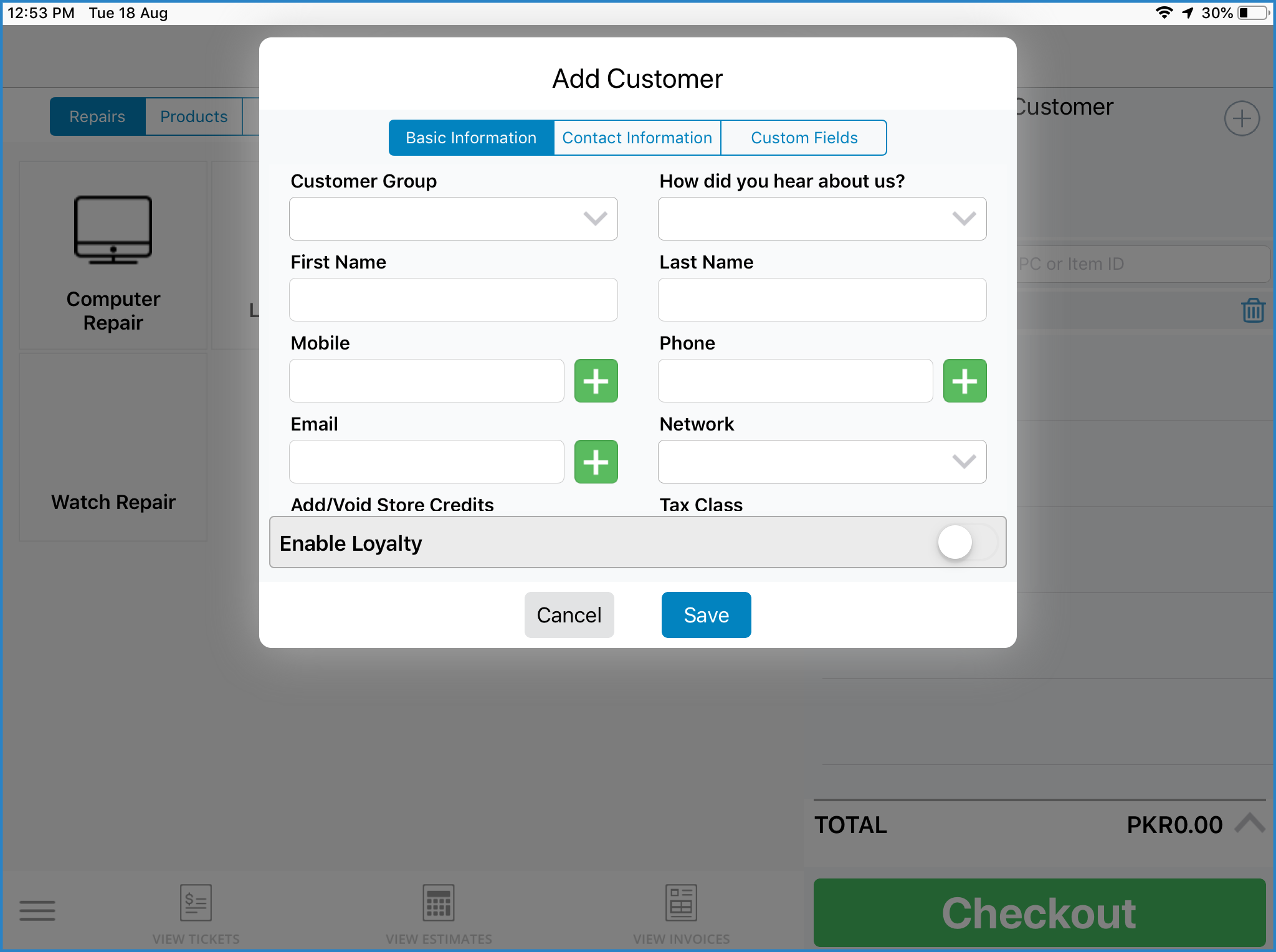 Learn more from our knowledge base articles on how to add customer from RepairDesk iPad POS register app and how to create customer groups and enable third party billing.
Special Parts Order
You will now be allowed to add a special part to repair tickets from the iPad app. Simply enter the part details and create the repair ticket. The special part will only be added in the ticket and won't mess up your inventory records. You can also add it to a purchase order and the PO will be created on the web app.
You can also view the ticket and the special part added to it (if the ticket is created from the web app) in the iPad app. For that, you will have to manually sync the settings. (you know how, don't you?)
To learn more, go to our KB article on how to use Special Part Order in iPad POS Register.
VAT Margin
The VAT Margin functionality has been implemented on the iPad app. So repair shops in the UK and other European countries can view the profit against the product categories that are taxed under VAT Margin Scheme. Though you'd have to configure the VAT Margin feature for those categories from the web app.
Learn more from our KB article on how to setup & use VAT margin scheme using RepairDesk.
Billable Hours
You can now use the billable hours functionality in the iPad app as well. If the feature is enabled against the repair category from the web, you will be allowed to change the item quantity (which represent the hour count) on the iPad app.
Get what this means? You can charge customers for your repair services on hourly basis using RepairDesk iPad app. So just grab the iPad next time you go for an onsite repair and you're good!

Learn more from our KB article on Billable Hours.
That's it for this week's bundle of iPad app additions and improvements. We hope you have a better time with the app and use it to drive more sales at your repair store.
If you are not hooked on the app already, it's about time that you try it. As long as coronavirus is here, onsite repairs are going to be a thing. These days, people prefer to stay at home and ask you to come over and repair their things. So, make the most out of this opportunity and charge them per hour services with our iPad App.