Relationships are important for every kind of business. They help you to sustain, thrive, and grow if you work on them correctly. That's the nature of business – you're always working with people, and people work on relationships. For a repair shop, building strong and healthy relationships with your customers, vendors, and partners is going to be key if you want to succeed.
Once any business starts growing, it begins allocating significant resources to relationship building to further its prospects. This is why you see big companies have a "business development" department. The same principle applies to repair shops as well. To continue growing, you'll need to put in more effort than greeting people at your store, handing out flyers, or posting to social media.
Here, we talk about how every repair store needs to build strong, sustainable relationships to continue its growth and do better business.
Listen to our podcast with Ahmed Abusharbain, CEO of UPPLuck, as we talk about the importance of relationship building.
Why is building relationships important?
The key to a healthy business is the people you know and work with on the regular. While it may not be immediately evident, relationships account for a lot of your business dealings day-in, day-out. You're constantly dealing with customers, developing partnerships, working with vendors, and managing employees. Having a strong relationship with each one of them makes everything run so much better.
Better dealings with customers means you'll get repeat business with them. The customer service you provide will make them more inclined to come to you when they have a problem rather than anyone else. You'll also get better reviews from them, either online or through word-of-mouth. It's an area you definitely want to focus on.
Partners are going to rely on your business being beneficial and profitable for them. Build better relationships with your partners so you'll be able to grow with them and take advantage of their continued support.
A strong relationship with your vendors is actually very important in the repair business. Vendors supply you with the parts, tools, and accessories you need to run your business. Think of them as your suppliers, your enablers, who allow you to be the best version of yourself that you can be. Therefore, it's always important to have a strong business relationship with vendors so you can continue to be mutually beneficial for each other.
And of course, having good relationships with your employees also is critical. Your team is only as strong as the bonds that tie them together. So make sure that you look out for them and create a satisfying work environment around them, and they will definitely return the favor.
How do we build lasting relationships?
Now, it's evident that business relationships are important if you want to survive. The question is, how do you go about developing strong ones that will bear fruit? We've talked at length to many business owners and have come up with a few sure-fire ways to make it work.
Keep it real
For starters, be sure that the way you deal with people is genuine and real. No one wants to work with someone trying to put on a show. Your customers demand honesty and familiarity. They would appreciate you being blunt than being fake. It's the quickest way to forge relationships that are strong and healthy.
Communicate with your customers, vendors, partners, and employees in a way that feels comfortable. Be natural in your interactions and show that you're all about authenticity. This sort of personality hits strong with people and they would really appreciate you for being earnest. If your personalities, beliefs, and attitudes align, you'll develop relationships faster than you could have thought.
Give it your best
Remember that just because you have common points of interest with people doesn't mean you will always get along. Business is, after all, looking out for each other. So it's natural that the people you come into contact with would have some expectations of you. Meeting those expectations is your job and giving it your best will make sure you succeed in developing those relationships.
Effective relationship building is a two-way street – you need to be able to give if you want to receive. Offer to go out of your way for your customers or vendors. Set a good example for your employees. Show your partners you're looking out for them. These practices can go a long way in earning their trust and respect. The more confidence they have in you, the stronger your relationship will be. So don't shy away from giving it your all. That extra favor may just make a relationship that lasts for a long time.
Loyalty has no price
Imagine if, after years of working with someone, taking care of their every need, you find out that they started working for someone else. That's not a good place to be in, for you or your people. If a strong loyalty to a business isn't there, people will just up and leave – it's that simple.
Loyalty counts a lot in the business world, and as a repair shop, you'll want loyalty from your customers, vendors, partners, and employees. The way to earn loyalty is to look out for each individual stakeholder. Make sure that everyone involved with your business is getting something positive out of it aside from your regular dealings. For customers, you can offer them loyalty rewards, gift coupons, or special discounts. For your partners and vendors, a business referral is an excellent way of gaining their loyalty. As for employees, giving them a positive work environment and helping them with their troubles will get the job done.
Of course, the same loyalty is to be expected from you, as a repair store owner. Don't change your vendors or swindle customers to make a quick buck. That's a horrible way to run your business and will stop progress dead. Remember, loyalty is priceless, so do unto others as you would be done by.
Add a personal touch
People today really appreciate personalization. If you can personalize the experience of any of your stakeholders, then you should do so. It really helps enrich your relationship with them and lets them know that you're looking out for them.
If you have a customer's birthday coming up, send them a text message or an email congratulating them on it. Maybe throw in a special discount so they appreciate your words even more. If a partner has a marketing campaign that's currently running, then give them a shoutout and support their business. For your employees, you can hold special events like barbecues and dinners for your employee of the month, or maybe someone who is getting married or just had a child. Praising your employees and being with them in their happy moments brings them closer to you, so don't miss out on the chance.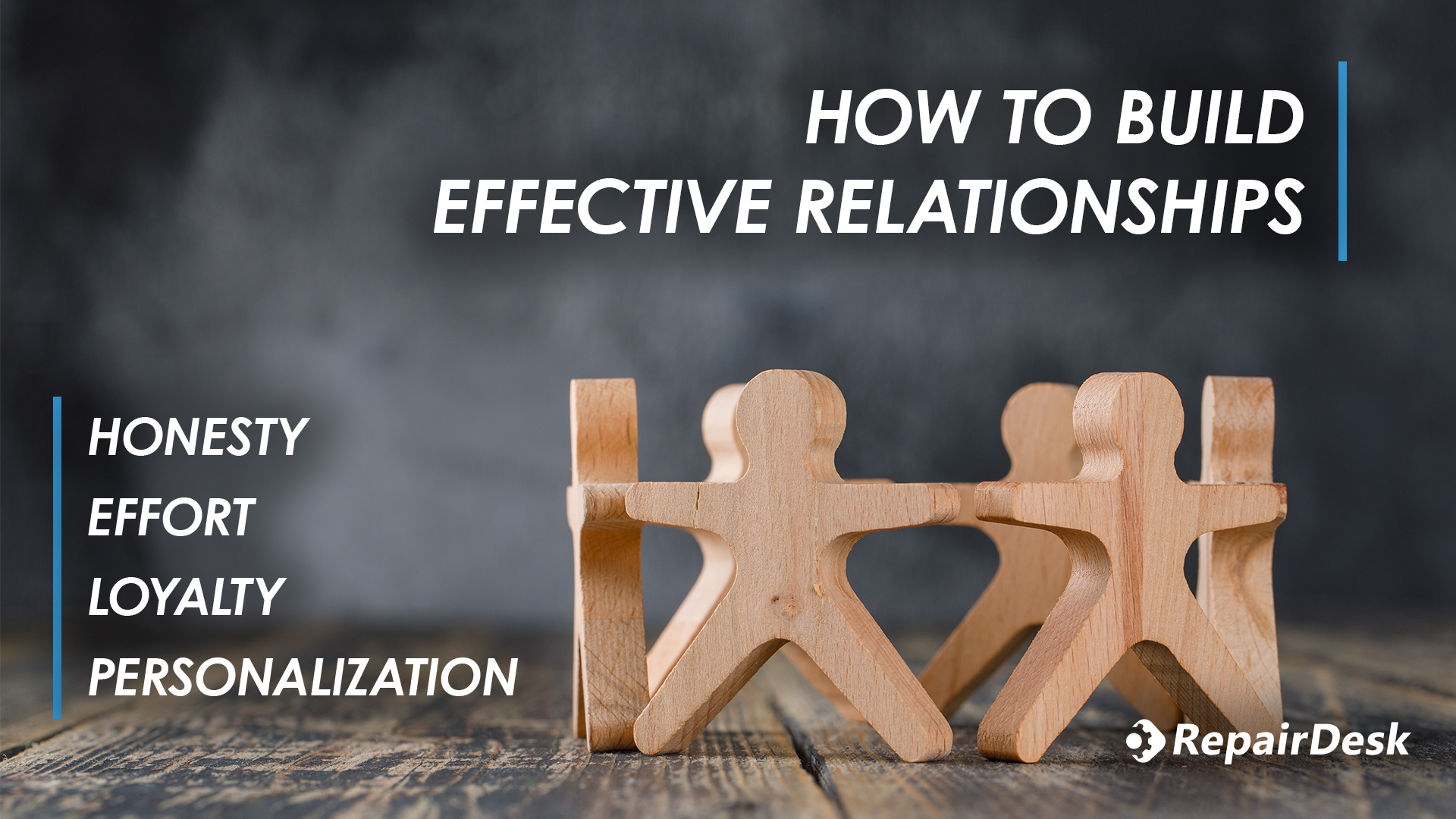 The final word
Healthy relationships are absolutely vital if you want your repair business to grow and flourish. And like all good things in life, building these relationships takes time, effort, and a fair bit of understanding. It always helps to remember what people value most. Your customers want good service, your partners and vendors want to run their business too, and your employees want a comfortable and productive environment. But at the end of the day, they are all human, and empathizing with them can yield amazing results. Think of it as an investment that you're making in your business. Look out for the people working with you, and watch them carry you to success.