As you know, the coronavirus crisis is upon the world. However, its spread is not just infectious for us, it is also taking down our businesses. Everything from giant tech companies to home-based retail businesses is being locked down. But is this the right move? Does this movement of business shut down the ultimate choice for us?
It may look like a safe option, but it certainly is not our final one. Businesses are not built and run by safe choices, now are they? You need to make smart choices to survive and thrive during this uncertain time of a global pandemic. 
Reach out to Customers
Business is there because customers are there – quarantined, but still there. Even the Apple stores are closed so you have their customer pool at hand too. You need to let all these people know that your repair services are available and easily accessible. So, stretch out a helping hand to these people and inform them about your services. Online adverts and email/SMS notifications will prove to be very effective here. Tell them, coronavirus or not, you are with them despite everything.
Our friend Andrew, from Injured Media, can help you out in drafting those marketing banners. You can visit their website or contact him personally at [email protected].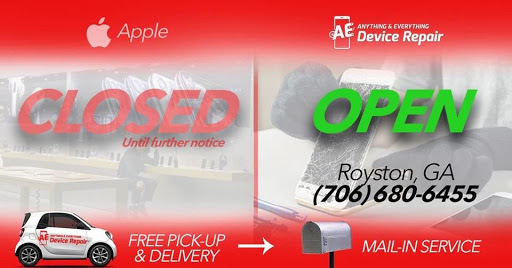 Develop & Share your COVID-19 Policy 
The next technique of reaching out to your customers is by sharing your immediate actions. Tell them how your repair store will function during this Coronavirus crisis.  Follow the example of COVID-19 policy of Injured Gadgets and lay down the important set of precautions you are taking for the safety of your business and customers. Communicate your ways of adapting the current circumstances and still bringing the best repair services for your customers.
Offer Repairs With Pick up & Delivery
You cannot let your customers leave their homes at all. So, there is always the option of pick up service. You can pick up the device, go back to the store, get it repaired, and deliver it back. All you have to do is let your customers know about this method of repair service and add it in your appointment calendar widget. Then, the customer can choose this option when booking their repair orders. And voila; you are on for business!
Offer Device Cleaning
While your customers are focusing on sanitizing their hands, remind them to sanitize their devices. This is because the Coronavirus bacteria and germs can live on metal and glass surfaces for up to nine days. Warn your customers about the chances of getting infected from their phones as well and offer them device cleaning services.
Sell More Devices
What do you think people will be up to in this quarantine time? Sticking to their phones all day and scrolling through social media, playing games on their tablets and gaming consoles, binge-watching shows on their laptops, computers, and TV screens, right? How's that likely to end up? Broken screens, faulty speakers, charging problems, and battery issues.
That's a call for you to be out there selling all kinds of devices (new, used, and repaired). Because guess what? All Apple stores are closed for two weeks, and people need someone to fill that space. Position yourself strategically during this time, and you may get more people doing business with you than before.
Bring your Expenses Down
While you may stand strong in this battle against the Coronavirus, you'll need to keep a low profile in your expenses. Cut down your bills by working from home. Follow a company policy to produce more at less cost. You are going to need a plan and a setup for this time of crisis to work for your business, and we don't want you to lose money beforehand. Try doing an analysis of your expenses and see what you can let go, then follow suit.
Save Your Business from the Coronavirus
We need to support businesses and build communities to get through such times of uncertainty. So fight for your business and don't let it be the unfortunate collateral damage of the Coronavirus. Do what it takes to hang around during this tough stretch. While it may seem like the end of the world, this is a phase and it will pass. So, stay safe and stay in business!