If you run any kind of business, you know that the customers are your lifeblood. Their patronage is what makes your store run, and if you want to get the most business, you have to learn how to retain them. Customer retention is important because you'll get so much more value. Every customer that you make can help keep your repair shop running.
There are lots of things you can do to retain more customers at your repair shop. Let's have a look at some of them.
What is customer retention?
Customer retention refers to the act of attracting and maintaining customers. With their repeat business, you can support your repair shop or just about any other business. Customer retention gives you a good idea of what you're doing right and which of the customers' expectations you're meeting.
Customers can be retained due to a number of factors and some actions you can take. It's important to understand what your customer wants and fulfilling that need. Doing so will help you generate more revenue without having to spend more on customer acquisition.

How do you retain more customers?
Customer retention is a great way to boost your business, but how do you do it and what is the right way? The answer might be simpler than you think.
Provide great customer service
The simplest, most effective way to win over customers is by providing them with great service. Everyone wants a good experience when shopping with you, and that's where customer service comes in.
Your customer service experience will help bring in new customers and keep them with you without having to spend anything extra. Acting pleasant and courteous, helping them with their queries or troubles, and providing service with a smile are all great ways to please your clientele. If you're not offering good customer service, you're doing it wrong.
Reward your loyal customers
Of course, customer service is only a part of the equation. The main purpose of good customer service is to make your clients feel special and rewarded. That directly extends into the business that they do with you and the offers that they get.
Giving your customers a reward for their loyalty to your repair shop is a great idea. Most repair shops will see repeat visits by the same person, whether it's to get a new device fixed or buy new devices and accessories. Offering a loyalty program that incentivizes them when they come in again helps you retain your client base.
Having a loyalty program is a great way of giving back to your customers, as Jeff Sandridge of The Smartphone Medics puts it:
"I would say another thing, we just started using the store credit module and the loyalty rewards program, and the customers seem to really like that. They like it because it's a way to kind of give back to them, but then it also helps us because that makes them refer people to us and come in more often. So, we're really liking that."
Stay active with your communication
They say 'communication is key', and for customer retention, it's absolutely vital. Being able to retain your customers means keeping them in the loop with things that are happening at your store. It also means checking in with them and making sure you still have their patronage.
Waiting for your customers to contact you is not the way you want to do business. Instead, reach out to them and build a connection. Send them messages like "we hope you're safe" or "here's something we think you'd like". Reaching out to them via text or email can have amazing results. Sometimes, it's the small gestures that customers appreciate the most.
Reaching out to customers does require some awareness. You'll need to first check in with them and ask what channel do they prefer to receive messages on. Also, you'll want to keep an eye on your message frequency – sending too many messages too quickly will have the opposite effect and drive customers away! As long as you're mindful of your customers' privacy and convenience, you'll have no problems.
Surprise them from time to time
Customers love surprises… well, the good kind of surprises, anyway. You can use that to your advantage and surprise them with something special to get them back into your store.
Run a campaign where you send out special codes to your customers that they can use to get discounts or free items at your store. For their birthdays, send them a special message and a discount or offer. Gift vouchers can also come into play here. Not only will they be delighted to receive your message, but they may also spread the word out to others and generate more business for you. A good surprise shows that you care for your people, and customers always appreciate that.
Personalize your customer interactions
We live in an age where data is the most valuable commodity. Your POS system has a ton of data it is collecting about your repair store, and more importantly, your customers. You can use that data to personalize your customers' experience and give them more value.
Data collected from multiple touchpoints such as your POS, text messages, emails, loyalty programs, and CRM can be used to great effect. With this data, you can personalize ads for customers, create special offers, and communicate more effectively with them. Research shows that customers love this kind of personalization, even expecting it in most cases. Anything that can give you detailed analytics into your store can certainly help.
Putting in that extra effort towards personalization is what major companies are doing as well, and for good reason. It gives the feeling that your customers are being cared for, and that you know what their history is. Use that to your advantage.
Conclusion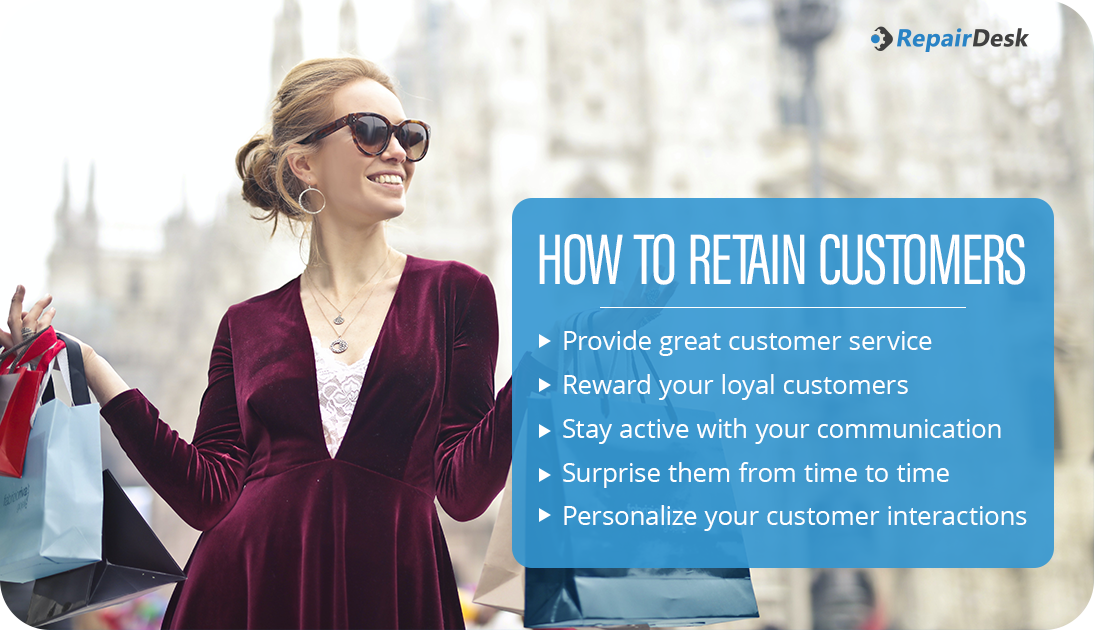 Retaining more customers requires something more than just doing business with them. As a repair shop, you need to show your patrons that you have their back. The relationship that you establish with them needs to be built on this premise, and simple acts like providing great customer service and rewarding your customers can go a long way. Be personal with them, look out for them, show them that you care, and you'll have made customers for life that are loyal and reliable.