You've may have read on Facebook groups and sub-Reddits related to topics of cellphone repair shop POS that a certain shop owner repairs 50 devices a week because he has a contract with a school.
And this makes you wonder; wouldn't it be perfect if you had some steady source of repairs as well?
So you research and ask around to try to find out how someone would approach a school and get on their payroll. But to no avail. There are no resources on the internet to help you out. You don't know any shop owner who has a similar contract. And the online community is of little help.
You know school contracts are profitable. You also know you need that steady flow of income so bad.
So, what do you do?
Forget about it? Absolutely not!
We're here to help you figure out exactly what to do to get school contracts and grow your cell phone repair business.
Why Should You Get A School Contract?
If you aren't convinced already, let us walk you through the benefits of getting into a contract with schools.
Less Hassle
If you're getting 20 devices to repair from a school per month, you're only dealing with one person, not 20 different people. Even when you're using the best cellphone repair shop POS, adding so many tickets will take time. Dealing with one point of contact is much less hassle. You are only answerable to one person for updates, inquiries, and other repair-related issues.
The School Rep Doesn't Own the Device
You've dealt with far too many difficult customers to overlook the benefit of having an unattached customer. Since the school representative doesn't own the devices that come in for repairs, they are not as finicky or emotionally invested in the repair. So, when a device cannot be fixed, they couldn't care less. They don't get mad at you.
Steady Flow of Income
School contracts come with a steady source of income that most repair shops struggle to get. If you have a steady amount of money coming in, you will have peace of mind, the ability to focus on expanding your business rather than dwelling on making ends meet, and have more money to invest in your business. So, regular income is just an added bonus that comes with working with organizations like schools.
Free Publicity
If you get into a contract with one school, you can use that to get contracts with other schools as well. The school staff have a dense network and are likely to refer you within that network. Moreover, if you're approaching a second school, you can always mention you're already working for another school. This will add to your credibility and raise your probability to get the business.
The free publicity can also work in another way. The school staff is likely to use your services for their family as well once you prove yourself reliable. So that is additional business coming in.
What Are The Pre-requisites To Get A School Contract?
Getting a school contract requires some groundwork. You have to qualify in a few departments to be eligible to get a school contract.
Strong Branding
You don't want potential customers landing on your Facebook page and you last updated it in October 2019. You are bound to lose credibility.
Your cell repair shop must have a presence on at least one social media platform. You can experiment with more if you can handle it. But, be consistent. Spend maybe 10-15 minutes a day or delegate this responsibility to one of your employees to keep your page updated.
You should also have a complete, functioning website that is regularly updated. Keep on updating it with the latest offerings as well. That will build your brand as a serious business and improve your cell phone repair shop's visibility on search engines.
Neither one of these requires a lot of money, just some time and effort. And if you really want to secure a school contract, you should be able to find the time to work on this. Dedicating an hour every week is enough to keep your website up and running.
Competitive Pricing
Make sure that your repair shop has structured pricing. Because some schools have one to ten iPads and then others might have a hundred iPads. And it is professionals that you're dealing with who expect professionalism in return.
So, make sure you have competitive pricing. The ideal way to go about it is by creating a pricing hierarchy. So, you charge $x for 1-10 iPads, $y for 11-20 iPads, and so on.
Come up with price breaks so if a potential school rep asks you how much for 50 tabs, and then how much for 80 tabs, you are ready with the prices. Here's a sample email that gives a breakdown of pricing.

Ability to Service Volume
You cannot be a one-man show to deal with school contracts. You will need multiple helping hands because school contracts come with multiple repairs at a time. There may be schools with 10 tablets and you might get a school with 100 tablets. So make sure you're well-staffed to cater to a school contract. If you think handling so many employees will be difficult, use a good cellphone repair shop POS system that will help you monitor them easily.
Ability to Service Variety
Another factor that will help you score a school contract is having technical staff with a variety of expertise. School administrators really like that. They don't want to run around to different places for different types of repairs and accessories.
SO, let's say the school wants a hundred cases, you offer installing them too. Or if a school wants a hundred temper glasses, you offer to install them too.
Reviews
If you are a new repair store, encourage your customers to leave you a review online on platforms like Yelp. You can even offer them a voucher or a discount if they leave you a review. This will help you get a reliable online presence and build your shop's reputation. In return, it will be easier for you to score school contracts.
If you have no online reviews, don't worry. Slowly build towards it. Once you have around 50 reviews with an overall 4.5 rating, you can start reaching out to schools.
Compliance
The state of California requires all repair shop stores to have the state license to repair to function legally within the state. Not all the states in the US have that pre-requisite but check if yours does. And make sure you get that license. You can even add this to your sales pitch because this presents you as a legitimate business. Moreover, this means the customers can make a complaint against you to the state which makes them more comfortable trusting you.
Certifications
It is always a good idea to have some of your technicians certified. For instance, getting a PII certification can be an added benefit that you can pitch to the school. The PII certification teaches you how to handle data and privacy which schools would really appreciate. Now certifications aren't exactly required but they do leave a good impression on schools.
iPad & Chromebook Technicians
Schools usually have both iPads and Chromebooks. If your technicians specialize in iPads only, you won't get the contract. Because a school will prefer going to a repair shop that offers iPad as well as Chromebook repairs.
How Often Should You Expect Repairs From Schools?
You are likely to get some repair business every two months from schools on average. However, right before the summer break is the hottest time. Because the school's new budget will shortly come in and they have money from the previous budget that they need to spend.
The beginning of the school year is also very busy because that's when the new budget kicks in. But most of the services required at that time are getting cases and screen protectors installed.
So, How To Get A Contract With Schools?
Now that you're set with the basics, here is how you go about approaching a school.
Step 1: Which Schools Do You Have In Your District?
Each district in the United States has a minimum of 5 schools. You probably know the schools in your district already. But in case you don't, a simple Google research will take you there.
So, pick out the schools you want to target and get started.
Step 2: Who Should You Contact?
The IT Director or the superintendents are your best bet. They are the ones responsible for outsourcing device repairs.
Step 3: Where Should You Contact Them?
There are many ways you can go about finding contact details. If you know the location of the school, you can visit it. However, with Covid-19, there may be certain protocols in place to visit a school so make sure you're aware of them.
If physically visiting the school is not an option, go to the school's website and look for the IT department head. You should be able to track their email ID there. And if you're lucky, you may even come across their official phone number/office extension.


If the phone number or email ID isn't stated, call/email the administration office and inquire about the required details. They should be able to help you with that.
Here's an email template you can use to inquire about the head of the IT department.
Step 4: Should You Prepare A Script?
That totally depends on how well you know your services. If you feel creating bullet points will be helpful, make them. It is generally preferable that you give the IT Head a call. But if you don't get the number, do not underestimate sending an email. More often than not, you will get a response.
When writing an email script, make sure you are not too generic. Keep the subject catchy and write something like "Local business wants to service you" or "We can service your IT department." It has to be something that resonates with their values and needs.
Start with briefly introducing yourself. Go on to elaborate on your services.
Cover everything basic. What services do you provide? Why are you the best candidate for this job? Where can they reach you? Giving your phone number is ideal.
Step 5: Cold Call/Email
The next step is to either call them or send them an email. If you have the email ID, try to get their phone number via email and talk to them. A cold call is always more personal and comparatively more successful than a cold email.
Try to make the call/email personal. You don't want to sound too salesy. Rather, you want to build a relationship. Concentrate on solving their problem rather than providing your solution.
If you're writing an email, make sure you're as specific about your services as possible and present the variety. Like, you know schools usually have iPads and Chromebooks so mention that you can fix iPads and Chromebooks, you have their accessories, you can install those accessories, and you can pick and drop the tablets.
Don't limit yourself to tabs though. Tell them other devices that you cover as well so in case they have a Macbook lying around, or a computer that needs fixing, they know they can go to you.
If you're calling the relevant person, remember that calls require a quicker reaction so spontaneity works well. Some of the things you should ask them on the first call are:
Number of devices they have
What kind of devices they have
What exactly is their need
Most schools will prefer working with a local business so always mention if you are. Also, do not give prices on the first call. Always tell them that you will revert back with that detail. This way you will be better prepared to give a more realistic number.
Step 6: Follow Up
Once you have had that call, email a roundup of everything you discussed over the phone.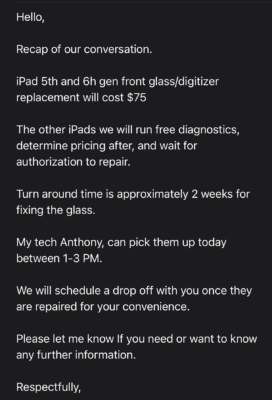 If you take a look at the sample email, the repair shop owner mentions the type of repair, the price, the turn-around time, and all other details in written form. This works as a kind of informal contract between you and the school.
When working with schools, you will not officially enter into a contract. This does not mean that there is no form of agreement at all. The invoice usually does contain all the terms and conditions. So those make for the contract.
You can draw up a formal contract but it will be project to project. If the relationship works for them, they are likely to keep you on board and continue their services with your cell phone repair shop.
However, you can put a school on a monthly retainer for a year-long contract. But that depends on the terms you and the school agree upon.
How To Price Your Services?
It is important that you know how you are going to price your services. Since a school contract is not an everyday, one-off repair, you will have to give some discount. How much discount? Well, that depends on your expenses and a number of other factors.
Generally, giving a 15% discount is the general practice. However, it depends on volume and the type of repairs you're getting. So, it changes according to the deal and is tailored according to their needs. The amount of discount also greatly varies if your repair shop is a franchise.
But as long as you're making at least $50-$75 per device on bulk orders of at least 20 devices, after all expenses have been accounted for, it is a good profit. Again, a good technician will be able to fix an iPad in 20-30 minutes. But if your technician takes longer, you have to account for that and adjust the price accordingly.
We partnered up with a few industry experts and came up with four different formulas to help you price your services.
The Efficiency Formula:
For a single-person owned cell phone repair shop that doesn't work with volume and has a largely B2C customer-base, the Efficiency Formula is ideal. First, you need to know your revenue per hour and you can calculate it using the following formula.
Sales (monthly) / hours worked (monthly) = revenue per hour (monthly)
Now, you need to calculate your expenses. This includes all your overheads including labor, parts, and operational costs. So, to determine the hourly expenses, you use this formula.
Costs (monthly) / hours worked (monthly) = cost per hour (monthly)
Subtracting the revenue per hour by cost per hour will give you your average profit per hour (monthly). So if your cost comes up to $30 per hour and you want to charge $50, you will have a $20 profit.
This way you can determine how much you want to charge based on the time each repair takes and how much discount you can offer to still be profitable. This formula is quite simple but is a good base to start with.
The Complex Formula:
This formula is a more detailed version and accounts for more factors than the Efficiency Formula. It should be used for the more experienced shop owners. Here's the formula.
Part Cost + Operational Cost + Labor (variable) + Risk Factor (variable according to difficulty of repair) + Mark Up + Retail Experience (variable if B2B or B2C)
= MSRP
The risk factor is usually associated with iPads. Because if an iPad comes in for a simple battery change, it carries the risk of a broken screen. Moreover, devices with a low repairability score usually rank higher on the risk factor. So, these are elements that you have to consider when deciding on how much you want to charge as the risk factor. Ideally, it should be between $30-$50.
As far as the retail experience is concerned, this can include the cost of pick & drop or shipping service if you're providing any. It will also include any added service you offer. For instance, if the school places an order for screen replacements, you offer to install them also. So, the installation costs will go under retail experience.
Basically, retail experience is anything you're doing to make your customer experience more valuable and unique.
The General Formula:
The most recommended out of the three formulas mentioned, the General Formula is best for retail. Here's how it goes.
Part Cost + Operating Cost + Mark Up = MSRP
RepairDesk has an internal repair price calculator that takes into account the markup, part cost, labor cost and tax when quoting a price. The best thing about this calculator is that you can instantly quote a price for an unusual repair. It is also helpful if you have new salepeople on your team who aren't well-versed with your repair shop's pricing scheme.
There are other aspects to the price that are expected to be added to the calculator soon. These include relative pricing based on zip codes and the ability to create your profile on the repair price calculator so you don't have to enter labor rate or select a tax class again.
Whichever formula you pick, offer a 10%-15% discount for B2B services depending on the type of repair and/or volume. And, you need to make sure that you are making a profit after the discount.
As far as the payments are concerned, the secretary makes them instead of the IT head. They decide how they will pay you also, which is mostly via checks.
You must keep in mind that schools usually pay on net terms. So expect deferred payments. You can have this discussion on the payment terms once the school agrees to do business with you.
How To Maximize Profits From Your School Contract?
Once you have scored a school contract, there are many ways you can offer more services over time and increase your profits. Here are just a few ways you can do that.
Sponsor Local School Events
This may sound like an expense rather than profits. But think of it as an investment that will reap benefits. So sponsor local school events and your shop will get more exposure and market penetration. You can put up banners advertising your shop. Or you can offer discount cards at the event.
The advertisement will bring in students' families as potential customers. The discount cards will further promise you business.
Offer Trade-Ins
Although trade-ins should not be your basic pitch, you can offer to buy in the older devices when the school orders a batch of new ones.
Up-sell
You know tablets will need screen protectors and tablet cases. When the devices come in for repairs, you can up-sell these accessories. Moreover, offer to install them as well.
Cross-sell
If a school has tablets, they also need network services. Network services are like a close counterpart of repair shops. So, you can cross-sell network services to them.
Offer Loyalty & Rewards Program
If you are using the RepairDesk cellphone repair shop POS, you can easily offer a loyalty and rewards program to the school. So, in addition to the school getting further discounts for availing the loyalty program, you can extend that discount to the school staff and their families. You can even offer a deal for the students who go to that school. So if they need to get their device fixed, they show their school ID and get a discount.
Put Up A Standee In The School
You can further publicize your services by requesting the school to put up a standee or a banner within the school premises. This will remind the staff as well as the students of your presence and reinforce your brand in their minds.
Tips & Tricks
Here are some further tips to help you maintain a good relationship with schools.
Under-Promise, Over-Compensate
Always give the school a longer turnaround time than you can work in. This is an effective tactic to build a relationship with customers.
For instance, if they send 10 devices to repair and you know you can fix them within 2 days, give them a week's time. And then get them done within 2 days and send them back earlier than the stipulated time.
Offer Pick & Drop
IT heads are usually quite busy. So, if you offer pick and drop services, they are very likely to avail them. Besides, if you're a local business, picking up and dropping off the repair order will not be much of a hassle.
You can also offer to ship the order, although that would be more costly. But what matters is that you're creating ease for them. And the school representative isn't paying from their pocket so they don't care about the overheads as long as you providing ease for them.
Warranties
Be very clear on the warranty you offer. Mention it in your terms & conditions and tell the school about it verbally as well. Also, make sure your terms & conditions are printed on the invoice.
Check Back Often
It is important to check in with your person of contact every now then. The IT heads will rarely have the time to come to you for a broken device or two. That's what you're here for. Drop them an email once every month and ask if they require your services.
Sometimes it works, sometimes it doesn't. Nonetheless, it helps refresh their memory and reminds them that you're there. It keeps them engaged with you, which in turn helps you build that relationship further.