You've built your repair shop website. You are excited to get online device sales going. But it has been over a month, and you've barely managed to get any business from your website. You're frustrated and feel like giving up.
Fast forward three months, and you've forgotten you even have a website. You're concentrating on walk-ins and are content with your social media presence.
What if we told you that there were 312 million internet users in the United States in 2019 alone? Smartphones were a whopping $77.5 billion industry in 2019. In 2021, 230.5 million people in the US are projected to make online purchases. Keeping these statistics in mind, you are losing out on a lot of business by ignoring your online presence.
However, only 1% of users flip to the second page of Google. So, to makes online sales, you need to rank on the first page. To achieve that, you need to be more visible on search engines.
We've come up with a few practical ways to help your repair store website rank high. But before we move on to that, first, you need to know your website's health.
Check Your Website Health
There are two ways to determine the health of your website: internal and external. The internal health of your website is the SEO audit. You can audit your website through various tools, for example, Woorank and SEO Site Checkup. 
We used SEO Site Checkup for our website, and it gave us a score of 81. Any score above 70 is considered acceptable. It checks various metrics such as meta title, meta description, SEO friendly URL, responsiveness, etc. We will be discussing them shortly.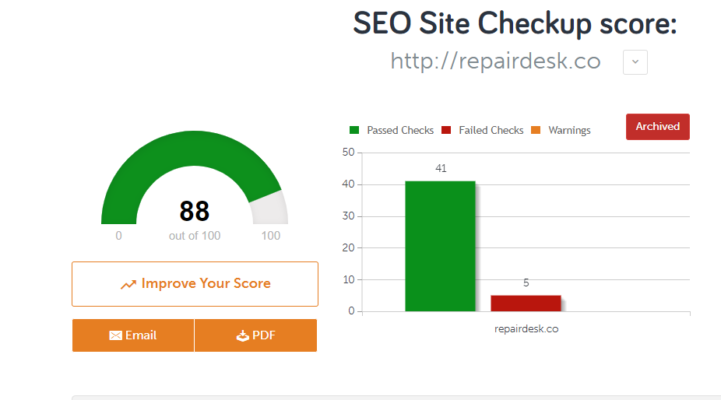 To calculate your website's external health or search visibility, you can use paid tools such as SEMrush and Ahref.
Ways to Improve Cell Phone Repair Shop Website Ranking
Here are practical ways in which you can improve the website ranking of your cell phone repair shop.
Optimize Your Page Title & Description Tags
Write your titles thoughtfully. 
Do not consent to default titles. 
Be precise but descriptive about your repair shop. 
For instance, if you are a cell phone repair shop in San Francisco, California, do not blindly write your page title in 'Home | Shop name' format. Instead, insert your target keywords and elaborate a bit. Come up with something like 'Cell Phone Repair Shop in San Francisco, California | Shop name.'
Your meta-title should ideally be 70 characters, and your meta description should 170 characters. A comprehensive and compelling meta-descriptions increase your CTR. A high CTR will increase your site's Google ranking. It should also naturally employ the keyword your page is targeting.
Avoid duplicating meta-description tags for different pages. Also, steer clear of quotation marks in a meta-description since Google generally cuts off the description where it detects them.
Once you improve your meta-title and meta-description, you will notice an increase in Google rankings. And subsequently, improve your cell phone repair shop's search visibility.
Target Long-Tail Keywords
What most new website owners do is use 2-3-word keywords without realizing they are highly competitive. Using such keywords means that these keywords get many searches and are extremely hard to rank for.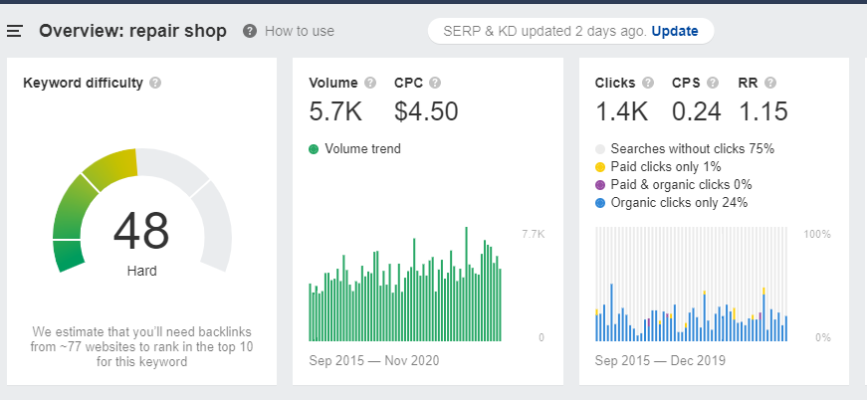 For instance, we tested the keyword "repair shop" in Ahref. It has 5.7k monthly searches but qualifies as hard in Keyword Difficulty. So, avoiding short keywords makes more sense.
On the other hand, we tested a long tail keyword, "best screen replacement shop in Washington." It qualified as easy. So, this could be one of the keywords you target.

Google has imposed strict measures on repair-related keywords, so it is hard to rank for them. You will have to find a way around and aim for keywords that do not relate to repair per se, like the keyword above.
Content Strategy
Content is king. You must have heard it before without really understanding the sheer power of excellent copy.
You can use all the SEO tactics possible, but if your content is weak, your website's dwell time will be low. Similarly, you can write the best copy in the world, but it won't matter if it isn't easily searchable. So, good, captivating copy and SEO go hand in hand.
Update Your Website Frequently
Creating your website is not enough. You have to continually update it to remain on top of the search engine ranking. Search engines index and crawl your content. The more often it crawls your content, the higher your rank gets.
Since the cell phone repair industry is not very competitive, publishing a content-rich article on a trending topic will suffice once a week.
Another way to go about this is updating high-ranking, old content. Add links, optimize for SEO, add headers, rewrite meta-descriptions, optimize images and edit the content if any changes have occurred since you posted it.
It would help if you kept the relevancy of the content, the search volume, and the previous success of a post in mind when picking content to update. Make sure the content you update is still relevant and did well when it was initially posted.
You can check when Google last viewed your content. Google your repair shop website in the search engine. You will find three dots by the web link. Click on it, and a pop-out menu will appear. Click on "cached" and you'll get the exact date and time the last time Google crawled your page.
Link Pages Internally
Interlinking pages internally facilitates search engines to recognize the important pages on your website. It also helps Google figure the website structure more easily. For example, suppose a certain webpage or blog article has been interlinked a few times. In that case, search engines will recognize it as highly valuable and more important than other pages on your web. So you can create a hierarchy through a smart interlinking strategy.
According to data collected by Moz, external links are perhaps one of the essential tools to rank higher in search engines. Just make sure that the websites you're linking to are relevant, popular, and trustworthy.
Backlinks differ from external links because backlinks are your website's links on other websites. So, they bring traffic to your website from other websites.
For backlinks to be useful, make sure they are on a website relevant to your industry. For a cell phone repair shop, it would be ideal to get backlinks on technology, lifestyle, business, and phone accessory websites. 
The more relevant a business is to your business, the more it will help the ranking. However, that doesn't mean getting backlinks from irrelevant sites won't help with the SEO. The impact on search engine ranking, however, will be less in comparison to relevant sites.
You can either pay websites to get backlinks or offer content that they can put on their website. Most websites will allow one do-follow link.
Create an Easily Navigable Website
The website structure should be clearly defined. Make dedicated pages for your services. For instance, if you offer phone repairs as a service, add subpages for different sub-categories like screen replacement, phone camera replacement, and water damage fixing.
Make sure the URLs of all the subpages are also related to the subject matter of the page. So, for the screen replacement subpage, your URL should be www.shopname.com/phone-repairs/screen-replacement and so on.
A well-structured website assists search engines in relating a specific web page to search queries.
Use Social Media to your Advantage
Hootsuite experimented in 2018 to uncover the reality about the correlation between social media and page ranking. It found that there is a positive correlation. High engagements on a social media post had a positive impact on the search engine ranking.
Similarly, the results were much better for keywords with less than 1000 monthly searches. Keywords with 1000+ monthly searches became harder to rank via social media as the competition increased.
Paid promotions helped almost twice as well as organic reach in improving search engine ranking.
However, there are certain things you need to take care of. Do not spam your followers with posts, be reasonable. One to two posts a day per social media channel should suffice for repair shops. Share engaging website content to social media streams and start a conversation.
For repair shops, review platforms like Yelp are extremely valuable. More on the importance of reviews shortly!
Practice Local SEO
Local SEO is relevant for any business with a physical presence, serving a specific geographical area. Most repair stores fall in this category. Which means local SEO is the way to go if you want to increase search engine visibility and traffic to your online and brick-and-mortar store.
The best part is that local SEO supports small businesses over giants like Walmart. If you're practicing local SEO tactics when someone in your area searches for 'best screen replacement shop near me,' the chances of Google suggesting you shop are high.
Ideally, you want to show in the 'local pack' or 'snack pack,' the three listings that Google shows right after the map when you search for a local enterprise.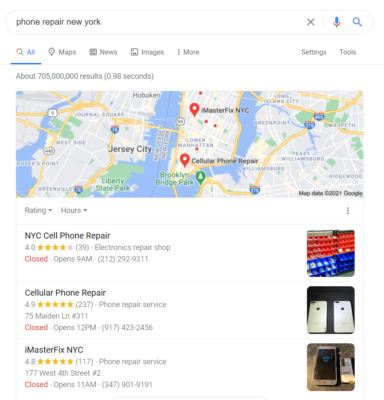 Google generates these elements from an enterprise's Google My Business profile. Google's local SEO algorithm works around relevance, prominence, and proximity. This means you should choose the correct business category, add titles and meta-descriptions and create relevant content when creating your Google My Business profile.
Other factors play a vital role in ranking your business in local SEO that we've discussed below.
With Google claiming 92% of the total search engine traffic world over, there is no doubt about the importance of registering your shop with Google My Business.
In a 2019 report, smartphone sales exceeded that of laptops and PCs, with 65% of retail site traffic and 46% of shopping orders online driven entirely by smartphones. Mobile e-commerce is expected to grow further in the coming years.
Also, did you know that Google downranks websites that aren't mobile-optimized? Google's Mobile-Friendly Test will analyze whether your website is mobile-friendly or not.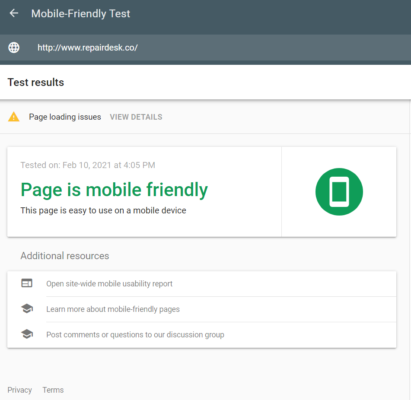 If your website does not qualify, it also gives you information on all the errors you need to fix.
Online directories are your repair shop's virtual profile. There are plenty of online directories other than Google My Business that you should register on. Registering on them will help increase your visibility in the local searches.
Some online directories you should be registered on include Yelp, Yellow Pages, and White Pages.
Location-based keywords are keywords that you're targeting and adding your location to them. For instance, you may be targeting the keyword 'best screen replacement shop.' Add a location-based modifier, like 'New York best screen replacement shop,' and you have a location-based keyword.
Using tools such as Ahref, you can calculate the ease or difficulty of a keyword. Identify easy keywords with a reasonable amount of monthly traffic.
You can use Google Trends to determine trending keywords and use them to rank higher. Tools like Soovle tell you terms people are searching to help you find highly traceable keywords for your store.
Well-executed, locally relevant content will increase your website's visibility. For instance, you can create content on "How to Replace Your Cell Phone Screen in New York" and give simple tips on the subject.
You can also put up posts about tech-related events or partnerships in the area. Such posts will help you improve your visibility in local searches. 
Around 95% of people will go through reviews before making any purchase. A whopping 93% of people read local businesses' reviews to decide on their quality. People aged 18-34 years will equally trust personal referrals and online reviews.
Needless to say, online reviews play a vital role in convincing people to makes purchases both online and in-store. Google, Yelp, and Facebook are the most used and relied upon online review portals. So get as many reviews from customers as you can. Reviews will help you gain traction in the local circles and build social proof.
Make Site-Links & Rich Snippets
Sitelinks serve three primary purposes: web presence, taking up SERP real estate, and authority/trustworthiness. All three directly affect your website's ranking. More sitelinks mean better ranking than your competitors.
Moreover, adding structured data to your website will enable Google to show rich snippets. Structured data improves your CTR, increasing your search engine rank.
Structured data is a specific code that search engines understand and create rich snippets out of. It might sound intimidating to add heavy coding to your website. But, plugins such as Yoast can build structured data for all your website pages.
Website Speed
Website speed is an important ranking metric. A fast website will be easier for search engines to crawl and enjoy a higher conversion rate.
There are many resources out there teaching you how to improve your page speed. However, Google looks at the website speed rather than the page speed. The website speed is the average speed of all its pages, while the page speed refers to a single page's speed.
You can increase your website speed by fixing your site's structure, cleaning up old posts, and getting a better hosting plan from services like Hosting Foundry. These will help Google crawl you quickly and more often, improving your ranking.
The repair business is a cut-throat line of work. But we assure you that you will start noticing results soon if you use the above methods and remain consistent.