Whether you want to score a school district contract or leverage a carrier store, building your repair shop name is important. And what is the first step to brand building? Getting reviews on platforms like Google, Facebook and Yelp.
A lot of people will tell you your repair shop system should have some integrated marketing options. And while that is correct, there is a lot more that you need to do to get good reviews.
But easier said than done, right? Even after months and sometimes even years of being in business, you've got measly 30-40 reviews on Google. And that number isn't enough to qualify you as a trusted business in the area.
That's what we're here for. To get your business the recognition it should have and facilitate its growth. So, we've compiled a list of ways through which you can get 100 reviews or more within a span of just 6 months.
1. Automate with your repair shop system
Apart from your repair shop system, there are many services out there to automate your review-taking process. Twilio is one such service through which you can send receipts as well as the review link to your customers.
Automating your processes is ideal because it saves a lot of time and you will never miss reminding a customer to leave you a review. RepairDesk gives you the option to automate an email or an SMS to your customer after they've done business with you.
Sign Up for a 14-day FREE Trial!
You can make it interesting by collaborating with a service like Review Forest that plants a tree for every review you get. Specifically, if you are running a conscious, environmentally friendly business, this service is great.
2. Offer incentives
This method to get reviews is a little tricky because Google frowns upon it. And if someone reports that you're offering incentives for reviews, Google will remove your reviews. But for a lot of shops out there, it works. Better yet, use it for Facebook or Yelp reviews.
Most shops offer discount coupons after a person has reviewed them. But you can also offer a $5 or $10 reward for the next time they visit your shop. This way, you're not only getting a review but also ensuring your customer returns to you a second time. And you can easily do that if you're using services like Revv.
Another way to go about getting a review is by giving them something free if they leave a review there and then. For instance, offer a free tempered glass screen protector if your customer leaves a review while they're in the shop.
3. Appeal to their emotional side
Sell your small business story. Encourage them to support local businesses like yours. Tell them how a 2-minute exercise will help you grow. Don't plead, convince. Appeal to them and show them you're worth those 2 minutes of leaving a review.
Make sure you've added value to their lives with your services and then request them to leave a review so other people in the same situation can be helped. You can also mention that you're new and would appreciate all the help you can get.
4. Put up the QR code
To make it easier for your customers to leave a review, frame your QR code and put it up either close to your repair shop system checkout counter or the exit door. Both work as strategic locations to remind the customer to review their experience with your shop.
Your Phone Guy LLC has a very cool QR code that they point to every time they do a repair.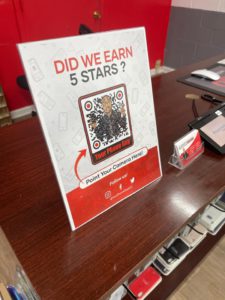 5. Ask for a referral
By this, we don't mean to ask your customers for referrals straight away. But start with, "So, how did you find our service?" or "Did you find our service satisfactory?" You can even simply ask them for feedback on your services.
Once they say they liked your services or that you provided with an excellent solution, that is when you really claw them in and say, "If it isn't too much to ask, we would be honored if you could refer us to your friends and family." If the customer looks convinced, that's when you request them to leave a review on Facebook for their peers to see.
6. Add a little something extra to your service
Another good idea to get a good review is that when a customer comes in to collect a repair, add a little extra for free. For example, clean charge ports for free in addition to whatever repair you did. This will instantly put you in your customer's good book. And it makes them more likely to leave you a review as well.
7. Follow up with a text
There are multiple ways to go about sending a follow-up SMS to your customers. You can send texts manually but if you have a busy shop, this might not be the best idea.
If you're using RepairDesk POS as your repair shop system, there is a RepairDesk SMS integration that can send automated messages to clients after they get a repair or buy something from your shop. There are other integrations that you can use also, including Clickatell and Text Local.
There are still other services that you can use, for instance, Tracpoint.
The best way to go about a positive review is first asking your clients how they would rate your service out of 5. If they rate you 4 or above, send them a review link. If their rating is lower, this is an incredible chance for you to inquire and improve upon your services. So it's a win-win for you and your customers.
Services like Revv and Voxie are especially useful in ensuring only positive reviews go out.
Another way to get more reviews is to incentivize your employees. For every new review that they get for the business, they earn a $5 bonus. This strategy has two-pronged benefits.
One, your employees will work harder to provide good customer service so they can get a positive review. And two, you get a lot of new reviews on your page. This will also encourage healthy competition among the employees to do better.
9. Other ideas
You can get receipts with the review QR code printed on them for people to have the ease to review your business whenever they want. Then, you can get cards printed with your Facebook and Google page address and add something like "Help a small business grow by leaving a review." Staple the card to the receipt and see how well it works.
At the end of the day, if you're doing a good job, you won't have to work too hard to get reviews. Just make sure you're helping your customers out the best way possible and getting to 100 reviews in 6 months will come in easy.