For centuries, horologists have helped us track the sequence of our existence and the events of our life through the past, present and future by giving us the ability to see time. Watchmakers and clock repairers have mended, services and restored timekeeping apparatus for generations. You could be an acclaimed vintage collector & repairer of watches or a more modern service provider helping to bring timepieces back to life by watch battery replacement, watch band repair, custom repairs and more. No matter what your expertise is, you can provide a premium service in your watch repair shop, by incorporating RepairDesk for a seamless and personalized Point of Sale experience.
The six standout reasons below will convince you how RepairDesk can help you achieve that.
1. Cloud based for Easy Access
Many of your peers love this about us. There is no need to install or download anything to get started with RepairDesk. You just open up your browser and start lodging repair jobs. Offline backups or software updates for your watch repair shop are automatically taken care of by RepairDesk in cloud so you don't have to worry about that also. You can input the details of each repair, such as the type of repair, estimated cost, and expected completion date. And if you have a busy store, you can use the system on a tablet or PC to make it even more convenient.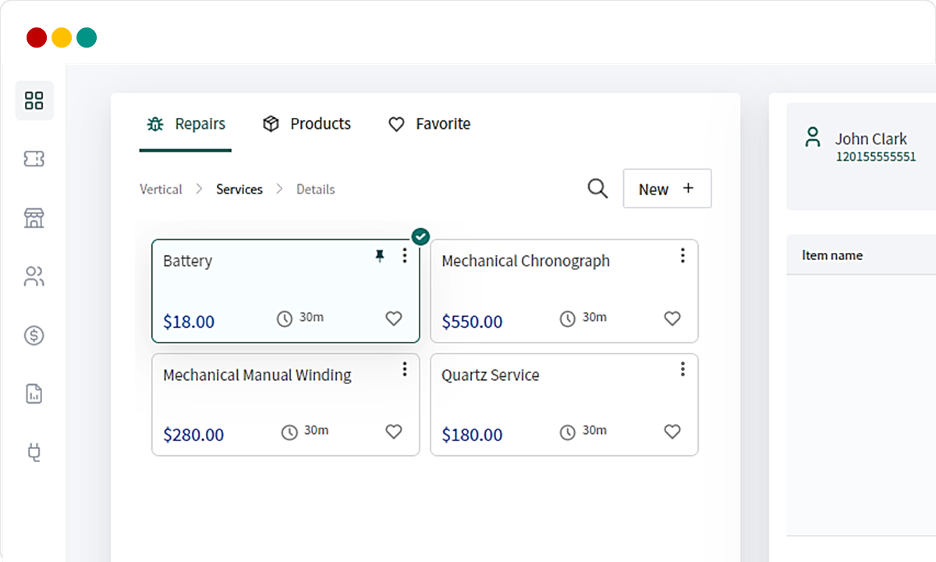 You can also access detailed reports regarding sales, inventory, customers & all important KPIs of your business anywhere, any time. It saves time, and time means money.
2. Gets You More Reviews
Not only does RepairDesk make it easy for repair shop owners to maintain records of repairs, it also enables you to collect feedback about the premium service you provide. Thus, enabling your customers to become champions of your repair and restoration services. With RepairDesk, you can automatically send sms or an email message to customers after 24 hours, asking them about their experience and requesting reviews on Google my Business or Facebook. In a service business "Reviews are everything".
3. Sends Job Notifications
With RepairDesk powerful automated email alerts and SMS features, you keep your customers informed about the status of their repairs. This can greatly improve the customer experience by setting the right expectations by giving them regular progress updates and estimated time of delivery, as some repairs can take a few days or a couple of weeks in case the job requires you to order special parts. Due to this consistent communication, the customers feel more in control and better informed about the repair process and are likely to trust you more and come back to you repeatedly.
4. Gives Outclass Customer Support
Just like you do for your customers, at RepairDesk, you are always prioritized above everything and anything. For 24 hours, 6 days a week, we make sure that if you run into any difficulty, we get back to you in less than 30 seconds. The RepairDesk team consists of highly qualified team members who are well-equipped to assist your watch restoration business professionally and responsibly. We take customer care very personally.
5. Enables Integrated Payment Processing
RepairDesk offers multiple integrated payment processing solutions making it faster and easier for customers to pay for their repairs. This can help reduce wait times and improve the overall customer experience.
6. RepairDesk is Constantly Innovating
RepairDesk yearns to become bigger and better in any way possible. Year after year we keep improving our core product and bring new and exciting workflows, features and integrations to the platform so that you can get a complete repair ecosystem for making your business grow. The extremely hard-working team will take care of you no matter what the size of your watch repair and restoration business is, and where you are in the world. At RepairDesk, it's all about you.
Excited to know more? Check out our website and Book a Demo with our RepairDesk Experience Enablers.