While COVID-19 has taken everybody's spirits down, there are some brave businessmen with their repair stores still open for services. They are offering their best at the worst of times and that is truly heroic. If you are one of these courageous heroes, defying in the face of COVID-19, we have sheer appreciation for you.
However, you still need to watch out for COVID-19 and its hideous germs from entering the doors of your repair shop. Here are a couple of things that you must enforce to put your foot down:
Clean, Clean & Clean
Do not pass over the coronavirus special daily safety routine, which includes cleaning and disinfecting all the surfaces and workstations, sanitizing the devices on receipts and returns, and frequently washing your hands.
Provide a tidy and safe environment for the sake of protection of everybody involved in the business – your customers, employees and yourself. To keep the customers coming in to your repair store, you need to be on the alert for the uninvited guests (the coronavirus germs).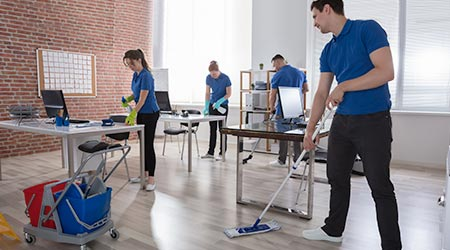 Additionally, you could make a COVID-19 safety policy for your repair shop and share it with your employees and especially customers, just like us. Let them know you are taking the responsible actions for their safety.
No Sitting
Subtract all the seating areas from your repair shop, immediately. This is to ensure that your customers spend the least amount of time in your store and possibly abstain from social interactions.
See, how Starbucks has tried different things to prevent people from hanging around in their stores, take your best pick of one method and do it ASAP!
No Touching
Remove all accessories from customers' reach to avoid unwarranted touching. If you are unable to re-position the items, at least put a polite warning note on all stands and counters.
Masks on, Greetings off
Encourage social distancing by keeping your customer dealings short and thoughtful. Say warm hello, do not shake hands, and cut the whole process to the chase. Wear face mask and gloves the whole day for your safety. Do an extra favor to your customers and offer them masks as well. Follow the proper safety tips during repair jobs to spare yourself from the COVID-19 germs.
Final Shoutout!
Staying open for customer service, during the most uncertain time of the year, is utterly commendable. We appreciate your sweats and so will your customers. So, stay on the heroic run and serve the humanity in this difficult stretch. Be sure to do all the safety measures explained above and more to prevent exposures to the coronavirus. Also, do not forget to communicate with your customers in COVID-19 lockdown. You can explore more safe business strategies in our series of the Coronavirus Business Survival Guide articles. Stay safe everyone!