You're running a repair shop and you've got the best deals for your customers. Sweet. But wait, do your customers know about it?
Think about what would a customer do when he needs a repair service for his cellphone, computer, laptop, or any other device? Probably go online and search for it, right? Yeah, and he'd easily find a couple of options to get that repair from. So what will be his next step? Looking for the best deals!
Here are all the platforms you need to cover to let your customers know about the best deals of your repair shop.
Your Website
Your official website is the number one information source for your customers. So, it is naturally the most important to have a best deals page that features all the top offers of your repair store.
You can display these offers in a categorical breakdown to help your customers choose the one they came looking for. Make separate categories for cellphone repair deals, computer repairs, laptop repairs, etc. Similarly, showcase the top deals for different device accessories. Use your POS system for repair shop to navigate through these categories.
Try to make the user experience as smooth and interactive as possible. You can even play smart and repeat the deals that fall in more than one categories.
Your Facebook Page
Out of all social media platforms, Facebook is the most resourceful one. You can post all kinds of stuff there and it reaches out to your customers within seconds. You should use photo albums feature to your advantage. By creating photo albums for the best product deals, service offers, and product/service bundles you can flaunt your best offers to your customers.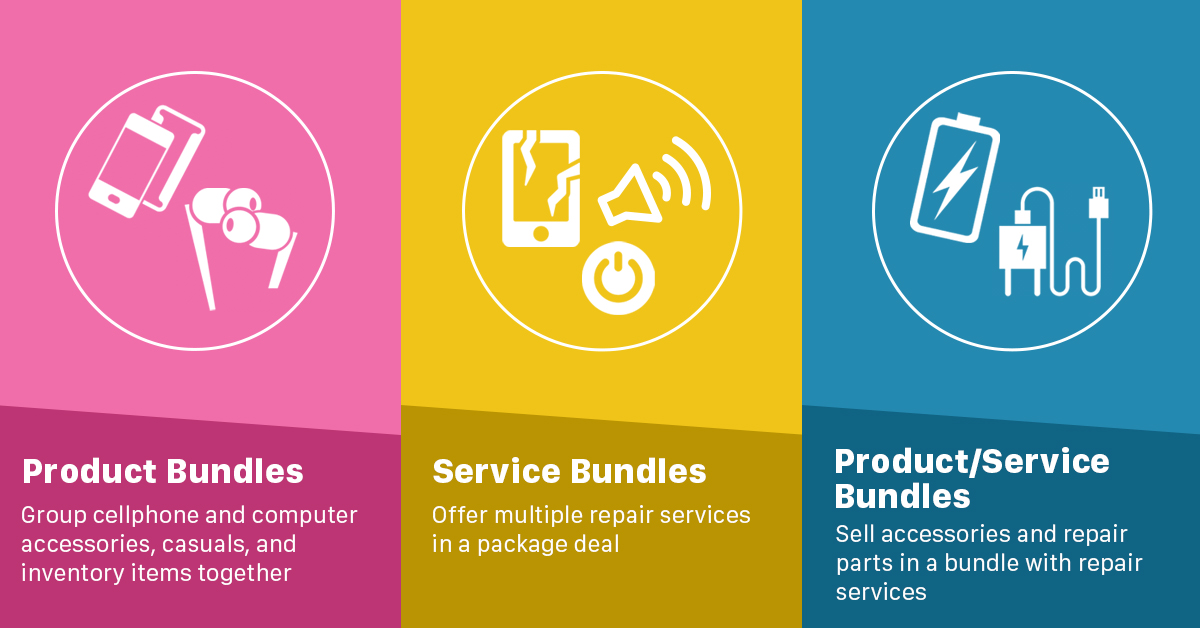 Albums will also be great in keeping the offers aligned for the longest time. Some deals will no longer be there after you give the website page daily or weekly touch-ups. But customers can still view them on your Facebook page and ask you for them.
In-store Best Deals Ads
Almost everyone can put a show on their store website and Facebook page. But not all pay attention to the final showdown of in-store advertisements. So, you should definitely go for this one.
Display your best deals and offers on the Customer Facing Display of your repair POS system and catch your customers off-guard when they are checking out. Similarly, use RepairDesk Payments terminal for these visual ads of your bundle offers. Grab their attention for an awesome deal while they pay for their sale.
Some extra tips
You don't just want your customers to see you as a repair option. You should get in your customers' head and tell them that it doesn't get better than this. So here are some additional tips and tricks for you to go full circle.
Show the sum of original prices of the bundle items and highlight how much they will be saving on each package deal.
Add customer reviews to help them choose between similar deals.
Clearly quote the expiry dates for all limited-time offers.
Feature "deal of the day" and make it a hot topic.
Add a category of 

gift cards

in there.
Let the best deals hunters know!
Customers these days are more concerned about the value of their money. And that's because they have too many options to choose from. So they spend their dollars on the best of the best and don't settle for anything less. You need to win the hearts of these best deal hunters. Upgrade your repair shop software account to the Enterprise Version or sign-up for a free trial and use our Product Bundles feature to create the best repair deals for your customers and be bold to display them everywhere.