A couple of years ago, it was common practice to get a manual for almost every tech product you bought. Whether it be a cellphone, a laptop, or any other kind of electronics, the manual would be included to help troubleshoot the device and even repair it, if needed. However, that's not the case anymore. Manuals have become a relic of the past, now being ditched in favor of online pages that you can access from even your phone. Most of our cellphones end up on the scrap heap after only a few months, as a consequence, all in the bid to gather the latest technology that will also be eventually thrown out. As the push for a more circular economy gains traction, the pressure builds for products that can be repaired and reused. This is what the "Right to Repair Law" fights for.
Just as we previously talked about the history of the Right to Repair movement, let's talk about its progress worldwide. Right to repair movements have been steadily springing up worldwide, with the same message broadcast all over. That message: fixing things should be easier than throwing them away. The message is now so prominent that the European Union has begun to discuss it.

'Right to Repair' Growing Louder
When it comes to smartphones, tablets, and laptop designs, thin is the new trend. However, the tradeoff between style and lifetime is often to the loss of the latter, as reparability ranks low in the minds of manufacturers. To be more visually appealing and better-selling, OEMs don't hesitate to cut down the life of the product.

A communication specialist from a renowned repair shop in Europe said:
"In the latest models, the battery and the display are often glued to the gadget's body. It makes the device waterproof. It's a low-cost compromise enabling manufacturers to focus on thin design rather than reparability. That cannot be achieved when you screw the parts together."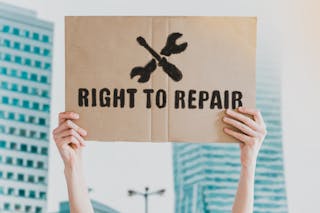 iFixit Europe, a Stuttgart-based nonprofit organization, is leading a solid initiative on this front. Connecting more than a million technicians and hobby repairers collaborating in a global online community, they aim to demand the "right to repair" for customers in the EU, hoping to have their voices heard internationally.
Team iFixit are well-known for their direct approach to device repairability. After a new mobile gadget hits the market, their repair technicians try to take it apart and reassemble its components. The exercise aims to feed the 'Reparability Index' with new data and scores from one to 10 points for gadgets.
How Can the "Right to Repair" Benefit Society as a Whole?
Encourage sustainable consumer choices and promote a culture of reuse

Improve reparability and extend the lifespan of products

Call for a common charger to reduce electronic waste

Systematic changes needed: from production and public procurement to advertising and waste management
The "Right to Repair" has its foundation based on consumer interest. It suggests that consumers who buy a product become sole owners of it. That means that their money is buying them an entity, as opposed to a license to use it under someone else's terms. With this sentiment in mind, anyone who buys an item is then entitled to use it for as long as they need it, or for as long as the item remains in working condition. This means that consumer choices will inherently be geared towards longer-lasting and quality items. Also inherent to the movement is the need to maintain items in good working condition, so that they may serve their purpose for longer.
A common issue with most electronic devices is their different power input methods. Some use standard DC pins, others use the micro-USB standard. Most modern devices have now adapted to USB Type-C. However, some power inputs have their utility severely limited because they are proprietary. If you want to charge your iPhone, you have to have a Lightning cable. The Right to Repair does away with this, professing a standard charger for all.
Essentially, the Right to Repair advocates that we should all be able to repair devices that we love to use and not throw away things that become wasteful for both our wallet and the environment.
European Parliament votes to support Right to Repair
While the government in the United States has been slow on the uptake, the EU is paying close attention to the matter. The European Parliament has recently adopted a resolution to make it clearer which devices stand a chance of being repaired.
This new policy aims to reduce e-waste and have a better impact on the environment. The policy keeps sustainability in mind and, as the Eurocrats put it, "putting an end to premature product obsolescence." According to the European Parliament, the hope is that consumers who are already not opposed to the idea of repairing rather than replacing will be more confident in second-hand products if there are guarantees to cover product repairs.
The narrative, the resolution stated, must change from "cradle to grave" to "cradle to cradle." The resolution also "calls on the Commission to guarantee the right for people in the EU to have their goods repaired at an affordable price using a set of specific measures, such as the obligation to provide information at the time of purchase on the availability and price of spare parts and time taken to repair them."
Some EU countries are ahead of the curve. France has decided to wait no longer for an EU directive. It is imposing a scorecard system from January 2021 in order to regulate electronics and their repairability. Spanner icons on scorecards ranging from zero points (red) to 10 points (green) are intended to show how quickly a damaged device can be fixed.
France is planning a repairability index, giving a simple score out of 10 for smartphones, TVs, and laptops. The score will be calculated based on how easy it is to take devices apart and the availability of repair information. If the idea proves successful, more EU countries may accept France's model as a standard for their own regulations.

A change in consumption patterns
Through these policies, the committee hopes to make the day-to-day operations of independent repair shops a little bit easier. Additionally, they also want to make repairing more economically enticing for consumers than wholesale replacement. The report does not say precisely how much it would wish to see VAT reduced by, although it points to other European countries where the tactic has been used to great effect. For example, in Sweden, consumers can write off 50 percent of the labor costs for repair. They can use it in making out-of-warranty fixes more attractive.
Organizations like Repair.org and iFixit are providing platforms for people to raise their voices. They are very proactive in their efforts, taking public votes in favor of a right to repair act. These organizations firmly believe that repairing shouldn't be a difficult process and shouldn't be locked away behind some end-user license agreement that voids your warranty.

We, at RepairDesk, care about you and your repair business. Standing with you in this difficult hour, we are offering our repair POS software to help you in your repair business. You can always contact us and use our services in a free 14-days trial. We are in this together, folks!
Sign Up for a 14-day FREE Trial!