If you own a local repair business that relies quite a bit on proximity and location to herd your customers to your store, Google has surely been a godsend for your business growth. Get the word out about your services or ensure that your clients find you easily, Google really has been the greatest support for business – be it any size, any kind. In the age of the internet, people of all ages and backgrounds rely on search engines like these to accumulate information, and Google dearest has made sure to utilize this fact to aid businesses in their evolution.
The greatest asset it offered shop owners was the feature Google My Business (GMB). The GMB profile allowed business owners to expand the reach of their services and products by keeping the catalog online for all in the vicinity to see. So, when in November 2021, Google announced that this platform would be undergoing major changes, many people were understandably worried about the stability of their business profiles.
What's So different Now?
Since the announcement, Google had slowly been making the proposed changes which are now in full effect. The least impactful of the alteration is perhaps the change of name from Google My Business to Google Business Profile. The platform where it existed was previously known as Google Local and Google+, which has also been discontinued. A far more vital amendment is completely retiring the Google My Business application and encouraging business owners to shift their focus towards Google Maps and Google Search for a smoother user experience. The process is not that different from looking up a normal search result on the engine, merely typing in the name of your shop. For most small businesses, this was already the course of action employed to access their information.
Moreover, Google has also designated its original Google My Business web portals to primarily aid and support shops that have multiple locations since those are the ones that utilize it the most.
And that's not all, the search engine company has also added a message option to the profiles of some shops to make them more accessible to the customers. The ease of communication is a big step in enhancing engagement and we are here for it!
Accessing Your Business Profile Now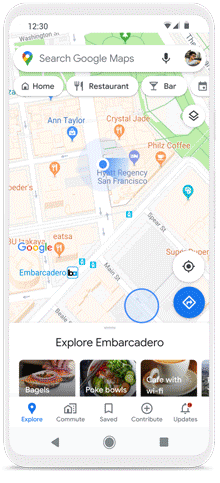 Google recommends that small businesses manage their profiles directly through Search and Maps. It is a fairly easy approach that requires you to type in your shop's name on the search bar. Your original data from the Google My Business app will be available in the right-hand section of the results. There, you can verify your profile and alter or manage it as you see fit.
The information you edit there is what your customer will be able to see, such as: the working hours, the posts, the response to reviews, the address, etc.
Your entire setup can be completed there and your profile will be public for the clients to see. The process onward is not that different from the one already underway with the application. Repair shops would have to dabble in local SEO strategies to ensure that their repair shops rank higher in the search results. It is recommended that you check in on your profile frequently and update any new information on your business as soon as possible. This is statistically proven to garner you a better reputation, greater engagement, and more visits, and purchases. So, it is definitely an amazing addition to your business plan.
Although Maps does not allow this, on Google Search you can just type in "my business" and if you previously had a logged-in GMB account, it will allow you to access the knowledge and edit panels for your shop right there. The Maps use that data as well to guide any clients in the area towards your location.
However, the thing to watch out for is that most users are at complete liberty to change the information you have provided for your business on Google and leave reviews that are available to the public at all times. Therefore, it is imperative that you check up on your profile and alter any incorrect information, as well as respond to the reviews to ensure that you don't lose any prospective customers due to false information. But not all user-inserted content should be changed, Google encourages data driven by clients in the form of updates, questions, videos, photos, and more.
Some Things Stay the Same
No matter how many changes you may have to adjust to with this new update, what stays the same is the importance of a Google profile for your business. A widely accessible business profile that is directly controlled by you with comprehensive and accurate information for your clients. It is vital to remember that having a Google profile is extremely beneficial for your repair store. Just the primary category option alone can narrow the search results for your target demographic towards you. Ensure that while editing you pin down the category to more than just a repair store, specifying the type of objects your repair. For example, "mobile repair store" or "watch repair shop" etc. With just a few right words, Google can boost your store to the top of repair businesses trending in your area.
Updating your profile with detailed information can take you a long way, it can even create an audience bias towards your shop. Especially if the attributes include in-house information like "minority-owned", "disability accessible", and more. These specifications should be updated diligently for maximum impact. You can even maintain and increase your service standards based on the rating your repair shop gets from your client. One such way to enhance the quality of your service is by utilizing versatile and user-friendly POS software for your repair shop. Small businesses are the backbone of the economy, and they can grow to become industry giants with the right software and outreach. If the repair business was anything like the Olympics then these would be the representatives that got your shop to the top of its game!