Email from Google! You've received a new ….
Great!
You think to yourself, another 5-star review from a happy customer!
And you open the email to see you've received a new 1-star review.
What… how!? What could you have possibly done to deserve this? You only sent the reviews campaign through your repair shop software to people with a positive experience.
Unfortunately, it's done, and all you can do now is deal with it the best you can. Occasionally a false or spam review can be removed, but with much effort and stress on your part, and let's be honest… Google rarely removes a review.
Instead, think positive. This is a great opportunity to show other customers (and this one too, if they are legitimate) how professional you can, and choose to be in the face of negativity.
Read on to know how you can change negative reviews to positive reviews.
How To Deal With Reviews
Always, always reply to every review you get, positive or negative. Thank customers for their support when they leave a good review. If you get a 3 or 4-star review, thank them for their support and ask what you can improve next time to obtain 5 stars from them.
Leave the store email and phone number and encourage them to contact you. Don't be surprised if you don't get a response, but the point that you have made an effort to reach out is important.
Don't focus or stress on the fact that you got a negative review. The key is to focus on what your response will be, and what kind of positive light you can shine on your business with it.
Your reply is ultra important. Other customers that are reading your reviews will look at the negatives but will take to heart the reply from the business more than the review from a cranky customer.
So, how do you do it? Ever heard the expression, "Kill them with kindness"? Here are a few scenarios.
The Competition/Liar
"Charged me and didn't fix the item", or "Kept my item for 6 months and it was broken when I got it back" etc.
Response: "Thank you so much for your feedback! Unfortunately, we have no record of a customer or any work done under your name. Please note, we don't charge for repairs not completed, or for diagnostics unless in very rare and informed cases. It may be possible you have left this review for the incorrect business. If that is not the case, please reach out to us so we can make it right! Type Phone/email here."
Here's one such example.

The Miscommunication
"Promised to call me back, didn't", or "Quoted $80 and then charged me $150, do NOT recommend"
Response: "Thank you so much for your feedback! We are so sorry for the miscommunication. We strive to provide a timely response and accurate quotes to each and every customer. Occasionally, we do slip and we're so sorry it happened to you. Please reach out to us so we can make it right! Phone/email here."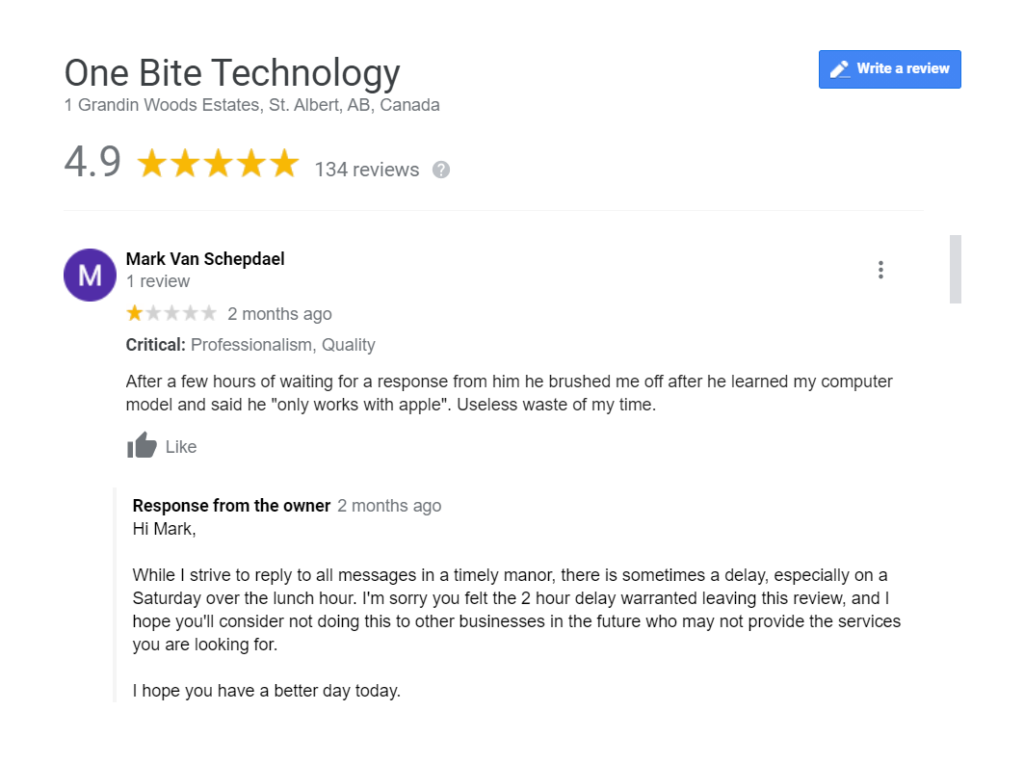 The Grump
"Staff were rude", or worse "Owner ignored me"
Response: "Thank you so much for your feedback! We are so very sorry we left this impression on you and would love the opportunity to hear what happened and make it right. We strive to ensure every customer coming through our door has a fantastic and wonderful experience. Hope you can give us a chance and we promise to make it worthwhile. Type Phone/email here."
The Out-of-Warranty
"I had my phone fixed here and woke up the next morning and the screen was broken. They wouldn't fix it and said that I broke it".
Response: "Thank you so much for your feedback! We offer an industry-leading lifetime warranty on our displays, which covers any factory defects. Unfortunately, physical damage is excluded. We know accidents happen, and we are happy to extend our offer to replace it at no labor cost, as mentioned in person. Please reach out to us so we can make things right. Phone/email here."
Here's a similar example of customer service being done right.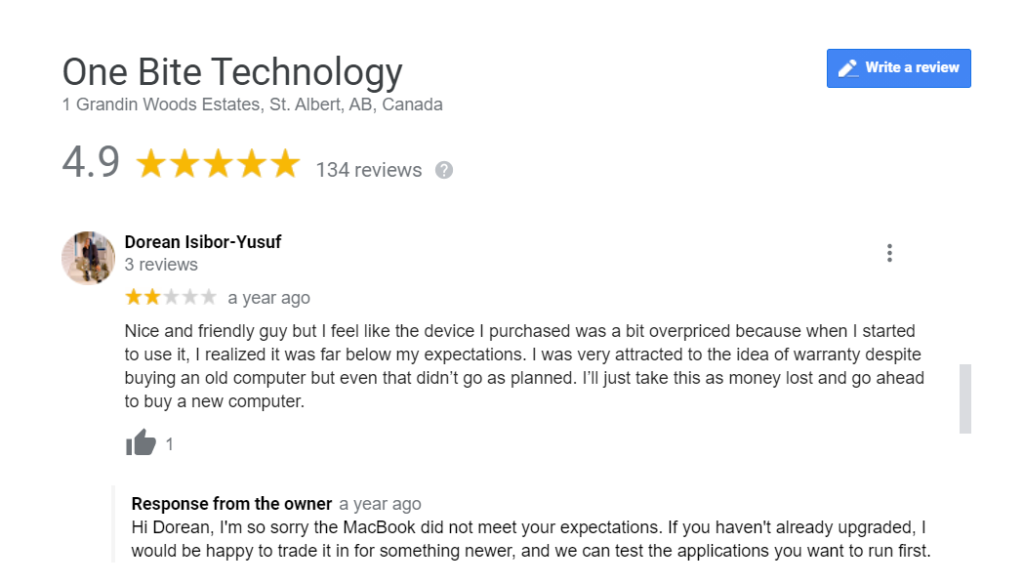 Quick Tips & Tricks
In every case,
Thank the customer for their feedback
Explain (without emotion) the situation when required
Emphasize your company policy of providing great service
Offer to make things right with the customer
Provide contact information to make it easy for them to communicate with you
Do NOT get defensive or emotional
It's tempting, but you don't need to explain the situation back to this customer or to who you think is reading it
Don't try and depict the customer in a bad light by explaining what happened and how the customer was wrong. This depicts YOU in a bad light.
What's better than dealing with a 1 or 2-Star Google Review? Preventing it in the first place.
For starters, you can use an integration from within RepairDesk repair shop software to automate emails or messages that ask the customer to rank your repair shop's service. The automation process only sends a review link if the customer rating is 4 or 5 stars.
In my experience, the majority of negative feedback comes from a SECOND visit to your shop, not the first. Often it is in the case of an issue not resolved, or a faulty part. Sometimes it is because of the notorious "I left it on the nightstand and it was broken when I woke up".
Recognize The Type Of Customer
We know there are those customers who just can't be pleased, or who are trying to scam you, and in those cases, you can follow the above responses to their negative feedback. For most customers, however, they are just human. They've had a bad experience, or an accident, and are hoping to get your help.
When a customer comes into your shop with an issue with a repair… put yourself in their shoes. Give them the benefit of the doubt that they are not trying to scam you, as realistically that's a rare scenario.
Open your mind and think about it from their perspective. You've just paid $150 for a screen repair. You work part-time while trying to get through school. Fixing your phone was a huge expense, and a week later you drop your phone again while juggling it and your groceries. To you, another $150 is unobtainable and heartbreaking.
As a shop owner, what is the expense to you? $60-$80 for the screen. Let's think about this long term. If you offer to fix the screen at full price, or even a discounted price, you may profit another $70-$90, but there is a good chance the customer can't afford it or will refuse out of spite or embarrassment.
There is a good chance this experience will leave a bad taste in their mouth, and while not your fault (and they know this deep down inside), it is natural to seek blame elsewhere. Guess what, that blame will lay on you and you might wake up to that 1-Star review!
Empathize, Empathize & Empathize
Let's play the other hand. Offer them empathy "Oh my goodness, I'm so sorry this happened to you, I've had that happen to me before personally and I know how stressful it can be". Now blow their minds with kindness and customer service, "We can't always do this, but I can see it would mean a lot to you. I will repair it again for you at no charge. Here are a couple bucks I would like you to take so you can enjoy a drink on me from the coffee shop across the street while you wait. I'll take care of this for you right away".
Can you IMAGINE the feelings that will give the customer and the impression they will take away? Guaranteed with that $82~ investment you've just bought a customer for LIFE, and they will darn sure refer you to everyone they know. You've invested $80some today… and it will earn 10x that in the future.
When encountering an upset customer, for whatever reason, stop and think. "Why are they upset, how can I fix it, and how can I blow their mind with positivity?" Do whatever it takes, and the 5-star reviews and raving referrals will follow.
You've got this!