Educational, networking, and insightful. That is what the All Wireless & Prepaid Expo (AWPE) boasts about being. It is no exaggeration to say it is one of the largest gatherings of prepaid providers under one roof. The exhibit section is so sought after by businesses that 80% of it was sold by May. Whether they provide back-end technology or retail distribution, if they're prepaid, they're there. The event was established in 2008, but this year they are looking forward to having its most robust lineup of speakers to date. Though their contributions in the prepaid section have already been immense, they went a step further and ventured into the all-wireless space in 2019. And that marked our arrival at the expo too.
A premier event for value-added and prepaid wireless services? Of course, we weren't going to stay out of that loop. You already know how much we love meeting you all.
RepairDesk is at AWPE 2022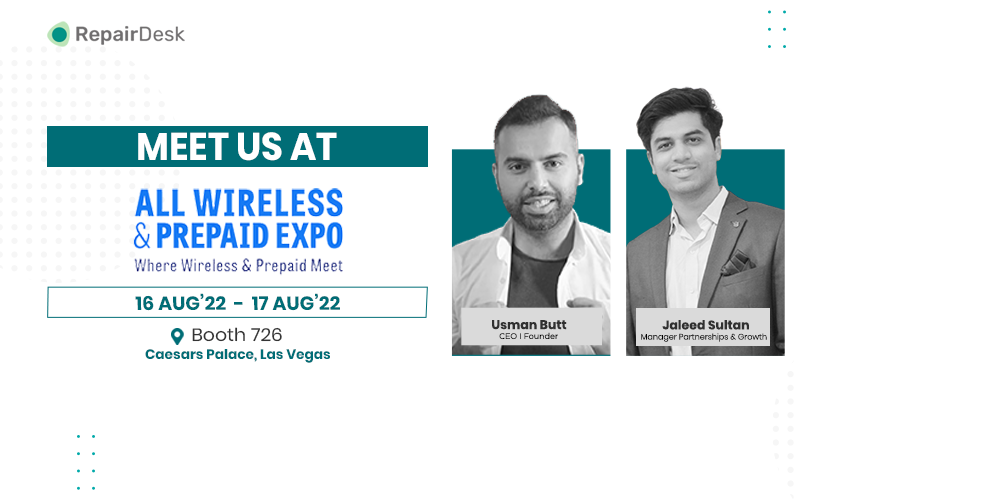 Not only is our POS software among the industry leaders, but it is also expanding its range of services and products. RepairDesk has always had a place at the premier event. The Expo is accompanied by a conference with a schedule brimming with tutorials, workshops, and case studies, all of which are designed to give you an insight into your business's future. You can check out the conference agenda and sessions schedule here.
But we're more geared towards the fun at the Expo exhibition halls. The quality and quantity of the exhibits there are unmatched. So, we're there giving a teaser demo of our new RepairDesk ePOS system too. We're equipped with a demo that shows how well this new upgrade to the system saves you time, money, and hassle. Miss the future of repair at your own risk. But to be completely honest, the All Wireless & Prepaid Expo is not an event you can miss.
Why YOU Need to Be There
Other than the networking you can get done, the tricks of the trade you can pick up, and all the latest technology being revealed for your repair businesses? We've got some extra special things just for you guys. Along with unveiling the labor of love that is our Repair shop digital and in-store marketing services to offer you growth opportunity that is our ePOS, we'll be offering deals like never before exclusively for the attendees there. But if that's not enough motivation, we're also giving away free exhibit hall passes!
These passes are currently going for $49 but will turn into a $75 setback on the ground.
So, save yourself the expense and get our free pass to the All Wireless & Prepaid Expo.
Get the code for your FREE pass from us!
It just doesn't get better than this. Securing your repair business's future by ensuring you aren't left behind in the dust while getting a free pass? That's a great deal if we've ever heard one.
We can't wait to see you there!
Get your code and FREE PASS now!