Whether you're a budding business or one looking to expand the franchise, getting a space for your business is one of the most vital initial steps. But that is no easy task. Ask anyone who has gone through the ordeal already. The hassle is mind-numbing, to say the least. There are multiple factors to consider when searching for the ideal location for your repair store. And we're here to help you determine what could be your store rent baselines.
If you are looking to sign a lease for a space you must consider a range of factors, including but not limited to:
average commercial rent cost in the area
average industry investment
space-to-rent ratio in the State
rent contract type
maintenance & taxes
store space architecture
Average Commercial Rent Cost
The rental cost of any space depends on the area under consideration. Whether it is for residential or commercial purposes can significantly impact the price of rent/lease. So, when figuring out the average cost of renting a repair store in your area, ensure that you are focused on commercial zones to avoid any liabilities as well.
The thing is that the rent, even among the spaces closest to you, can vary drastically. Not only is the cost different for different states, but it also varies depending on the area within the city. The proximity to other commercial districts is one factor that impacts your income greatly, both in terms of your expenses as well as the revenue potential.
Average Industry Investment
A great strategy would be to confer with the local repair store owners and get their opinions on it as well. Who would know the area better than someone who has already invested in it? A good idea would also be to get in touch with a real estate broker and learn about the different factors that influence the cost of the space. Further, confirm whether the price range any place advertises is on a monthly or yearly basis. Wouldn't want the final document to reveal a nasty surprise that is too heavy a loss of time or investment to repair shops for cell phones.
Space-to-Rent Ratio in the State
The truth is, there are a whole variety of different building options to choose from in vastly diverse areas that tend to come at an assortment of price ranges. For instance, a 500 square feet area in Philadelphia might rent out at $1150, but the same in Brooklyn would set you back a whopping $3000.
Same area in Philadelphia renting out at $1150, would rent a whopping $3000 in Brooklyn
So, the cost analysis for each state and city is different as it is. But when you then consider the neighborhood as well, there is more to consider. There might be some areas that are rundown or elite or some that are the hub for repair business. Each of these would have its own average space cost.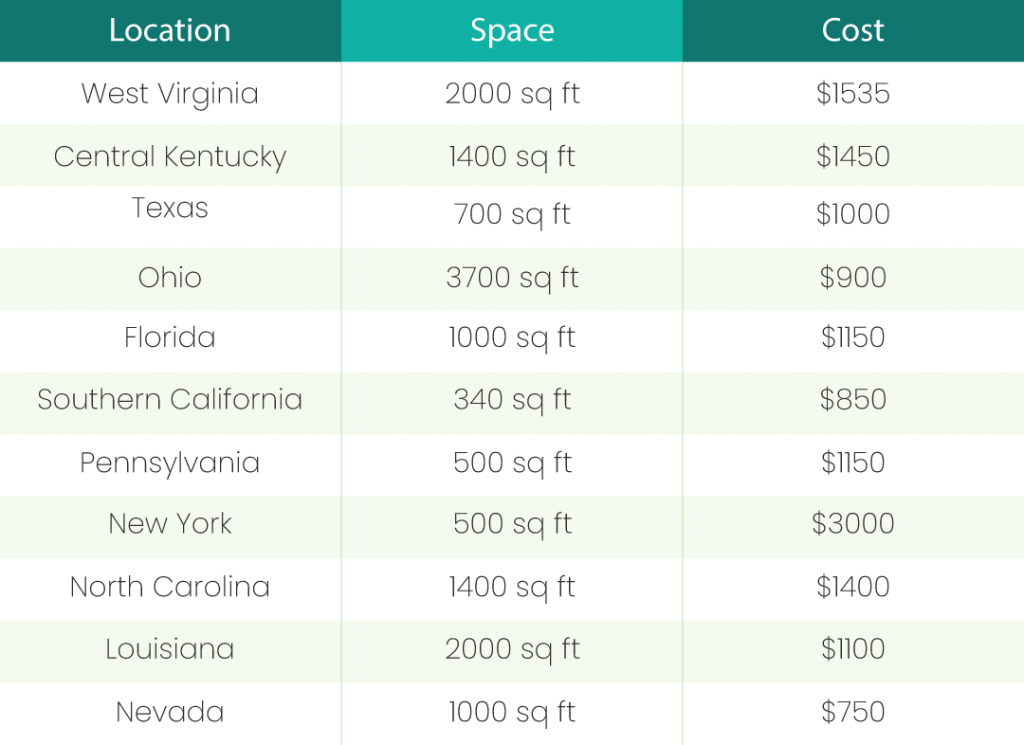 Every time you encounter an area that seems to be more expensive than the rest, try considering the reasons why and if they are worth the extra dough. These factors might be that it is a popular place for shoppers, is the prime location to open a new store, or many different reasons that might just help your store in the long term.
So, we suggest being thorough when looking up why a space is cheaper than another. If you spend the entire lease time struggling to get customers to even come to the area or just fixing up all the issues that you might not have checked out, you'll be losing a lot more money than you'll get to bring in.
The real money that rent takes up is for the location of the store, not the amount of space in it.
Rent Contract Type
A vital thing to be vigilant of is whether the lease you end up signing is a triple net lease or a flat rate one.
Triple Net Lease
In a triple net one, you will be liable to pay all expenses for the property, including maintenance, within it.
Flate-Rate Lease
For a flat-rate lease, the rent could be a certain price, and all your utilities, insurance, maintenance, and more will be managed by you.
Also, before signing, ensure that your rent is not potentially subject to unexpected or frequent change.
Maintenance & Taxes
The thing is, your repair store rent isn't the only cost of space you'll have to consider. As we mentioned below, without thorough research, you'll likely fall prey to a lot of hidden charges while signing your lease. These can include maintenance charges if the space is not already kept up to par or taxes that come along with the store's property. Not to mention that you'll even have to perform common area maintenance, which includes the building, the parking lot, and all other common areas designated to your space. The chances are these costs might even exceed the initial rent payment you'll have to make!
Store Space Architecture
One oft-ignored element in choosing the place to lease for your repair store is the amount of financial investment it would take to prepare the store for business. The lease/rent cost does not only mean the lump sum you pay upfront to the agency. It also includes the stream of money you'll be spending on a regular basis in upgrading the architecture of your repair store.
Does your store need a major overhaul? Would this place need constant maintenance expenses due to faulty wiring, leaking roof, underground seepage, etc? Does this place offer the possibility of an extension in the covered area in case of a sale rush or business expansion? These are some of the questions that you should have in mind while considering the repair store rent numbers on your sheet.
Determine What You Can Afford
Before settling on an ideal location, estimate the repair store rent your business can afford. You'll have to include the estimations for extra expenses, like how much it might cost for you to transport all the equipment to the new location and if that is something you can afford. More still, you have to evaluate whether the new location has the prospects that will keep your store's growth on a steady hike. The move can just as easily hold you back as it can propel you forward. So, choose your location wisely.
The More You Know, the More You Can Grow
All this information might be stuff you already know. But what is the ground reality of the costs across the US? Well, we've asked a few repair store owners and complied the answers for you below: