Are you looking to enter the cell phone repair industry to make a living for yourself?
Have you realized that the world is bombarded with cell phones today, and more cell phones mean more required repairs?
And do you struggle with finding what it's actually like to have a cell phone repair store and wish someone would guide you and spill all the industry secrets?
Well, today is your lucky day! In this post, we will discuss what to keep in mind when looking to invest in a cell phone repair store.
Let's find out.
1. Research
A little research will help you stay ahead in the game and avoid obstacles. Do you know which phone is most used in the US? Apple has 56.81% market share, while Samsung comes second with 29.47%. Research like this will help you determine what brand you should focus on when planning your inventory for repair parts. Similarly, questions like "What are the most common mobile phone repairs?" will also help you know what parts you should invest more in. Google is the best and easiest way to dig up statistics, so doing a little research will help you identify what to focus on.
Another way to do research is the primary method. Visit different repair stores in your area, see what kind of accessories they have on display, and what brands are being commonly sold. Each kind of accessory will have a different brand; take notes of that. A mix of both primary and secondary research will help you be aware of the market trends, and you will be able to plan inventory better.
2. Inventory Planning
Once you do some digging, research will help you determine what you need in your inventory. Planning inventory management is important as you need to ensure you never go out of stock or pile up on extra stock. 
Both can be bad for your business, as you won't be able to fix any devices if you go out of stock. Also, your existing customers will have to wait longer than expected as you would have to get hold of the inventory first. On the other hand, you go out of cash by piling up stock, if not careful. Therefore, inventory planning is vitally important.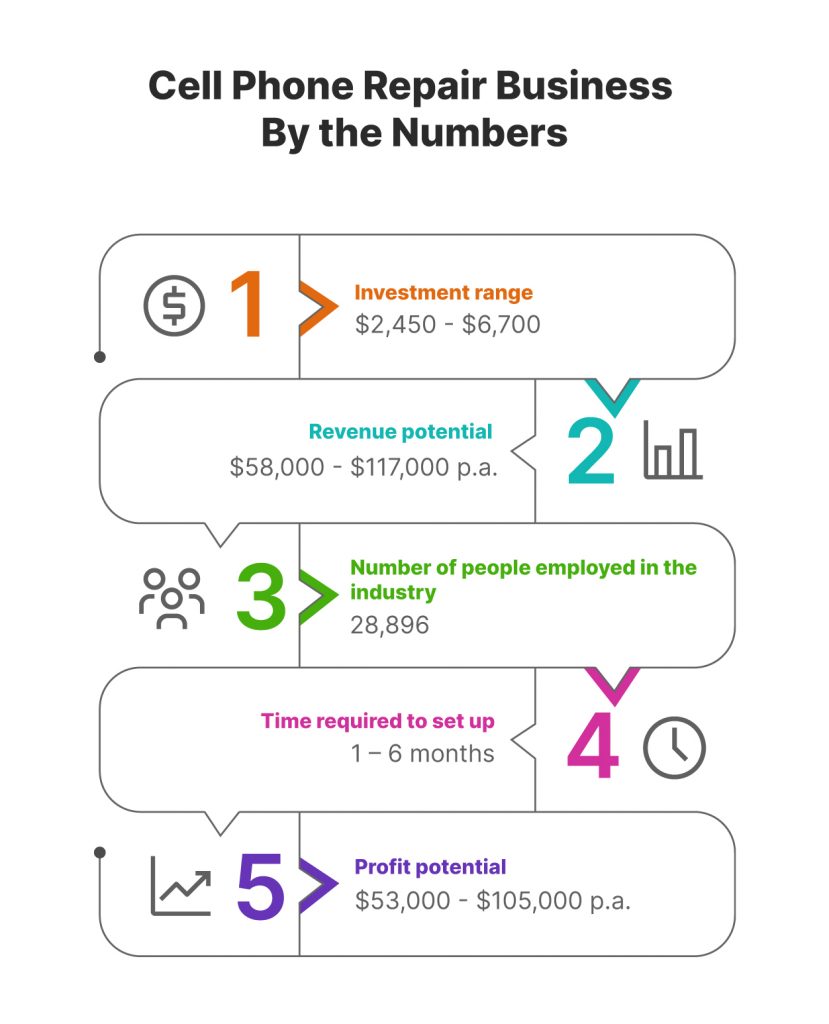 3. Invest Wisely
We get it, you have a budget. You want to provide the best to your customers, but you also want to keep your expenses and costs down. Carefully plan how many technicians, extra labor, etc., you would require to avoid employing extra people or being understaffed. Making a list of tools you need; categorizing them into what equipment is a must for now to open your business, and which tools can be bought later can help you prevent going cash-strapped because you invested more money than required.
Similarly, as mentioned earlier, inventory planning is important before investing.
A brilliant solution to invest in is cell phone repair software. A POS system for cell phone store can help you set inventory levels so that whenever your inventory reaches the lowest set number, you get a reminder to order stock again. POS software that provides value can also offer various integrations to help you order stock from different vendors. This makes things extremely simple and easy.
Similarly, repair store POS software also helps automate manual processes and eliminate the need for employees to do repetitive tasks. Due to this, you don't need to hire extra labor to do all these tasks, your existing labor can focus on key tasks instead of doing tasks manually that take additional time and increase the chances of human errors.
Also read: Learn how to manage inventory better with RepairDesk
4. Marketing
In today's world, your business can not survive without marketing. Create marketing plans, carve out strategies for efficient advertisement, and look to be creative. The right promotion can help you position yourselves in a unique way and help you stand out from your competition. You can communicate discounts and offers on social media platforms such as Facebook, Instagram, TikTok, etc. Other than this, you can also use email marketing for loyalty programs early bird discounts, etc.
Any offers or deals your store is currently offering can also be communicated via email. Keeping your customer base informed about your business is one of the most important things you should be focusing on.
When catering to a $4 billion industry, one must make sure they are doing things right!
Cell phone repair software can help with sending automated emails and integrations like Mailchimp etc. can help you be extremely creative and interactive.
RepairDesk makes marketing easier- Learn more today by booking a demo.
5. Better Communication using Cell Phone Repair Software
Your business's success will depend heavily on how you communicate with your customers. According to a survey, 31.2 percent of customers surveyed want a response in one hour or less. So, replying promptly should be your first goal.
Cell phone repair software can help you go even further by helping you keep customers in the loop during the process by sending them automated messages once the device is ready to be picked up. It can also help you reply to customer inquiries within seconds by checking the software for prices of different prices and availability.
Even when accepting new devices for repair, simultaneously you can check inventory to ensure you have the parts required.
To conclude, the cell phone industry is growing rapidly. It is the future, and it's only going up from here so it's definitely sensible to invest in it. But, at the same time, one must also recognize the intense competition they would have to face, and therefore thinking things through before jumping in will always help. Many businesses make the mistake of not getting a repair store cell phone repair software, thinking it's an additional cost only to learn a few years later it wasn't. POS software has proven to be a complete game changer and the sooner you invest in it, the better. Trust us, it will make your life much easier. This is why this guide for newbies emphasizes it.