Like every year, Apple is set to release its latest flagship smartphone series at the Wonderlust event on September 12th. While the rest of the world is excited about the new features and design updates, the cell phone repair industry is curious whether Apple has fixed some persistent issues seen in the previous iPhones.
For instance, there are still questions being raised on Apple's strategy behind the following controversial aspects that are seemingly not going to change this year, including:
Fast charging speeds
Display frequencies in non-pro models
Absence of the SIM tray
Serialized components
Base internal storage
In this blog, we will shed light on the impact of Apple smartphones on cell phone repair operations. But first, let's see what the new iPhone 15 has to offer.
What to Expect from the iPhone 15
According to rumors and design leaks, the iPhone 15, 15 Plus, and 15 Pro models are expected to have:
Enhanced periscope zoom lens in the Pro models
USB-C charging port
Thinner bezels
Rounded edges
Stronger, lighter titanium frame
A17 bionic processor (only in the Pro models)
Apple Ditches Proprietary Lightning Bolt Charging Port for USB-C Port
The latest iPhone will most likely come with a USB-C type charging port as the European Union law requires all smartphone companies to incorporate the same type of charging connection. Up until last year, Apple used its proprietary Lightning adaptor, which not only limits the usage to iPhones but also supports a maximum current of 2.4A. On the other hand, the C-type port 3A with support of up to 5A.
That's not all, Apple's Lightning port is also the most common part of an iPhone to develop a fault. The port makes it difficult for customers to get alternative low-cost charging cables as it only works best with the original ones from Apple.
While Apple is no stranger to USB-C, the firm has had its reasons to keep using the Lightning port on iPhones. But now, Apple has finally given in to the EU rule that requires all phone manufacturers to adopt a common charging connection by December 2024 to save consumers money and cut waste. 
But from the cell phone repair shop owner's perspective, the replacement of the notorious Lightning charger might mean a decrease in the number of charging port repair orders from iPhone users. So we can only hope Apple leaves out some faults elsewhere for you to fix.
Reliability
All the new features and improvements sound compelling enough for customers to trade in their older models for this year's flagship. But will the iPhone 15 be any more reliable than its predecessors?
With every new phone, Apple makes performance improvements and releases software updates that make the new iPhones more efficient. The latest iPhones are said to last 3 full years before needing a battery replacement.
But the news isn't all good.
Let's start with a problem that all smartphone users face regardless of the features and build quality – cracking, and/or breaking the screen when the phone is dropped. Surprisingly, even the best phone from Apple does not resist breakage upon dropping to the floor.
In fact, the iPhone 14 is more easily damaged as it weighs more than the previous models. And then it requires expensive repairs, which, from a technician's point of view, are not always easy.
Repairability
Apple has adopted a way of making it harder for its phones to be repaired by third-party businesses. They are designing iPhones with processors and flash memories soldered onto the motherboards. The components are glued together for no reason and are also using non-standard pentalobe screws that make life difficult for repair technicians.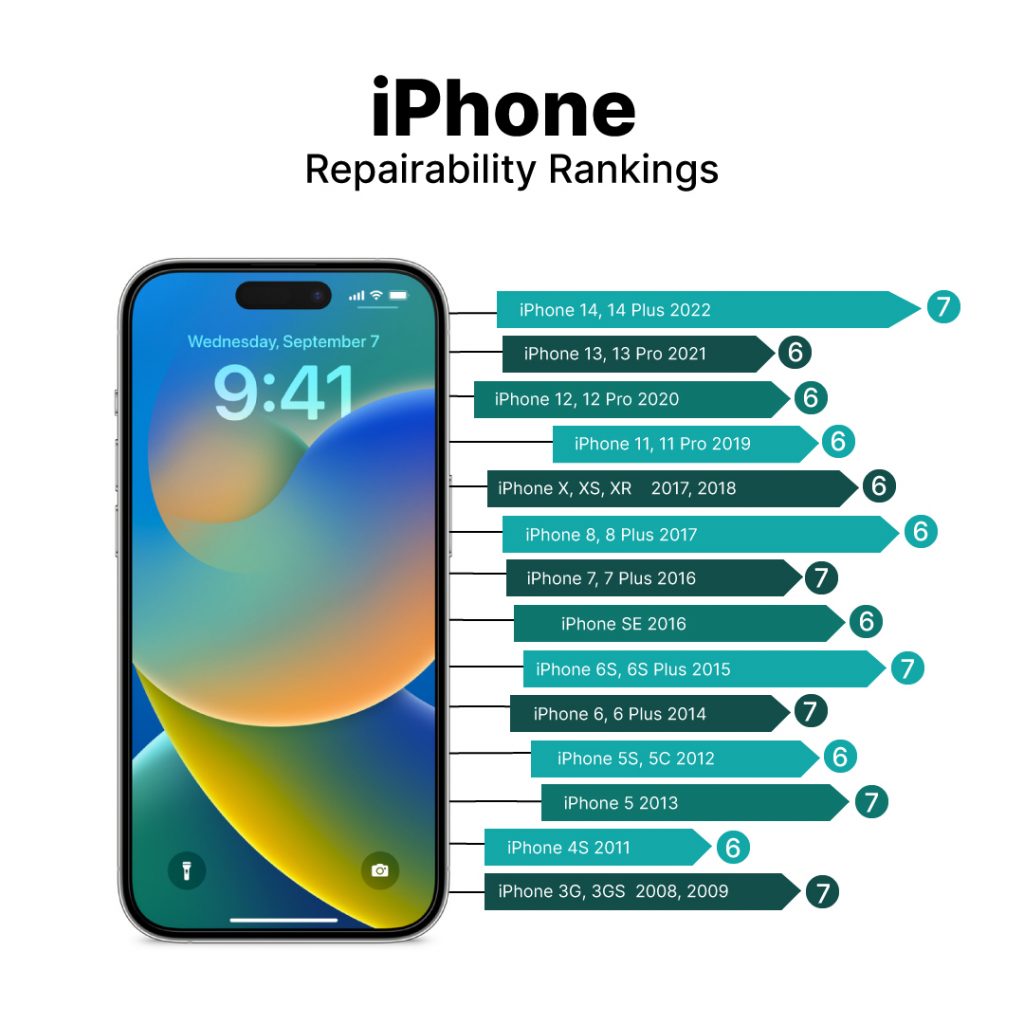 From a repair standpoint, we can only hope that Apple has redesigned the chassis to make the new flagships more repairable like the iPhone 14 and 14 Plus. But we can't be sure, because the Pro and Pro Max models from the same 14 series were considerably more complicated and harder to repair.
The 14 and 14 Pro were the first iPhone models that could be opened from both the front and back since the iPhone 4S in 2011. This meant that repair technicians did not have to open the front screen to replace the battery.
A removable back glass on the iPhone 15 would mean that it would cost significantly less to repair. To clarify, Apple charges quite a lot to repair iPhones. The out-of-warranty fees to repair the iPhone 14 and 14 Plus are between $169 and $199. These are the more repairable phones of the lot. However, the fees for the Pro models with non-removable back glass range from $499 to $549. So this small change does matter.
Moreover, cell phone repair shops in the US and Australia have pointed out a common concern – Apple's slow response times and high cost of spare parts. This makes it difficult for repair shops to match the efficiency of Apple's repair services. Just like all of their other products and services, Apple makes sure that their in-house repair service is the top choice for customers.
Apple Backing the Right to Repair Bill
In a major policy shift, Apple is now backing a California Right to Repair bill which it has been historically opposing. The California Senate Bill 244 requires manufacturers like Apple to allow their customers to repair their phones, giving them the chance to save some money in the process.
Apple has always claimed that its products are too complex for third-party repair shops to get their heads around. The brand has also been against self-repair because it believed there might be safety issues when customers tried to repair their devices themselves.
Even if we rule out Apple's unique policies, repair businesses do face challenges when repairing the highly popular iPhones. Common concerns include the availability of spare parts, the time taken to complete repairs, and providing customers with accurate information about the repair process.
The Solution for Cell Phone Repair Businesses
When it comes to Apple devices, the first and most important thing you need to implement at your repair shop is the use of original spare parts. Even though the market is full of third-party replacement parts, iPhones are not built to accept anything cheap. The idea is to replicate the manufacturer's process of replacing the damaged or worn-out parts.
Hiring Professional Technicians
iPhones are designed to avoid opening and that is part of the reason why Apple uses screws that are not industry-standard. However, opening a broken or faulty phone is often necessary in order to make it work again. Considering the complexity of iPhones, this job is clearly not for the freshers. You need to hire skilled technicians with proven professional skills in order to be able to satisfy your customers. Not only will they be able to do the job more efficiently, but also help improve the overall workflow of your repair shop.
Incorporating Cell Phone Repair Shop POS Software
Speaking of improving the workflow, you can't rely solely on technicians to take your cell phone repair business to the next level. Repairing the world's most popular and most expensive smartphones requires repair shop management software of a similar quality.
RepairDesk is an all-in-one cell phone repair shop management software that offers the right tools to enhance your repair operations. For starters, you get a POS system with automated invoicing and payment integrations like Square, Stripe, PayPal, and everything in between. The easy-to-use software is designed to help speed up repair shop operations and help deliver orders more efficiently.
Learn more about the #1 Cloud-based POS for Repair Shops
Ensuring Smooth Inventory Flow at Cell Phone Repair Shops
As iPhones require original parts to be repaired, you need to make sure the right parts are available whenever technicians need them. Thankfully, RepairDesk's built-in inventory management system takes this burden off your shoulders. It allows you to maintain an inventory count, create purchase orders, and transfer parts between multiple stores all from a single platform.
Improving Customer Experience
What do you ultimately get from enhancing operational efficiency and delivering repaired devices on time? Customer satisfaction.
Isn't that the goal?
In order to do things the "Apple" way, you need to ensure that your customer service is worthy of iPhone users. This is only possible when you are not only aware but also in control of your repair shop operations. RepairDesk's ticket management system is your ultimate key to success. It provides real-time insights into each repair order, including the hours put in by each technician, and the estimated time to completion. The best part? You can set up automated SMS and email alerts to send to your customers when a repair order is completed.
Key Takeaways
Choosing third-party repair shops is still a rather tricky decision for Apple smartphone users as they consider their iPhones indispensable. The real question is whether your repair shop is ready for what is to come.
With tech giants and smartphone manufacturers growing at a fast pace, why should repair businesses be any different? Keeping up with today's technological innovations requires solutions that make the most of the same technologies. Thankfully, you can now embrace the future of smartphone repairs with RepairDesk by your side.