If you're running a repair shop, you are familiar with the struggle of keeping up with work orders and paper-based documents.
Running a repair shop with inefficient work order processes brings you large piles of to-do lists, high operational costs, and a shortage of accountability.
Traditionally, repair businesses have been filling out paperwork to keep records of work orders and stay organized.
However, the time-consuming and risky process often results in a loss of revenue in case a paper-based document is misplaced. But now you have an alternative to paper-based work order document management.
Repair businesses, like other service-based businesses, now have the opportunity to leverage work order management software to streamline the process of record-keeping. While simplifying preventive maintenance, repair shops can now improve productivity by enhancing internal communications. 
What is a Work Order Process?
Work orders are documented requests for repair, installation, or maintenance work for completion. These forms are useful across several industries where continuous equipment maintenance and other service jobs are a vital part of their customer relationships.
Generally, these types of companies often leverage work orders to track projects, tasks, expenses, working hours, the status of assignments, staff deployed, and other operational aspects.
Work orders can either be written or printed on paper or submitted as digital documents. A work order may be categorized based on:
The type of problem. Planned work orders are used to schedule preventive maintenance work. On the other hand, unplanned work orders are for addressing unexpected maintenance activities such as equipment breakdowns.
Who initiated the work request? This can either be internal or external work orders.
How the work order was scheduled. Manual work orders are scheduled by hand and usually on paper. Using work order tracking software, you can set up automatic work orders to automate your work order scheduling based on data from your equipment's installed condition monitoring sensors or your calendar.
A work order process is a system designed to ensure accountability and timely delivery in each step required to complete work requests, from the initiation to the invoicing stage.
Consequently, establishing an efficient work order process flow helps your organization stay on top of your work orders, reduce risks, streamline your workflows, and keep your team updated from beginning to end.
The Need for Work Order Management Software
First of all, the key to assessing your current work order management systems is to identify gaps in your workflows. This certainly allows you to update ineffective methods and restructure the process to help ensure seamless operations from start to finish.
Automate Processes and Save Time
RepairDesk's Work Order Software is designed to be a comprehensive solution for small businesses in the repair industry. It offers a great deal of features that allow you to automate and manage end-to-end operations seamlessly. Here are some key benefits:
Create Tickets: With RepairDesk, creating repair tickets is a breeze. You can quickly generate tickets for incoming repair jobs, ensuring nothing falls through the cracks.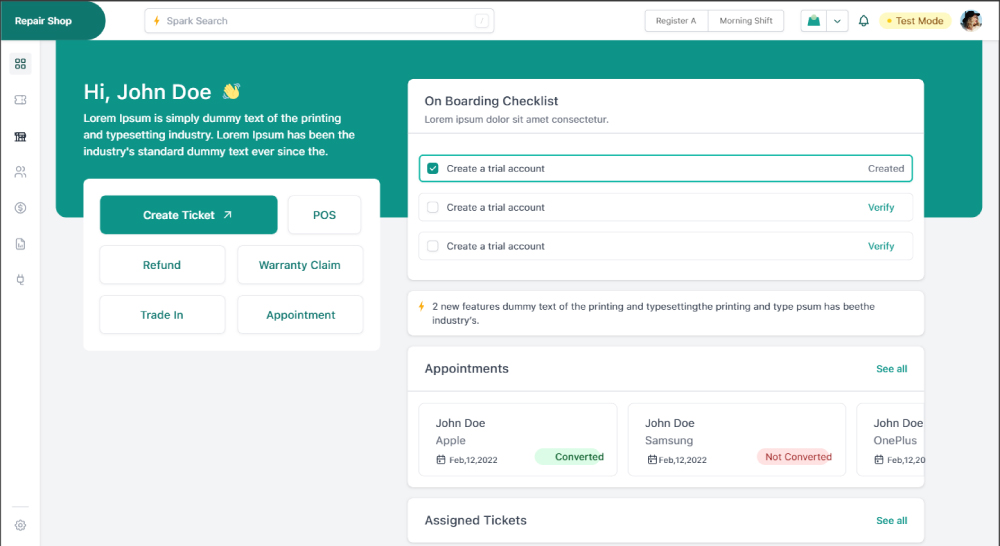 Employee Communication: The software facilitates effective communication with your employees, enabling them to complete repair jobs efficiently and ensuring customers are kept informed about the progress.
Eliminate Manual Data Entry: Say goodbye to time-consuming manual data entry. RepairDesk automates data management, reducing errors and improving efficiency.
Point of Sale Integration
One of the standout features of RepairDesk's Work Order Software is its integration with the point of sale (POS) system. This integration offers several advantages:
Sell Repairs and Accessories: You can sell repair services and accessories effortlessly through the POS system, making it convenient for both your staff and customers.
Generate Invoices: The software allows you to generate invoices quickly and accurately, ensuring that you get paid promptly.
Collect Payments: With everything accessible from a single screen, you can easily collect payments, enhancing the overall customer experience.
Track Repair Jobs
Keeping track of repair jobs is crucial for any repair shop. RepairDesk's work order management simplifies this task:
Automated Workflows: The software automates repair workflows, ensuring that repair jobs are efficiently managed and completed on time.
Modernized Repair Management: By modernizing your repair management process, you can enhance the customer experience and build a strong reputation.
Inventory Management
Effective inventory management is essential to ensure that your repair shop is always well-stocked. RepairDesk offers valuable inventory management features:
Inventory Tracking: You can easily track available parts and accessories, helping you avoid stockouts and customer disappointments.
Integrated Parts Ordering: The software streamlines parts and accessories ordering from your preferred vendors, saving you valuable time.
Increase Revenue with More Sales
In the competitive repair industry, it's crucial to maximize revenue opportunities. RepairDesk's Work Order Management can help in this regard:
Marketing Widget: It provides a marketing widget that allows you to design and send emails and SMS campaigns to prospects and customers, boosting foot traffic and online inquiries.
Omni-channel Communication: RepairDesk facilitates unified communication across various platforms, including Facebook Messenger, Google My Business, website live chat, and email, all from within your POS.
Online Appointments: You can easily integrate an appointment widget on your website, making it simple for customers to book repair appointments online. Moreover, this feature encourages customer engagement and increases your workload.
Enhance Customer Experience
Providing an exceptional customer experience is paramount for repair shops looking to build customer loyalty and grow their businesses. RepairDesk's Work Order management helps you organize customer data, enabling you to offer personalized experiences, loyalty programs, and gift cards.
Better Insights
Monitoring and tracking performance are essential for the growth and success of any repair business. RepairDesk offers comprehensive insights:
Complete Business Performance Tracking: You can monitor various aspects of your business, including repair job status, employee activities, sales, revenue, and more. It streamlines everything from inventory management to payroll processing.
Employee Management: The software allows you to manage your employees efficiently, evaluate their performance, and process payrolls with minimal errors.
Roles and Permissions: Implementing different employee roles and permissions is easy with RepairDesk, ensuring that your team has access only to the information and functions they need.
Multi-Store Dashboard: If you operate multiple repair shops or franchises, RepairDesk's Work Order Management offers an intuitive reporting dashboard that provides a high-level overview of your business across all locations.
Business Reporting: Gain insights into your repair shop's growth with daily reports on sales, expenses, and reconciliations delivered to your inbox.
Manage Multiple Stores
Regardless of the number of shops or the scale of your repair business, RepairDesk's work order management solution can help you seamlessly connect and grow it allows you to connect and manage multiple repair stores efficiently. You can transfer inventory between stores and maintain a comprehensive record of repair parts and accessories.
Key Takeaway
Enhancing work efficiency in the repair industry is paramount for success, and RepairDesk offers an all-encompassing work order management solution. By automating processes, integrating with the POS system, tracking repair jobs, managing inventory, and providing valuable insights, this software empowers repair shops to streamline operations, increase revenue, and deliver an outstanding customer experience. Whether you have a single store or multiple locations, RepairDesk is the partner you need to thrive in the competitive repair industry.