Any business will tell you that location is very important. This holds true for repair shops as well. Whether you're repairing cell phones or fixing computers or just doing general repairs, location is going to be important. Not only will this help your business grow in size, but with the right location, you'll also spend considerably less on marketing and visibility.
When growing your business, you want it to have the best chance of success it can get. If you want to choose the best location for your next repair shop, you'll need to know certain criteria. Fortunately, once you look out for these simple things, you'll easily be able to determine what that is every time.
When should you consider moving to a new repair store?
The first question that springs to mind is, why exactly would you want to move? If you've been engaging in business at your current location, it makes sense to keep yourself there and keep things stable. However, there could be several factors that might motivate you to scope out a new location.
Reason No. 1: Not enough room
Probably the biggest factor would be that as your business grows, so does the size of it. You'll have more people in your workspace or more items to repair. In any case, you could find that your current setup might not be suitable for your needs.
Having the right amount of space is going to be necessary for your business. Sure, it may seem like you can manage, but sooner or later, that space is going to get pretty cramped if you're seeing success. There's only so much room for a handful of workers and a lot of items that need to get fixed, and you might need display cabinets or storage for more things. In these cases, moving to a new location is a good idea.
Reason No. 2: Better business prospects
Another major reason for changing your location or opening up a new one is the potential for business. The place that you're moving to might be better for visibility. Moving to a new location can benefit you by tapping into a new area and getting customers from there. It could also help boost your marketing efforts to attract more people.
Most businesses often move to new locations or open up new stores there to improve their business prospects. Repair shops can easily get more work by moving to a location where it would be easier for them to get customers that are looking for repair services.
Reason No. 3: Better facilities
Odds are, you would like to move to a new location if your current one is lacking in certain facilities. Most repair shops start out wherever they can manage to find space, but those spaces aren't always the best for them. You might find yourself in a place that lacks air conditioning or has problems with access. Maybe the setup isn't right for the way you want to layout your store. Or maybe the walls are just falling apart and you want to get moving before everything collapses.
In truth, changing locations for better facilities makes a lot of sense. The better facilities you have at your store, the better you'll be able to serve your customers. If you're lacking something, chances are your customers will notice. So, think of it as an investment – changing your location or opening up a new store in a certain area can be a great source of income.
Lots more reasons…
There could be a lot more reasons you want to open up a new location for your repair shop. Maybe you want to be closer to a local carrier, or maybe you're getting a really good deal on a place. Maybe your services are required more by a certain community that you're comfortable with.
All in all, there are a number of factors that can motivate you to get a new location, and they can all work out tremendously. What you need to know is how to choose the best one for yourself.
Learn how Israel Quintal, Co-Founder and CEO of AdCentral, got the perfect location for his first repair store in our podcast.
What to consider for your next location
Moving a business around or opening up a new store isn't easy. There's a lot that goes into the whole process and being aware of it means you'll have a greater chance at succeeding at it. When choosing a new location, keep in mind the following elements.
Target demographic
Let's start off with the customer base that you're trying to capitalize on in your location of choice. Any place that you go to will have people of a certain age group, gender, ethnicity, social bracket, buying power, etc. Your repair shop will be serving these people, who will ultimately help drive your business. In order to make your move profitable in the long run, you need to know what your target demographic is and what it requires.
For instance, moving into a community that is more into reuse and repair will serve your interests better. If you're going into a place with a lot of millennials, for example, selling accessories like cell phone cases, selfie sticks, or headphones and speakers can be a great business prospect. If your new location is in an upscale part of town, consider stocking some high-ticket items or premium services. Having a sound knowledge of your target demographic helps down the line.
Ease of access
To make the most out of your decision, you will want your new location to be easily accessible for people. Places that are on busy streets, in clear view, and have good foot traffic are great for this reason.
Getting a place that is convenient and easy for your customers to reach makes it more viable for success. If your repair shop is not easy to access or has some sort of obstruction in the way, or if it's tucked away in a corner, it makes it less appealing for customers to go into. What you want is a place that will make it visible and where you can put up different kinds of signage. Always ask yourself, how many people are passing by the location you've chosen, either on foot or by car. Look at where the entry points of your store are going to be and what angles it's visible from. Even though it may seem basic, keeping these things in mind is necessary.
Have good anchor stores nearby
One of the best ways that you can make your new repair store location choice a success is if you have good anchors nearby. An anchor store is a major retail store that is drives businesses to smaller retailers. Anchor stores are usually found in shopping malls or strip malls and are major landmarks there. Big box retailers like Best Buy, Walmart, Home Depot, etc. can serve as big anchor stores that fuel your repair business with active customers.
The idea behind having good anchor stores nearby is that you get to benefit from the foot traffic that they receive. If your repair store is close to an anchor, you'll ultimately have people coming in or at least remembering you're there for future visits. Don't underestimate the impact that a good anchor store can have on your business. Remember, your repair shop is a "destination" – it's where people go for more than just getting the job done.
Keep your financials in mind
Of course, it all comes down to ultimately how much you can afford for a place. Price does count as a factor, though we'd consider it to be something on the lower end of your priority list.
Generally, it's a good idea to go for a place that you can easily afford. Picking a good location obviously is going to be dictated by how much capital you have, and places like shopping malls will undoubtedly be more expensive to set up shop in. However, your investment in an expensive location can ultimately pay dividends if you play your cards right. If stretching yourself to get a new location in an expensive place is doable, you should consider it. Going for pricey places can actually help you get a good return on your investment, given the foot traffic and visibility.
We wouldn't advise you to break the bank on this one. However, if you have the margin for it, consider it an option that will reward you handsomely.
Since your repair shop needs to be maintained a specific way, with custom display areas, shelving, and cabinets, you'll need to make provisions for it as well. Be sure to talk to the building owner about tenant improvements (TI) as well. These are going to be important since the area you're leasing out will need to be modified to suit your needs, and your landlord needs to be informed of it. They might even help you out with some of the modifications in terms of manual labor or hook you up with people who can work on the area for you.
Don't forget to inform your existing customers
Now, this is one that you shouldn't let fly under your radar: make sure your customers are informed of your new location. If you're moving your store to a bigger place, this is essential for retaining your sales.
Your existing customers will, more often than not, remember the place where you operated out of more readily. Once you move, however, they might be confused as to where you've gone. This could end with you losing business as a result. So, make sure your customers know where to find you well in advance and keep reminding them. Put up signage weeks before you make the move and contact them via email and text messages. Give them the new location and stay in touch with them using your repair shop management software.
The transition to a new store is usually going to come with a drop in your business. Be sure to mitigate that as much as possible with proper communication. Keep your customers in the know if you're planning to move well in advance, and continue to drop them messages. If you do it right, you won't have to deal with the slump for too long.
Plan for a grand opening
This is a great idea to work with when moving to a new location. Consider having a grand opening at your new store to attract more business and leave an impression on the local community.
Opening your store with decorations and special offers can really drive in sales when you first open up. It will help you build a presence in the location you've moved to and let people know you're there. You can partner with your local Chamber of Commerce for assistance in the matter, and they can help you keep everything within budget and under regulation. In fact, joining your local Chamber of Commerce can prove to be very beneficial in the long run, so don't sleep on it.
When you do get your grand opening underway, reach out to your old customers and invite them as well. It makes for the perfect reason to get in touch with them about your recent change. You'll not only make new customers with the endeavor but will also be able to significantly retain old ones.
In Conclusion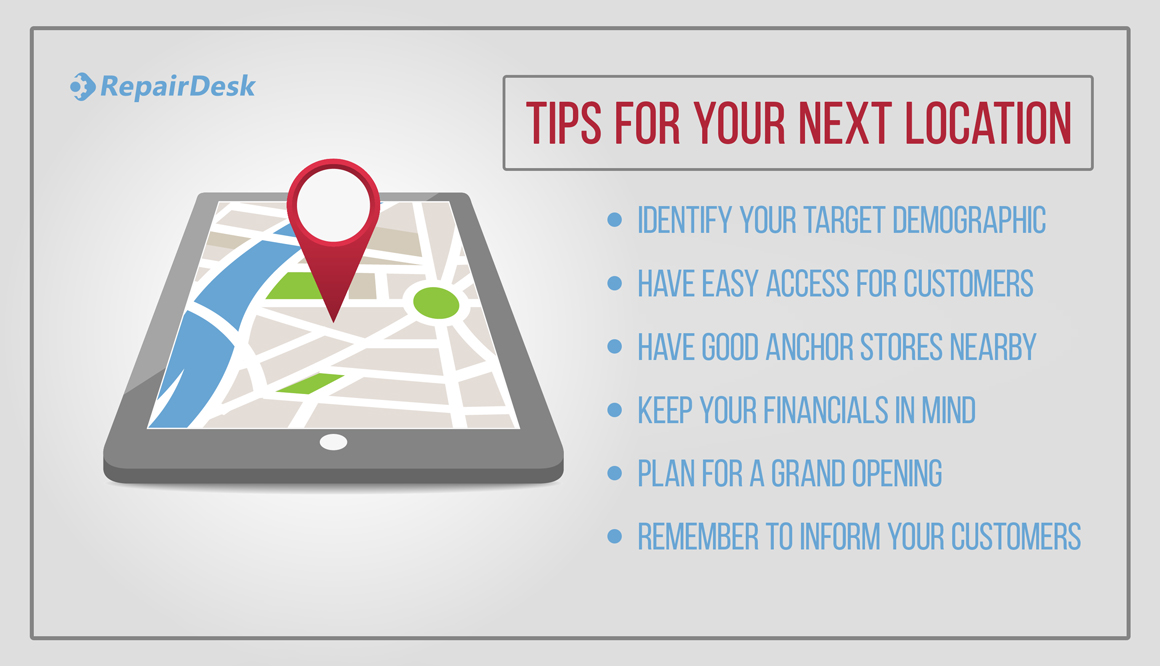 The best location for your next repair shop requires you to consider a lot. Moving to a new location will no doubt bring you better business. However, to make the transition a success, you need to take into account a few key factors. Determining why moving is a good option for you is important, as is figuring out the intricacies that go with it. Ultimately, by being smart about it and following these tips, your new location can be the next major step for your repair store on its road to success.