Money makes the world go round, and repair shops are no exception. The main priority of any repair business is maintaining the cash flow through the repair shop system. With this in mind, many repair stores still use traditional payment methods. And are utterly oblivious to the benefits that online payments can provide.
The shift from cash payments to online payments represents many benefits for repair businesses around the world. And the wide acceptance of online payments is due to the rapid increase in the use of smartphones and the diversification of options for online payments.
If you are a repair shop owner and are not giving online payments to your customers, then what lies ahead in this article may help you understand what you are missing.
1. Reduced Costs For Transactions
In traditional payment setups, customers have to pay via cash or check. At the same time, online payments take place in an automated environment that translates into reduced costs.
Rather than employing a cashier or process payment slips, repair shops now can set up payment systems in their repair shop system. It is often done at zero upfront cost, and you will subsequently have to pay low transaction fees with every sale on your point of sale system.
2. Payment Security
Accepting online payments involves lower financial risks for repair shops. In traditional payment methods, you have to verify the integrity of the cash payment and deal with the costs that come with a bounced check.
With the speed of transactions done online comes the advantage of instantly getting the customer's payment in your bank account. It allows repair shop owners to have better control over their finances.
In addition to this, online payments are more tightly regulated, giving extra peace of mind to you as all your financial processes get streamlined.
3. Acceptance of Multiple Payment Methods
The traditional payment method offers payment via cash (in the country's currency) or card, but in an online setup, the possibilities become endless. Depending on the kind of payment integration you choose, your customers will have numerous payment alternatives to pick from.
Top-range payment providers included in our repair shop system are debit cards, credit cards, split payments, gift cards, store credits, and loyalty points. So being able to take payments through multiple means will have a positive impact on your repair business.
Sign Up for a 14-day FREE Trial!
In addition to this, RepairDesk also has integrations with the leading payment gateways. We also have our dedicated payment terminal – RepairDesk Payments. It gives repair shops the ability to pair a dedicated terminal with their repair shop system. And it comes with several benefits that can help repair shops in their day-to-day transactions.
Take a look at all our payment integrations.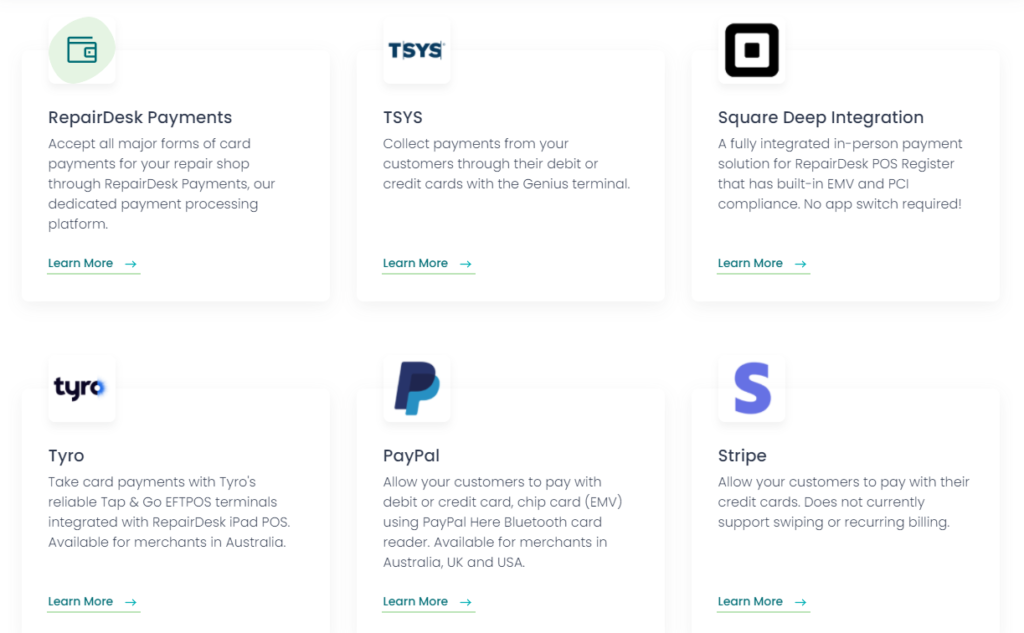 4. Appealing To Impulse Buyers
While discussing prospects for sales increase, think of how your repair store will become appealing to impulse buyers because of online payment features.
As most repair shop products and services can convince customers on the spot, it would be a shame not to give the payment facility instantly. So, here is another benefit of a payment gateway that you can add to your list.
5. Optimized Customer Journey
Your repair shop system online payments enhance the customer's buying journey. Convenience in completing a transaction is the main reason customers prefer to pay online. As a repair shop owner, you have to make sure that you give them that convenience.
Without providing the online payment alternative, customers will no longer be able to get the benefit of paying online. And today's global customers are already accustomed to getting instant confirmation for their purchases. So don't miss out on it.
6. Availability of Marketing/Distribution Channels
The list of benefits of online payments processing will not be complete without mentioning the advantages it brings to your distribution channels. If you accept online payments, you can branch out to your payment gateway's website and showcase your products and services.
You can even simply display an ad stating that your repair shop accepts that payment method. Thus, it allows you to reach a broader market.
7. Recurring Payments Capabilities
In repair businesses, the task of taking a payment from the customer comes at specific intervals. Hence it's a recurring need.
Another essential advantage of online payment gateways is the automation potential that it brings in subscription markets. Repair shops can enable recurring billing features in the repair shop system. It translates into fewer needed actions to accept or make payment both for you and your customers.
8. Saves Time
Paying through a card, mobile wallet, contactless payment, or wearable device is way faster than using cash.
You can save your valuable time as customers only have to swipe and tap to pay. So, you no longer have to wait for customers to dig into their bags and wallets to pay. And you don't have to painstakingly count the correct change if a customer gives a bigger note.
9. Decrease Risk Of Theft
You must have heard the term 'Cash is the king' in the business world. But, this king has some limitations as well. For example, if you accept cash payments from customers, there might be a chance that it's stolen. Also, you will have to go through the hassle of depositing the cash in the bank account and keep track of it to avoid in-store theft.
You can decrease these risks simply by using a secure online payment system in your repair shop software. Once you start using it, you won't have to worry about your payment records. You can get your transaction history of each day in your repair shop software.
10. Increases Your Credibility
Online payments make your customers feel secure and safer as the transactions are entirely transparent. In addition to this, your customers won't have to write a check with many needless physical processes involved.
Online payments are safer, easier, and just a lot more convenient for your repair shop customers. And customer convenience is the key for all businesses.
Final Word
We hope that our rundown of the benefits of online payments has shown you what you are missing out on. And for those who already do use it, these benefits reveal that you made the right decision.
Looking for the proper payment integration can give access to extra business capabilities along with more operational efficiency.
Nevertheless, online payments are predicted to become the norm in the coming years. And the current pandemic has accelerated this development. So make sure your repair business keeps up with the trends by including online payment options. Only then can reap the benefits that come with this decision.