COVID-19 pandemic is spreading fast, which means we have to be more careful now. The virus spreads through contact and this is why we need to disinfect everything including money. RepairDesk has already given cellphone and computer repair stores a solution for that. Now it's time to empower repair stores with modules that not only help them in business but also their customers. People are staying at homes with their children and this translates into many broken electronics that need fixing. While COVID-19 has given repair stores an interesting prospect of business, it has also restricted them in some ways. Fortunately, at RepairDesk, we are burning the midnight oil just to keep your business running. One of the fruits of our labour is our latest RepairDesk Recurring Payments module.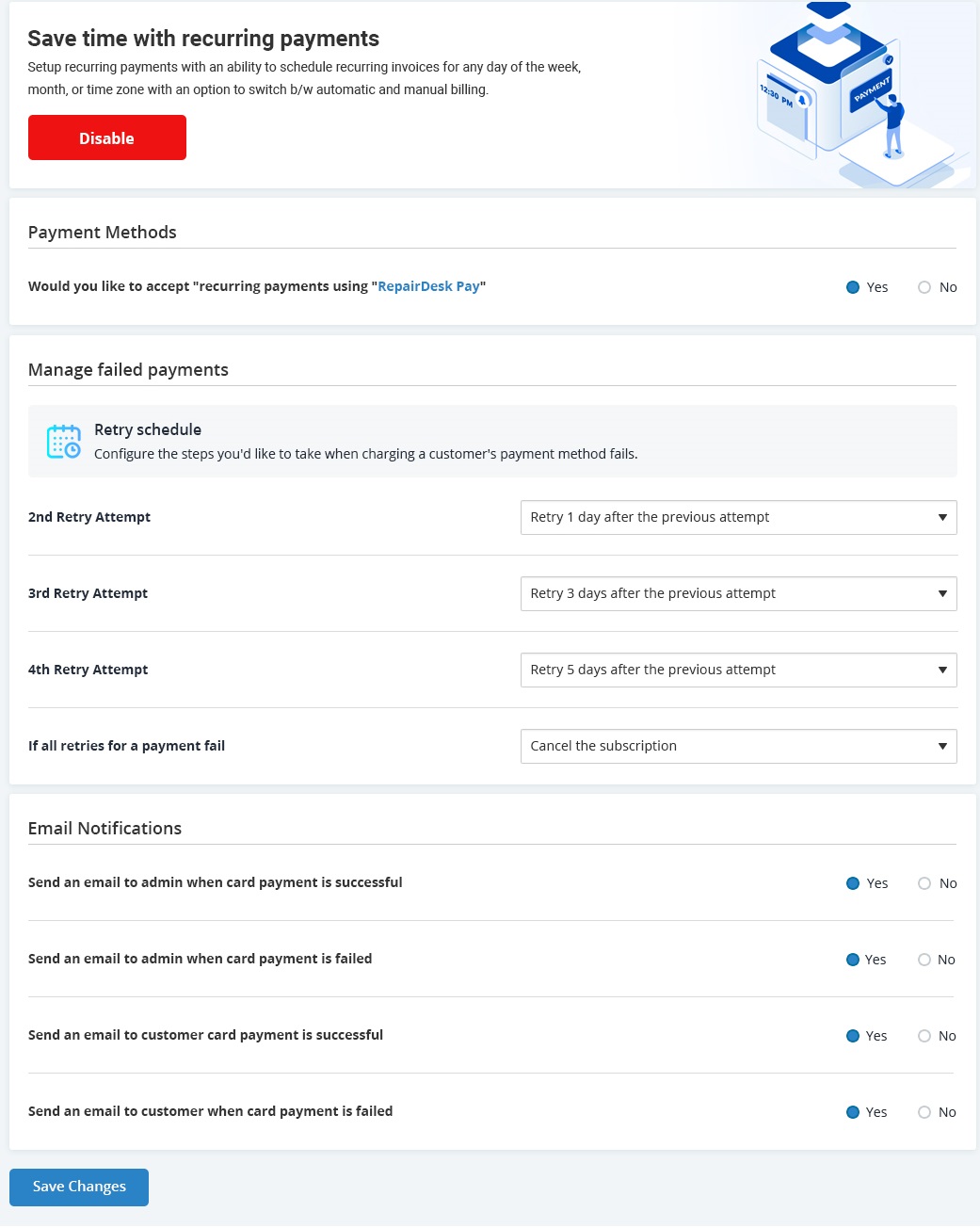 Here are five ways you can use RepairDesk Recurring Payments Module to help your business and your customers.
1- Bill Payments:
Use our recurring payments feature to charge your customers' monthly bills on any given date. This will automate the process and you won't have to go through all the invoices every month. Time is money and we work hard to save your time so you can make more money.
2- Device Protection Plans:
This is another interesting use of our Recurring Payments module. Amidst the COVID-19 situation, all businesses are facilitating their customers. People are staying at their homes with their children and this means they will be breaking their electronics more than often. In this case, you can offer Device Protection Plans against a monthly fee.
This will give your customers some peace of mind that no matter how many times their children break their stuff, you'll be there to repair it in return for a fixed monthly fee. This will improve your customer retention and also let your customers know that you got their back.
One of our customers, Apple Mac Experts Director Sylvester Halasz, reported that his store has been giving a "Screen Protection Plan" to his customers and it has been working like a charm. His profits have increased and so has the happiness index of his customers.
3- Remote Support:
Remote support is great when it comes at the right time. It takes dedicated employees to provide excellent support and it's your right to charge your customers for it. With RepairDesk Recurring Payments Module, you can automatically charge your customers for remote support after a set duration and email them an invoice with a "Pay Now" button. You can also accept online payments if you have subscribed to RepairDesk Payments.
4- Layaways:
You use Recurring Payments to offer layaways to your customers. It happens many times when a customer is interested in a product but falls short of money to pay for it. In that case, you can secure your sale by offering layaway.
Your customer will pay whatever sum they have for a product and you will reserve it for them in your shop. The remaining amount can be distributed in recurring payments that your customer can make over time. Once your customer has paid fully for the product, he/she can come and collect it from your store.
With RepairDesk Recurring Payments, you can send your layaway customers timely invoices. It will save you time and also increase your sales.
Here, you can watch this feature in action.
5- Pay for recurring bills
The fifth use of RepairDesk Recurring payments is to facilitate payments of monthly or yearly packages of IPTV, Antivirus, or guardian packages for PC and cell phones.
[mailmunch-form id="888185″]
It's time to help people. We got your back in managing your repair stores and keeping you in business. So, you should come up with offers that can help your customers get through these hard times. Remember we are all in this together. Let's help each other get through this unchartered territory of COVID-19.