Black Friday is just around the corner, which means one thing for repair shops: lots of sales.
But how do you get there? That's a million-dollar question on the minds of every business owner these days.
You sit around after hours in your repair shop trying to develop an effective Black Friday marketing strategy. Unfortunately, the deals being offered by your competitors are making you nervous as you try to find effective ways to boost sales this Black Friday. So you scroll through the internet to find something unique that brings in more deals. But all in vain.
The problem with Black Friday is that it's hard to get in front of people when they're out shopping. They may not see your flyers or ads on Facebook at all. But there's a solution for every problem out there!
SMS marketing!
You can target your audience with messages and you'll never miss your audience. And with RepairDesk SMS, it becomes even easier to do SMS marketing.
Sign Up for a 14-day FREE Trial!
Now the task at hand is devising a solid SMS marketing plan for Black Friday. And since RepairDesk SMS is integrated into your point of sale software, executing the plan should be pretty easy.
Here are 7 ways you can use SMS marketing this year to connect with customers leading up to and during Black Friday.
1. Experiment With Delivery Times
The time of day you send Black Friday SMS messages has an effect on customers' decision-making process. Customers' follow-through could be poor even if they see your messages, regardless of the time of day you send them.
They're too preoccupied with other things. In addition, customers may already know which items they intend to purchase. As a result, they will ignore your offers if you send them too close to Black Friday.
There are two types of delivery times to consider and test to maximize your sales potential:
· The time of day. Send SMS messages to customers when they are most likely to take action.
· To get ahead of the competition, send out communications before the sales event.
Time Of Day
The right time to send SMS messages is determined by your target audience. What works for one repair shop may not work for another, so try different hours.
To discover which hours have the best open and follow-through rates, send messages between 12 p.m. and 3 p.m. on weekdays. And between 3 p.m. – 5 p.m. on weekends.
Customers spend a lot of time on their mobile devices every day. So send messages when they have the opportunity to react to your calls to action (CTAs) and are not just reading the words.
Initial Intro Black Friday SMS
Customers are deluged with messages in the weeks preceding Black Friday. To get noticed, launch your Black Friday SMS campaign before your competitors.
When you start your promotional effort early, concentrate on showcasing the advantages of shopping at your repair store. So that you don't have to compete with others to get a bargain.
For instance you can market the following things:
· Exclusive discounts on repairs and accessories
· We take special care of hygiene in our repair stores
When you've discovered a good rhythm, use your SMS campaign to build interest in future sales. This will pique customer attention and create excitement.
2. Use A Drip Campaign
A drip campaign is one of the most effective strategies to keep your message in people's minds. Send Black Friday SMS messages ahead of time and during the sales. Instead of sending each text manually, build an automated campaign that sends communications at specific intervals.
For example, create a campaign, add custom messages, and decide when each SMS message will be delivered. Make sure that each text you send on Black Friday has only one primary message. This ensures that each text is simple and that customers have clear instructions about what you want them to do.
Here's a sample Black Friday SMS campaign:
·    Message #1: Introduce the offer.
·    Message #2: Include a list of products that will be on sale. For instance, accessories, repairs, device sales, and device trade-ins can be on top of your list.
·    Message #3: Create a reminder that sales are closing soon.
·    Message #4: Use customer testimonials as social proof.
·     Message #5: Offer additional savings incentives.
3. Send Customized Messages
Around 72% of customers are more inclined to only engage with customized marketing messages. To improve your chances of bringing customers to your repair store, segment your contact list.
Customer names and recent purchase details are more easily transmitted by phone numbers verified in your point of sale software.
Improve your chances of closing more purchases by targeting your communications to the wants of your target group. For example, share the newest cell phones and gadgets to appeal to more customers.
Make a point of communicating special deals with loyal customers. For example, allow customers to receive an additional percentage off if they enter a code before a deadline. This encourages them to act quickly, increasing purchases. Use the notifications feature in RD SMS to keep the customer's aware of their job status one they come to you.

Here is what one of the RepairDesk users have to say about RepairDesk SMS.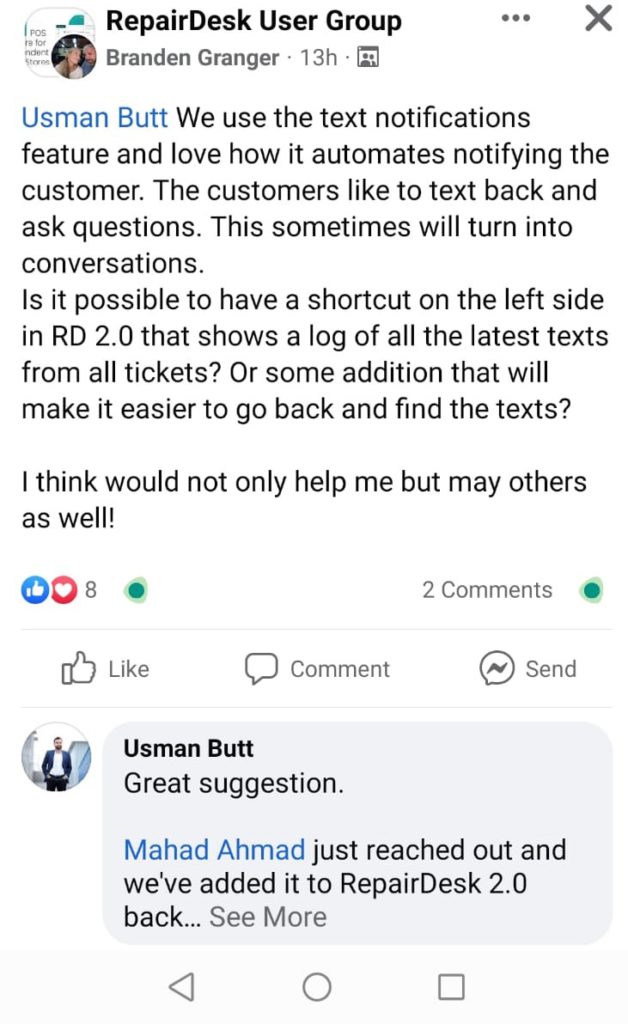 RepairDesk SMS assists you in managing specialized campaigns by allowing you to build numerous customer lists and messages.
4. Create A Sense Of Urgency
The high response rate of SMS marketing is one of the reasons it is so effective. Text messages are opened on average within 90 seconds after they have been delivered. This is 5X greater than email open rates.
So rather than waiting until the last day of sales, use your Black Friday SMS campaign to get customers to act as soon as possible.
You have a few options available to you:
· Include a deadline for when customers must use an offer code.
· Mention that there is a limited amount of items available.
· Give the first 100 or 50 customers a special gift.
If you're running a drip campaign, remind customers to act before the clock runs out.
5. Include Offer Details
Customers enjoy researching before making a purchase, but they don't want to work too hard to obtain knowledge. So include information such as whether the sale is online or in-store. And whether there's a purchase limit on offers, what items are excluded, and how the sales discount works when you advertise your Black Friday offers.
When you describe your offer's specifics, consider how you'll demonstrate the savings.
For example, you might provide:
· $100 off of the original price on device sales.
· 25% off the regular price on repairs
Customers are more likely to calculate a 25% discount than a $100 subtraction because it's more complicated. Furthermore, since $100 is a more significant amount, customers perceive it to be of greater worth — even if the 25% discount is superior. Therefore, instead of using a percentage off, offer a dollar-off discount to close more sales.
Speaking of deals here is a sweet deal that can help you earn more this Black Friday.
If you decide to offer a percentage off for your sales promotion, be sure to point out the difference:
· Add signs that display the original cost and the decreased price with savings taken into account. This makes it simpler for customers to calculate how much money they're saving.
· In red, strike out the original price and include it in the new price for customers to make it simpler to spot the difference.
Don't allow the cost of a product to get in the way of customers from buying anything.
6. Track Campaign Success
The efficacy of your SMS marketing campaign may be measured and compared by monitoring responses and particular promo code use over a certain amount of time.
Your repair shop may track numerous indicators to evaluate which marketing methods and techniques were the most successful for your Black Friday. Then, based on your findings, improve text message content for future SMS drives.
7. Send Black Friday SMS Surveys After the Sale Period
Send a survey to collect information about customers who took part in your Black Friday offer and their experience after the sale is over. Make the survey easier to navigate with SMS.
Using a yes or no response, customers don't have to go through a big hassle to participate. You don't have to redirect them to another page using a link and risk losing them in the process.
Use the insights you gain from customers to guide future strategies. You might, for example, decide to:
· Extend the sales period. Many Black Friday sales last for a week rather than a weekend.
· Redefine the offer structure. Start with your best offer rather than relying on customers to purchase something at the last minute in anticipation of lower prices. Make your costs lower than those of your competitors, which will attract more purchases. But do keep a reasonable profit margin on it.
· Customer loyalty can be increased. First, check whether your marketing message was compelling. If sales were poor, examine the offer for clarity and effectiveness in educating customers about what was available.
Final Word!
SMS marketing on Black Friday is a fantastic method to learn more about your customers and develop your business. With mobile messaging, you have a lot of control over the type of messages you send and the consumer groups you interact with.
By adapting, you'll be able to expand and develop your messaging campaigns as customer needs change. And with our point of sale software, you can easily do that.
By year's end, you'll have a better Black Friday customer experience, thanks to RD SMS.