As we near 2022, cell phone costs seem to be going through the roof. Take the $999 and $850 respective retail prices of the new Apple iPhone 13 Pro and Samsung Galaxy Z Fold 3. Easily beyond the reach of the everyday American who does not want to go with the installments approach.
But since we've long established that smartphones are a modern-day necessity, we're forced to find a middle-ground here. A compromise that takes care of our minute-by-minute communication needs. One that does not, further, put a gargantuan hole in the oh-so-fickle wallet 😓.
---
All Hail the Refurb!
This is where refurbs come into the picture.
There are multiple benefits to adding device trade-in in your repair shop software. When done right, these cost only a fraction of the original cell phone's retail price. Plus, they offer almost perfect functionality. A factor that make them more affordable to buy. And becomes more attractive to the end consumer.
On the flip side, however, they do come with their inherent risks, and at times, faults. Especially when third-party, non-company-affiliated, techs carry out the repairs.
As a business client or direct customer, you may risk incurring a void warranty. Also, there's no guarantee that your repair tech does not end up inflicting more damage. Despite the fact that they come backed by rave reviews and a wealth of experience.
Micro-soldering repair gigs, for instance, always carry these hazards. Because the micro-circuitry of cell phones is just too intricate. Too susceptible to the slightest, microscopic, tinkering. A lot like brain surgery – where even the best hands can err.
Still, for most people, the benefits outweigh the potential risks here. So a lot of continued growth potential for this sidelong industry and an excellent additional stream of income for your repair shop.
---
A word on LCD buybacks in the US
LCD screen displays make for the most brittle smartphone parts by a longshot. For case-unprotected devices, they are often the first to take impact. Whether the hit occurs due to a fall, a strike, or an intentional throw (hey – it happens!).
So if you ever suffer from a damaged communicator, chances are that you've also gotten yourself a broken screen.
But if it's not too damaged, you might be able to obtain a buyback offer from your repair tech. This would allow for a reduction in the repair expense; compensated in part by your sale of the screen. In some (rare) cases, you might even get an entire screen replacement without the added cost.
In the US, many cell phone refurb outlets also offer LCD buyback services. So you should definitely check with your chosen tech if you can reap a discount or barter in this way.
Sign Up for a 14-day FREE Trial!
Working towards a field consensus
One more thing:
The terms 'pre-owned' and 'reconditioned', while meaning somewhat different things lexically, are used interchangeably with the word 'refurb' (loosely abbreviated from refurbished) in the field. Although there really is no consensus on what the concept implies – narrowly.
Some cell phone repair techs, for example, think that refurb begins and ends with hardware. A tech fixes a device, tests it for partial functionality, and then dishes.
Others field pros, however, take a different approach.
The reason that a refurbed device should test well (A+, in fact) on both material and functionality counts. As if it were brand new. (You may want to take a look at the best diagnostic software to test cell phones.)
So when you're out for a repair job, it's always best to question. Ask your tech how they define the concept. The level of liability or ownership – as it were – that they're willing to take.
The answer could well determine whether you want to go through with a particular repair gig. Or it might inform how a tech wants to rethink their scope of work completion – in the interest of providing more quality servicing. The harbinger of good customer loyalty/comeback.
---
Coming to the Top 5
So now that we've discussed certain going truths of the domain, it's time to get down with the dirty (figuratively speaking – refers to mineable 'gold' in our diction 😁).
We're talking the top 5 cell phone refurb and LCD buyback repair firms currently operating within the US.
Names and numbers (just follow the links, man!) that you should keep on speed dial. Small, medium, and fast-growing AMERICAN businesses that deserve to be in the know for their industry contributions.
And, so…without any further ado.
---
Based in Dallas, TX, Cellular Zone, run by one Tony Pham, is a wiz-service when it comes to local cell phone:
LCD buybacks
Refurbs
Repair Trainings
The company allows customers to submit broken screens both online and in-physical.
Broadly, it follows a three-tiered deposited screen classification system for making buyback valuations:
---
Rate A: Original Good LCD
Rate B: Original Good LCD with Minor Defects
Rate C: Original Good LCD with Major Defects; Refurbished LCD; No Touch
---
In terms of expertise, Cellular Zone is a pro at refurbishing and conducting screen repairs for:
---
iPhone Models 10, 11 (Pro Max), 12 (Pro Max), 13 (Pro Max)
iPad Air 4, The New iPad Pro (11″ and 12.9″)
iWatch Series 7
Samsung S21 Ultra, Note 20 Ultra
---
The company was one of the first to conduct cell phone/screen refurbs in the US – starting in 2013. It prides itself on technological innovation; providing fast turnaround, quality repairs, and affordable pricing. And although it engages in B2C, Cellular Zone prioritizes taking bulk refurbs/company contracts.
Additionally, the repair firm boasts an international footprint; being involved in overseas refurb trading.
---
Based in Tempeh, AZ, Kris Zarin's Rapid Refurb is a cell phone parts, LCD buyback, and screen refurb community staple. The company has been active in the field for well over 9 years. It is particularly adept at sourcing/redoing the latest iPhones, Samsungs, iPads, and iWatches – dealing in screen swaps for most models; offering fast paybacks.
In terms of turnaround time, the firm requests 1-3 business days for processing small-medium orders – amounting to up to 100 screen refurbs.
Large screen orders – 100+ – can take anywhere from 3-10 business days.
This is really something when you consider the field's big players, for instance, school district contracts – who generally take longer and are often out-of-stock in the screens replacement department.
And Rapid Refurb screens come with a lifetime warranty!
Plus, 6 of the company's repair stores come decked with RepairDesk integration – making it a clear winner in our book on any day of the week 😉.
Check out this neat promo – emblematic of our love! 💖👇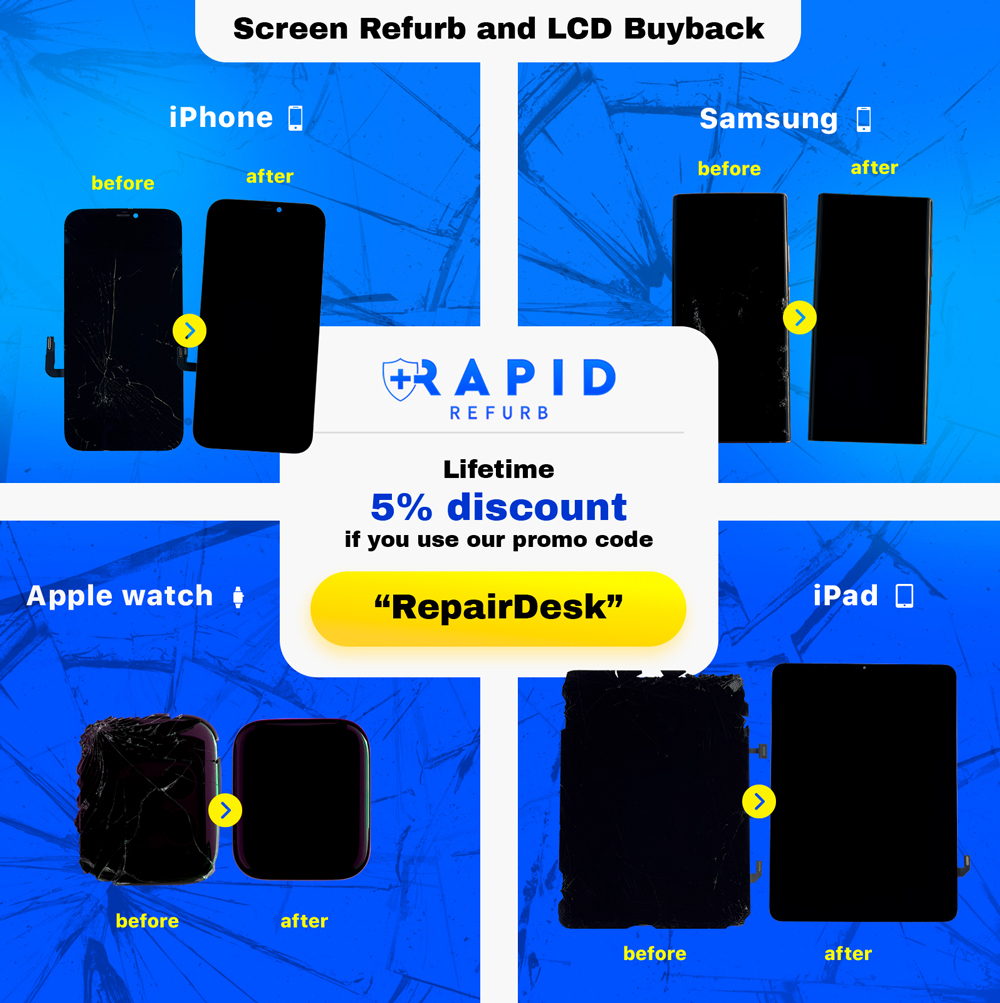 ---
3. Mike Schmitz – 'Oled King' at The Glass Labs
Based in Ocala, FL, and run by the legendary 'Oled King' 👑 Mike Schmitz and his wife Cassie, The Glass Labs is in a repair league of its own. From phone screen buybacks to detailed refurbishing, the company is all about customer satisfaction!
Their origin story is also something to be told (and retold).
In the inspiring words of Mike:
---
"We began refurbishing a while ago.
I remember when my wife Cassie and I first started, it was VERY stressful. At that time, there was no legit training around, so it proceeded as a learn-as-you-go type of thing. Many sleepless nights and hard work to get to where we are today.
I want to be the first to say I could not have done it without the support of my better half.
She has stood beside me through it all and is also very learned in the refurb trade.
At The Glass Lab, we specialize in Samsung refurbs – but we also do Apple products (including iWatches).
What makes us stand out is that we pull all the screens from their frames; doing out-of-frame laminations for the best results. After refurbishing, we mount the screens in new frames for our B2B clients. This results in a really nice finished product that they can use in their repair shops, or as part of the phone catalog that they're selling.
Customer service is also a top priority here at the company.
Without customer service, you really don't have much. My Mantra: Make sure your customers are happy and that you put out amazing work with the highest quality.
I refurb everything just as if I were going to be putting it on my own device. We strive for excellence!"
---
Based in Sugar Land, Houston-TX, Naeem Ali Dugan's Simple Buyback & Repairs truly lives up to its motto of keeping it simple. The company, established back in 2014, forayed into providing B2B refurb and repair services to the electronic community in 2020. To date, it has provided end-to-end repair/refurb services to millions of customers from across the country.
The firm specializes in:
Front/Back Glass Refurbs for Samsung Galaxy S8, Galaxy Note 8; iPhones 7 to 12 (Pro Max); all iPad and iWatch models.
Diagnosing refurbed devices pre- and post-repair via PhoneCheck
Transplanting touch IC from the screen to avoid the 'Non-Genuine' display message for OEM LCD replacement (covering iPhone models 11, 12, and 12 Pro)
Device buybacks (new, used, or damaged); LCD Buybacks
As an added plus, Simple Buyback offers free FedEx 2-day shipping; as well as free overnight shipping on invoices above $500. Add to that a 90-day warranty on all repairs. 🙌
Competitive pricing is offered on bulk repairs (10+ devices; with free overnight shipping on the said number).
Based on a field peer's (and fellow veteran's) testimonial, the company:
"Takes refurbs that others aren't comfortable with. And although the device turnaround time is not very quick, the quality of service and the price point totally justify the wait. Good discounts on bulk orders."
Simple Buyback & Repairs is all set to offer micro-soldering repairs soon – so stay tuned to their space if you're interested!
---
Also based in Dallas, TX, Tri Trinh's IRepair DFW provides a range of repair options – including:
cell phone reconditioning.
The company also offers tablet, laptop, and gaming console fixes at competitive prices.
IRepair DFW's Facebook page – follow the link above – is one of the firm's main channels of customer contact – in addition to a listed WhatsApp/telephone number.
Tri Tinh, the founder, is a bit of a legend in the domain. He is known and well-respected for his singular dedication to the refurb business – as well as his flair at conducting on-the-go repairs.
Revered because he 'knows the struggle' (of setting up and sustaining a repair venture) – per our consulted expert. And such services are especially useful when you're trying to increase revenue by leveraging carrier stores.
---
So there you have it – our top five picks of the best cell phone refurb and LCD buyback business in the US.
We're curious, though. 🤓
Who else do you think should've made the list?
Write to us in the comments below! ✍