We promised, we delivered
RepairDesk blog readers aren't new to the name PhonePro.
We launched PhonePro, an integrated phone system for your repair business, earlier this year and since then it has been making us proud by the value addition it provides to the RepairDesk customer base.
And you totally don't have to take my word for it …
PhonePro User Reviews
Here's a quick sneak peek into the reviews gathered from our RepairDesk user group during the last few weeks.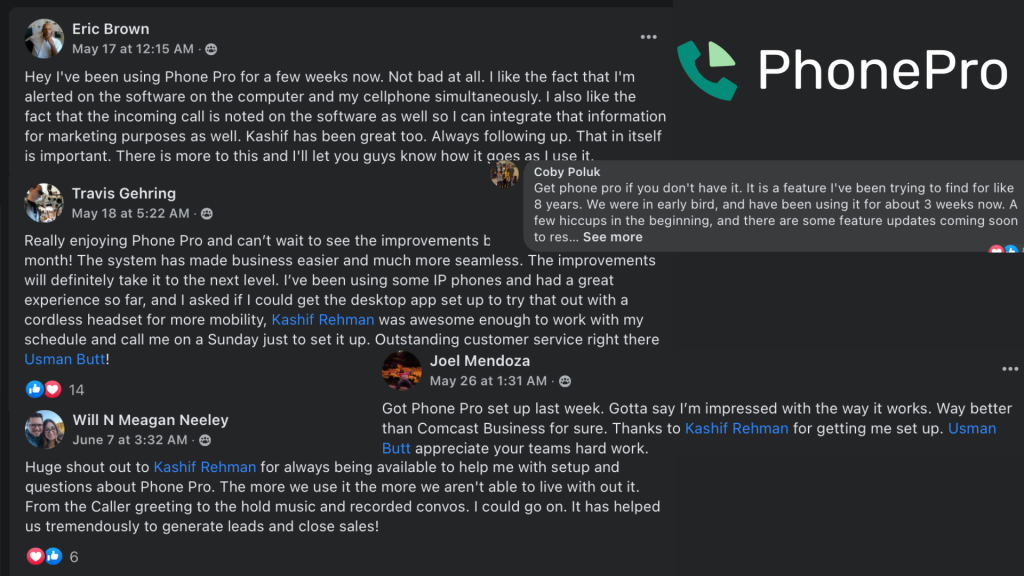 This week our team released an update and it is my pleasure today to use this space to share with you the new improvements you can now experience while using PhonePro!
See RepairDesk PhonePro in Action
But before we indulge you into what's cooking in our product teams' development units, let us give you a quick preview of what PhonePro is like and how it impacts your repair business performance.
So what do you think? Impressive, ain't it!
PhonePro Updates – June 2022
So, as promised, here is the list of updates that your RepairDesk family introduced to PhonePro this week … (and is sharing it with you right away!) :
Enable / disable call notifications for your employees

Earlier on all the employees would be notified of an incoming call. But now the business owner has the liberty to disable the call notification for specific employees. You pick and choose which employees you want to be alerted for customer calls handling, and allow only those.
Enable / disable saving the unknown caller into database

We have now added a trigger for you that allows you to choose to stop saving the calls from unknown callers into your customer database.
RD SMS Credits within PhonePro

One of the raging successes with RepairDesk fam has been the RD SMS feature. This new update now allows RepairDesk users to buy RD SMS directly from within PhonePro. This means that you can make calls and exchange texts with your customers, all from within PhonePro.
View call logs details for inbounds and outbound for specific customers and tickets

Take the guessing and wondering out of your customer communication. Now, a PhonePro user can view all the call logs against any specific customers and tickets. This allows you to have the complete communication history for any repair job done.
Reply to your customers in a threaded view

This is a king feature. PhonePro users can now reply to their customers in a threaded view. No text message is lost in the exchange. No context switching. Have the entire conversation at your disposal, as it happened: all the exchanges appearing in the form of a thread.
Instantly add call notes while taking calls

How often do you scramble for your notepad while listening to a customer call? Well, no more scrambling now.

While using PhonePro, you can now add notes against the calls and store all the information right there in your system.
Download voicemail recordings

Want to know how your staff dealt with a specific customer on the call? We've got you covered! PhonePro users can now download the voicemail recordings for you to go over them after the call is over. List down all the essential job details you may have missed during the heat of conversation.
Staying on top of your customer communication wasn't this easy ever!
Intrigued to know more about PhonePro? Then what are you waiting for!
Get in touch with your friends at RepairDesk now!