Jewelry repair is a niche business that offers golden returns to those who do it right. As long as there is jewelry, there will be the need for repairs such as polishing, resizing, alignment, and soldering. Thanks to the high demand, the watch and jewelry repair industry is projected to reach a value of Multimillion USD by 2029. But in reality, jewelry repair contributes to only 15% of a jewelry business' earnings, even though it receives 60% of the traffic.  This entails that more people want to get their jewelry repaired rather than buy new pieces.
So what could be the right way to get the most out of the traffic your jewelry repair business is receiving?
That's exactly the question we are here to answer. Your first thoughts might be to market your business in a better way and offer competitive pricing. But at the end of the day, what really matters is your actual jewelry repair process. That's what will really get your customers talking.
In order to make the most of positive customer reviews, you need to ensure that they are satisfied with your service. Fortunately, this article covers a series of steps to the perfect jewelry repair process that you can adopt right away.
Carry Out a Detailed Inspection
Owners of intricate jewelry pieces are often used to taking special care of them and even passing them on to the next generation. These are people who look at the smallest of details and expect you to do the same. So you can't just be playing around. The first step to perfecting your jewelry repair process is essentially a step for preventive maintenance as it involves the detailed inspection of what the customer has brought to your table.
Even if no repairs are required, you must be clear about the condition of the jewelry piece at hand. Repair technicians must follow a practice to carefully inspect the pieces and ensure that they are safe for repairs. All jewelry is subject to wear and tear, but it's crucial to identify the visible, and even the less obvious signs of damage.
If the jewelry has gemstones, inspect the prongs holding them together and check if any of them are broken or bent.
Carefully touch the stone(s) with the tip of a toothpick to see if there is any movement.
If it's a ring, check the part that touches the finger, the shank, for signs of wear or discoloration.
For bracelets and chains, check for broken links. Also, check clasps to ensure that they close tightly
Don't forget to look for signs of metal erosion or fatigue.
Take the Customer's Consent for Every Repair to be Performed
Once you have checked the condition of the jewelry piece and identified all the repairs that need to be done, it's time to inform your customer. You need to address each and every detail, from the number of repairs required to the time each repair job will take. This is the stage where you begin to build trust among your customers.
In 80% of the cases, when a customer understands each repair that needs to be done, they don't raise concerns about the price. Apart from that benefit, you also build credibility when you communicate the details about each repair, creating the impression that your technicians know what they are doing. If you've satisfied the customer by explaining the repair, asking for consent, and performing it exceptionally, your customer will certainly be impressed. Who knows, they may even share about your craft with their social circle, thereby serving as a marketer for your business.
Document Every Detail of the Repair Job
Now that you know how to turn your customer into a word-of-mouth marketer, let's shed some light on an area that benefits your jewelry repair business in the long run. Every repair service business needs to keep a record of repair orders along with the details of customers. You can automate the documentation of repair orders by incorporating a modern repair shop management system. 
With a repair ticket management system, you can automatically store details of each repair order in your system for future reference. We would not recommend using a manual paper-based record-keeping system as you are more likely to encounter losses with handwritten checklists.
With paper-based documentation, you have to go through a pile of receipts and repair documents to find out the details of a past order. In contrast, cloud-based repair shop management software allows you to search for a specific repair order and get the details you need in mere seconds.
RepairDesk's ticket management system allows you to add private notes to repair tickets that are only accessible to your employees, hence improving internal communication.
Learn more about RepairDesk's ticket management system
Clean the Jewelry Piece Thoroughly
Not every small detail is visible when you look at a jewelry piece for the first time. In fact, those who do not have any experience with such intricate items might not even notice any fault at first glance. Therefore, you need to make sure that the piece is as clean as new in order to find out the real extent of wear and tear.
Jewelry cleaning is much different from the cleaning of other items such as cell phones and watches. You need to have specialized systems in place to ensure that the best practices are being followed. Jewelry is best cleaned using hydrostatic, ultrasonic, and steam cleaning. These methods make the piece shine through and show its defects as clear as day without adding any wear and tear.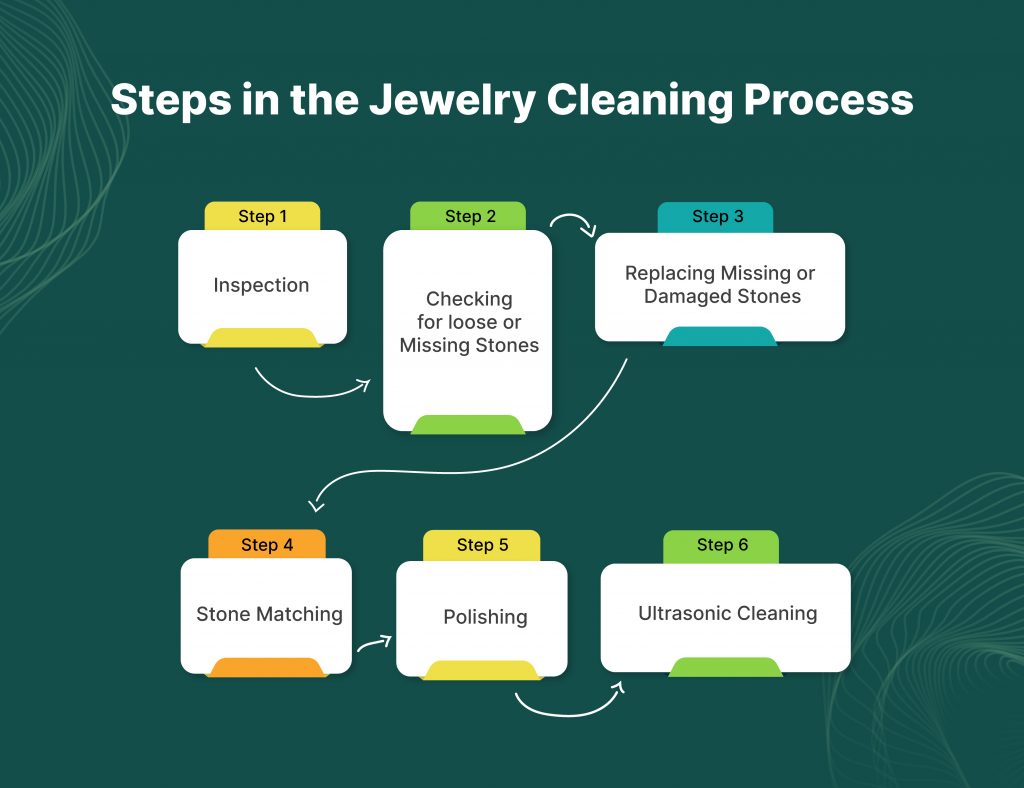 Normally, jewelry cleaning also includes polishing, but at this step, your purpose is to simply identify the defects and list down what needs to be repaired and any other jobs that need to be performed.
Perform a Second Detailed Inspection
Upon cleaning, the jewelry piece will begin to show its true colors, i.e. details that you might have missed in the initial inspection. Check for jump rings or small breaks in chains or other areas that may come apart. A jewelry repair job often gets to a critical point where the breaks or defected areas are close to gemstones and there is a possibility of harming the stones upon welding or soldering. This is where you're going to need your best repair technicians.
Moreover, items that have attached gemstones or other precious stones need to be tested for their strength in containing the material attached. The soldering latches must be holding on tightly. Once you have established a clear picture of the condition of the jewelry piece, you need to document the details and move on to the next step.
Inform the Customer of any Changes or Updates
If the second inspection has shed light on defects or broken links between chains, you need to get back to your customer and inform them about it. Since jewelry owners usually have an eye for details, It's important to communicate the condition of the jewelry piece before starting the repair job. Otherwise, a customer may claim that their chain broke during the repair and hold your repair shop responsible for the loss.
Creating a better experience for your customers is easier with a repair shop POS system. Repair tracking software allows you to update customers through automated SMS and email alerts on repair statuses so they don't have to worry about their valuable items.
Track the Entire Repair Process
Another crucial aspect of the perfect jewelry repair process is tracking each step from start to finish. Not only are you able to optimize your operations and save time, but you also eliminate any chances of discrepancies from the different technicians involved. Moreover, you can easily communicate with customers about each step of the repair process to avoid inconvenience.
With RepairDesk's repair tracking system, you can manage repair queues and assign tasks to technicians. You can set and get repair statuses for your repair jobs, and can track the repair history for each order at any time. Not only that, but the software also allows you to take pictures of jewelry items and manage a pre- and post-repair condition checklist.
Carry Out the Repairs as Promised
Since your customer is trusting you with their precious jewelry piece, it's important for your repairs to reflect what has been promised. As each detail of the repairs required has already been communicated with the customer, there is no going back from here. You need to make sure that each repair job is assigned to the right goldsmith, preferably someone who is an expert at that particular task.
For instance, a ring sizing specialist must not be repairing broken chains, and if a goldsmith has insufficient experience in loose gemstone repair, they should not be assigned the task.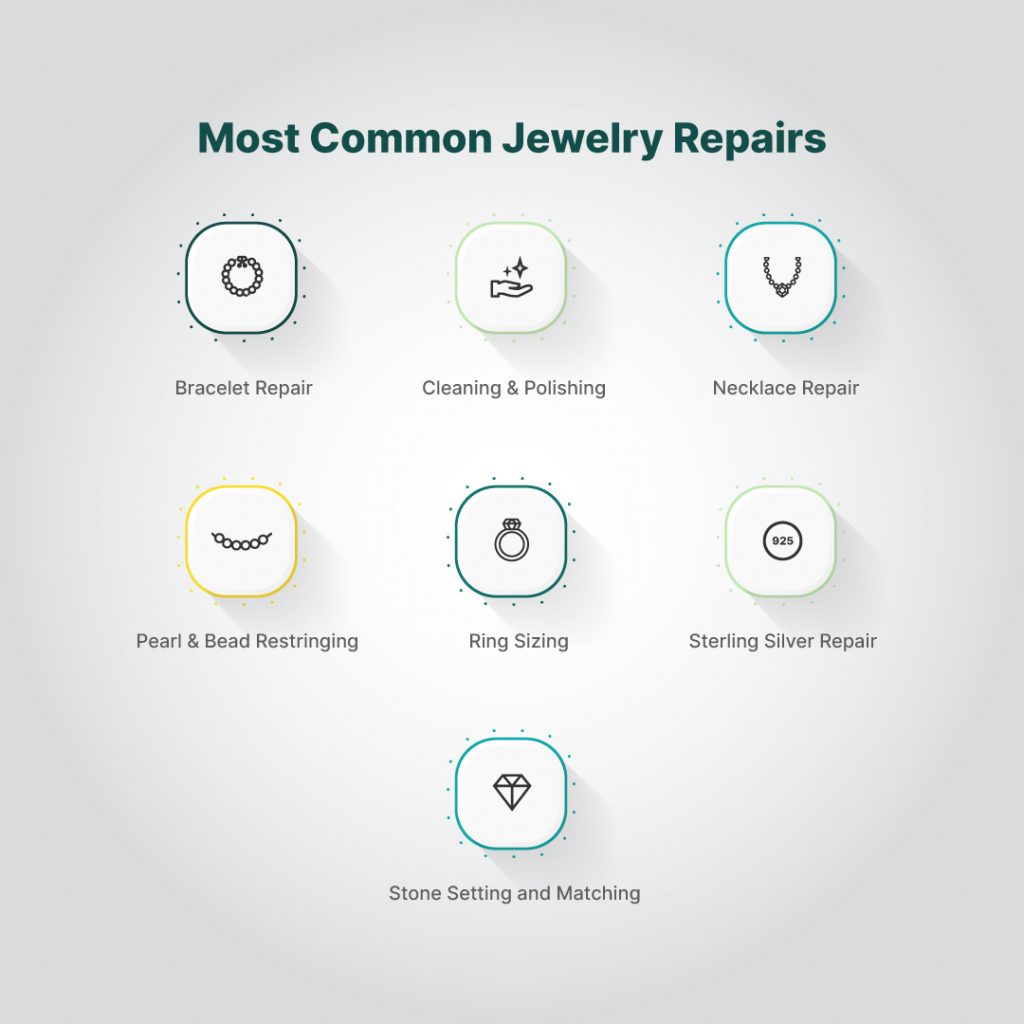 The key here is to get inside the customer's head, understand what they really want, and then carry out the repair as per their liking. To ensure this, you need to ensure proper communication with the jewelry owner and your goldsmiths.
Complete the Repair Within the Due Date
Timely delivery is one of the biggest concerns of customers who entrust their precious jewelry to your business. In fact, nine out of ten customers ask when they can pick up their jewelry pieces while submitting them for resizing, soldering, or re-tipping.
In order to get this step right, you need to ensure that all previous steps are followed. Unless you carry out a detailed inspection, you won't be able to figure out the repairs that need to be done. Similarly, taking the customer's consent ensures that there are no discrepancies or additional repairs added to the order while it is being fulfilled.
In case the goldsmith required to do the job is not working at the time, you need to inform the customer about any potential delays right from the start. Most importantly, tracking the repair process keeps all your employees on their toes to perform their part of the job perfectly and within due time. Not to mention, it helps you account for productivity and growth at your store with ease, since every job is being tracked and its efficiency is being measured.
Deliver the Repaired Jewelry to the Customer
Given that the steps mentioned above have been carried out correctly, you must now deliver the precious pieces back to your customer. Timely delivery is not an issue once you have mastered the art of repair tracking and ticket assignment. But there is still something you need to take care of – packaging and delivery. How you present the repaired jewelry piece to the customer speaks a lot about your jewelry repair business, so you need to nail that part as well.
Jewelry packaging must be according to the type of jewelry item in question and must not, in any way, damage or bruise the item. Moreover, it's better to ask the customer how they want their order to be delivered, and it must be fulfilled to their satisfaction.
The Bottomline
Even though jewelry pieces are precious items, not all owners can keep their jewelry protected from damage. Oftentimes, they require repairs just because of wear and tear on the jewelry over a period of time. Whatever may be the case, your jewelry repair process must be dialed up to perfection in order to satisfy your customers and grow your business.