Well, running a repair store will keep you busy with a lot of everyday chores. However, there will be one thing running in your mind. That is winning "customer commitments and trust."
Since multiple factors affect your store's customer journey, these can be product displays, pricing strategies, and a store's look and feel, but customer service tops all of them.
And here's the good news. When it comes to impressing customers with brilliant customer service, you can continually improve something because you're in the driver's seat. That's why you should always be cooking up ways to wow people coming in for repairs or for purchase.
The next most important thing is how to actually work on winning customer commitments?
Well, being with repair merchants for the last six years, we know that every business struggles to provide the best customer experience, but where do they fail?
They fail in implementation.
So, here's a little secret. Your customers love to feel special, and your business can stand out among others if you have the best customer support mechanism designed. Let's talk about it in detail.
Identify Your Unique Selling Proposition
The repair industry, being a highly competitive market that has hundreds of repair stores in every commercial area, repair store owners need to think about how they are going to differentiate from their competitors. What helps here is, defining your unique selling proposition. To create it, you need to think about the following questions:
What value do I deliver to my customers?

Why would customers buy from you and not from your competitors?
Ask "Commitment Closing Questions." 
Add life to general shopping experiences. When any customer comes in to get their repaired device, don't just end the relationship there and wait for them to come back again. In fact, after their visit, make them remember you by asking the following questions.  
– How's the repair going so far?

– Have we done everything up to your expectations?

– Could anything have been better for you so far?

– How do you like your device condition now?

– How would you describe this process so far?

– Are you satisfied with the repair?
Make Customer Relationships More Empathetic.
As a business, you might be contacting your customers when there's an update for their submitted device or when do choose you for a purchase. This level of engagement will never make you their favorite.
Understanding customer behaviors, identifying their preferences, and getting to know them up close, boosts loyalty. Strengthen your relationship with customers and watch how things change for the better.
Address Customer Queries Faster
82% of customers worldwide expect to get an immediate response on sales, support, or marketing questions. In the post-COVID era, the new customer expectation is the quickest real-time response. Your customers have immediate needs, and you should provide them immediate help.
In order to address your customers' queries in real-time and provide an instant response, you need to make your internal processes smoother. 
Many technical businesses use an ITSM system to improve their core processes. Below is the graphical representation of how much time a specific support channel takes to respond to a customer query.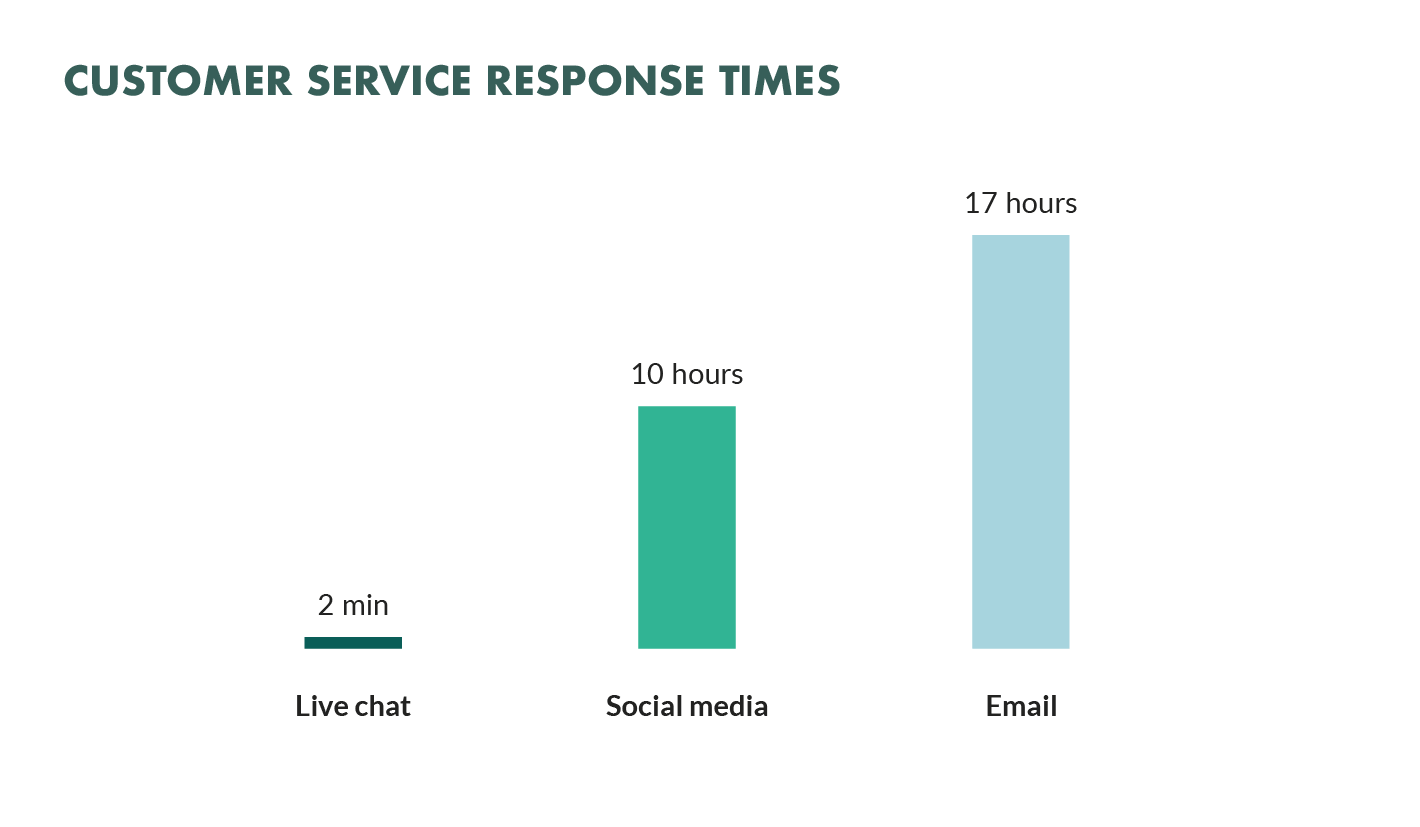 You may be thinking about why response time is important? There are two main factors.
Faster response time is a key metric to improve customer service

Slow response time reduces customer satisfaction
In fastening the response times, you should be careful about not overusing automated processes and compromising on the quality of support. The right balance of automation along with human support is probably the best way to manage your customer conversations.
Final Words
In the digital landscape, customers are smarter than ever. They can easily connect through various channels. The important task for businesses is to ensure that customer engagement should always be adding value, meaningful and efficient. 
We, at RepairDesk, care about you and your repair business. Standing with you in every difficulty, we are offering our repair POS software to help you in your repair business. You can always contact us and use our services in a free 14-Day trial. We are in this together, folks!
Sign Up for a 14-day FREE Trial!