Here's a fact.
All businesses need to reach out to new types of customers from time to time in order to keep growing. For repair businesses, individual orders are great, but what can really kick off a new and consistent revenue stream is offering B2B Services.
B2B clients are like partners, and hence come with additional advantages:
They are bigger organizations so they have bulk repair jobs to send your way
They need constant asset and devices maintenance so will continue to provide a consistent volume of repair orders
You can charge them a better price, even with discounts.
If they like your service, they'll stick with you for longer periods of time
To unlock these advantages in your client base, let's take a look at how you can generate B2B leads and the tools that can help you along the way.
How to Get B2B Clients as a Repair Business?
The repair industry is where you build your reputation based on reliability and quality of service. Although a 5 star customer service wins repeat customers, acquiring new B2B clients requires you to tap into sources you might have never used before.
Here are some common strategies to win B2B clients as a repair business:
Networking: Give out business cards and attend Gadget Repair Expo and other relevant events happening near you.
Referral Programs: Offer referral rewards such as discounts on repair services to existing customers and get more business.
Cold calling: Reach out to potential clients including schools, hospitals, companies, supermarkets, etc. directly through cold calling
Paid Ads: Run social media ads, and targeted Google AdWords campaigns.
Targeted Email Marketing: Run well-designed email marketing campaigns to reach out to potential clients.
With so many choices, focus is important. So let's start with a proven strategy that has produced guaranteed results for many repair stores like yours.
When it comes to B2B repairs, email marketing is the most effective way to win new clients and keep them hooked. Make setting up an email marketing campaign easy and seamless by using the right tools including ChatGPT and RepairDesk Repair Shop Management Software.
Now that you know which strategy to choose, let's get started on the next steps.
How to Set up an Email Marketing Campaign to get B2B Clients
When done correctly, an email marketing campaign can generate a ton of business, which is why a whopping 93% of B2B marketers use this technique. The key here is to create and send content that educates and engages your prospects until they convert to customers.
Here are the steps to run a successful email marketing campaign for your repair business:
1. Understand Your Target Audience
The first step is to brainstorm and broaden your field of view. Your target audience should not be limited to individual customers with broken cell phone screens and buttons.
Instead, your customers can also be schools, grocery stores, hospitals, construction companies, restaurants, and other organizations that use multiple devices and gadgets. For such a diverse customer base, you need to understand their pain points. For instance, in most B2B scenarios, the client will have large orders regularly so you can offer bulk fixing and regular maintenance contract services to the customers and add free pick-up and delivery in the package.
Find out How your Repair Business can Score a School District Contract
2. Find the Contact Details
To reach out to these prospects, you need their professional email contacts. Using Google Chrome extensions like Email Finder, Discover, and EmailDrop, you can collect the email addresses of local businesses. Moreover, Google Maps Scraper is another useful scraping tool for extracting B2B leads. You can use the tool as a Chrome extension to collect the email addresses of local businesses or find their Facebook pages.
You can also manually find contact information on the business website, social media pages, business listing directories, and yellow pages or buy email lists from professional companies. 
Once your prospect list is ready, here's what you need to do next.
3. Design an Email Drip Campaign
Drip campaigns are a series of automated emails sent one after another to educate, engage, and convert customers. 
Normally, when you have a list of emails and you want to design an email campaign, you follow a manual process. This involves writing a compelling subject line, highlighting the benefits of your services, and using a lot of hit and trial to see if your content works.
However, it's a different story when you have ChatGPT writing your emails for you. Simply provide ChatGPT with some background information and prompts, and it will generate content for you.
Pro tip: Send an an offer in your campaign to get more engagement.
Here is an example of creating an email drip campaign with the simplest prompt in ChatGPT: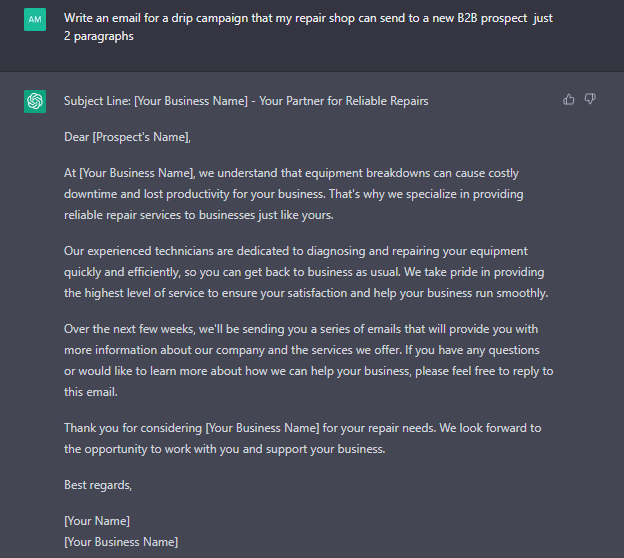 For those who do not respond to the first email, send a follow-up in a week's time as a reminder of your offering. Here is a draft of second touchpoint that ChatGTP suggests: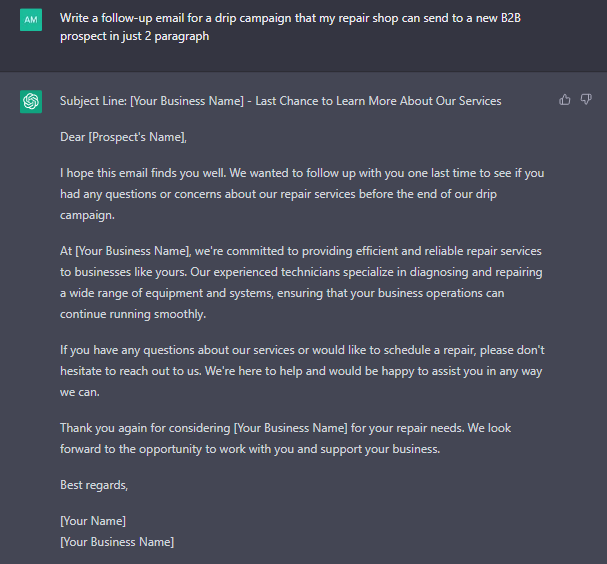 Similarly, the 3rd email of the drip campaign is triggered 2 weeks after the second email has been sent and can be drafted as follows::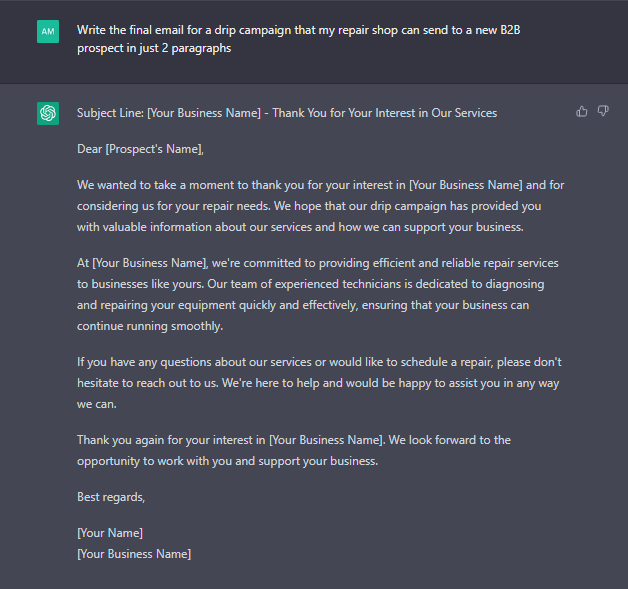 4. Schedule Campaign for Roll-out
Once your content is ready, you can use many email marketing tools including RepairDesk Marketing Automation Tool to set up a single email blast or an automated drip campaign. Here are some of the popular and easy-to-use email marketing tools you can use to generate B2B leads:
Mailchimp
Sendinblue
Mailmoodo
Mail munch
Getting an email campaign running is not as complicated as you may imagine. But if you feel the need for professional help, you can hire a pro-Marketing Agency to generate interest for you. Alternatively, you can easily find a freelancer on Fiverr or Upwork to manage your email campaigns. And it will cost you less than $100. 
Retain Your Customers with a White Glove Experience
Once your email marketing has produced results and you have a B2B client on board, it's important to deliver a consistent brand experience that can help you retain them.
Retaining customers is all about letting them know that your repair shop remembers and cares for them.
Apart from loyalty rewards and special offers, the white glove experience also means optimizing all touchpoints for your customers to make their experience as seamless as possible. For instance, handling simple customer requests like updating them about their repair order can be improved with the help of ChatGPT. Not only will you be able to write well-structured and accurate messages and respond faster, but you can also respond faster making your customer feel special.
Use ChatGPT to Follow up After Repairs
Services is a business based on reviews. Getting reviews and creating social proof through them can get you consistent B2B business. Ensure that the B2B client is satisfied with your service and design a follow-up and review campaign to get your store ratings.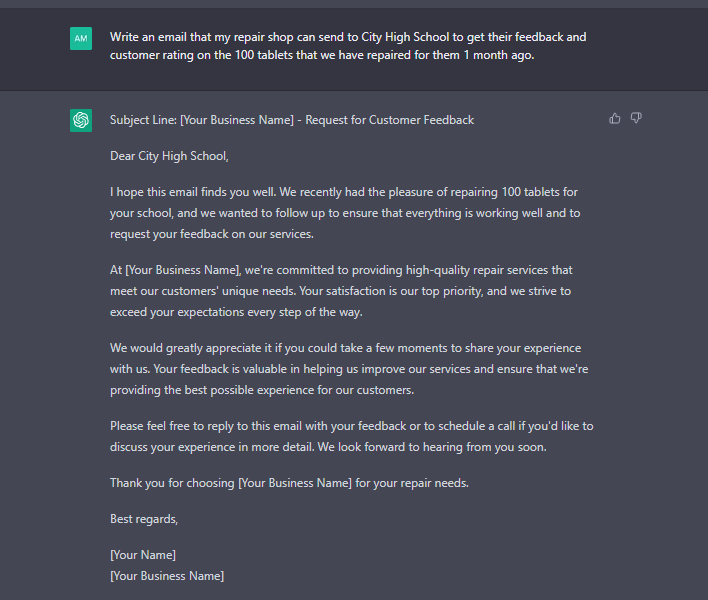 ChatGPT can be used to reach out to customers for regular feedback, especially after you have completed a due order.
Get 20+ email marketing templates for FREE by signing up below
Use ChatGPT for consistent Customer Service
When it comes to repair service businesses, customer service is one of the key drivers of success. Luckily, ChatGPT also proves to be useful here, as you can generate automated responses to your FAQs with the right prompts.
This means your customers will find the right information within seconds without the need for a customer support specialist. Unlike humans, chatbots do not need a break and can answer customer queries 24/7.
What more you can do? Design an SMS Campaign
Given that you are getting fruitful results from your email campaigns, it's also a great idea to create and run an SMS campaign. After all, you have ChatGPT to write the messages for you.
Here are the key benefits of designing your SMS campaign with ChatGPT:
Since 98% of SMS messages are read within the first three minutes, you want to craft each message to form a direct connection with your B2B client. While adjusting to the SMS format as opposed to emails, you still need clear and concise messages. Here, ChatGPT can help you shorten large chunks of text and rewrite it in just a few sentences.
Your SMS campaign and email marketing campaigns must not be taken as separate practices. To deliver a cohesive, end-to-end brand experience, your SMS messages must complement your emails. To achieve this, you can use ChatGPT to rewrite email messages in the SMS format within a few seconds.
Given that your SMS campaign is going to include time-sensitive messages such as order pickup reminders, discounts, or special offers, it's important to personalize the messages. You can provide ChatGPT with the right information about your B2B prospects and generate personalized SMS messages.
Use RepairDesk SMS widget to run sms promotional camapigns from within your POS.
Win your first B2B Repair Today!
ChatGPT can help you win B2B customers by improving the content that you create to reach out to, engage, convert and send update notifications to your prospects and customers. However, you also need a Repair Shop Management System to maintain prospects and customers database. Use this database for follow-up campaigns and the repair ticket tracking system to ensure you know the status of the B2B repairs so you can send regular status updates to your customers. Having a B2B Repair Portal where the customers can track their repairs, keep logs on communication and make online payments is an added advantage,
RepairDesk is a complete ecosystem that can give you all these features, and much more. To unlock the true power to handle B2B clients for your Repair Business, get started with RepairDesk and ChatGPT today.