Easter's just around the corner, and we've been hopping along to get more exciting updates out the door! Here is what's new at RepairDesk this week;
Improvements:
Imp #733 – Part Consumption Report
With this improvement, a new column named as 'Part Category' has been added in the report and now you can fetch results based on the category by selecting 'part category' from the newly added search filter. Refer to our knowledge-based article for details: https://repairdesk.uservoice.com/knowledgebase/articles/1886731-part-consumption-report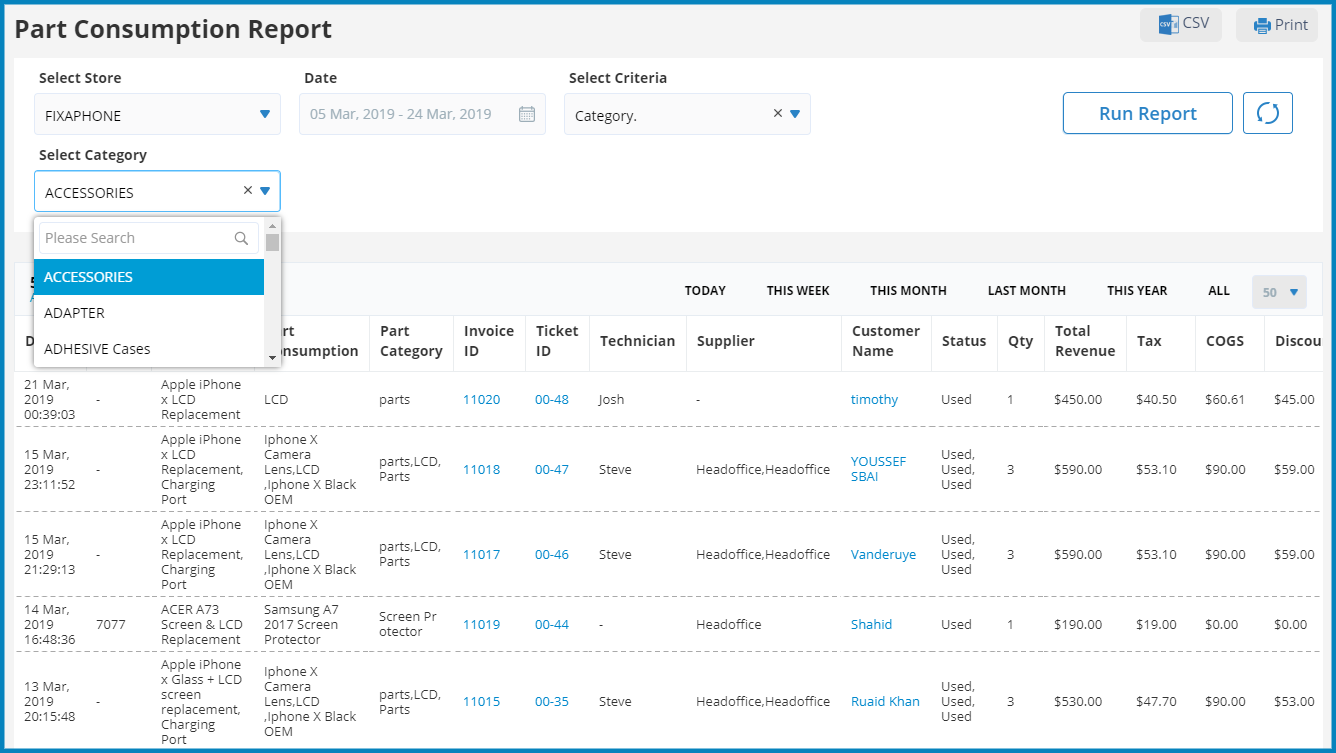 Imp #642 – CAYAN Payment Processing
For accurate reporting, now on checkout screen when accepting payment via Cayan, 'Confirm' button will be disabled unless payment is completed and received. After a successful transaction, you'll see a newly designed success pop-up with the paid amount. Check out our knowledge-based article for more information: https://repairdesk.uservoice.com/knowledgebase/articles/1127041-how-to-integrate-cayan-with-repairdesk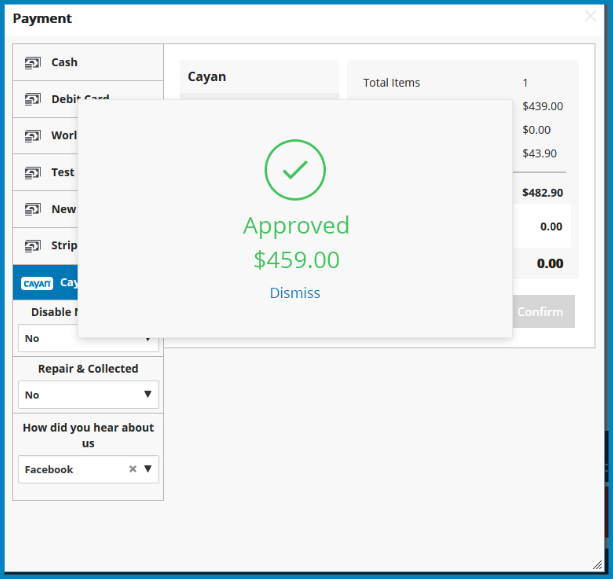 Trigger in Buy Back Widget
A new trigger has been added under the 'Buy Back Widget' settings in order to avoid discrepancies. If the trigger is enabled, it will not allow users to add their custom manufacturer or device attributes other than the options given.
Head on over to our knowledge-based article for more details: https://repairdesk.uservoice.com/knowledgebase/articles/791775-how-to-setup-buyback-widget
Employees Assignment & Access
Previously an employee who had access to any store also appeared in the list of employees at the time of ticket assignment. But now you can control to whom the tickets can be assigned and who can just view the data of your other stores. Employees permissions can now be chosen easily with the addition of separate triggers for both actions.
Get more details here; https://repairdesk.uservoice.com/knowledgebase/articles/1180294-how-to-add-an-employee
Note: No task can be assigned to employees without giving them access to a particular store location.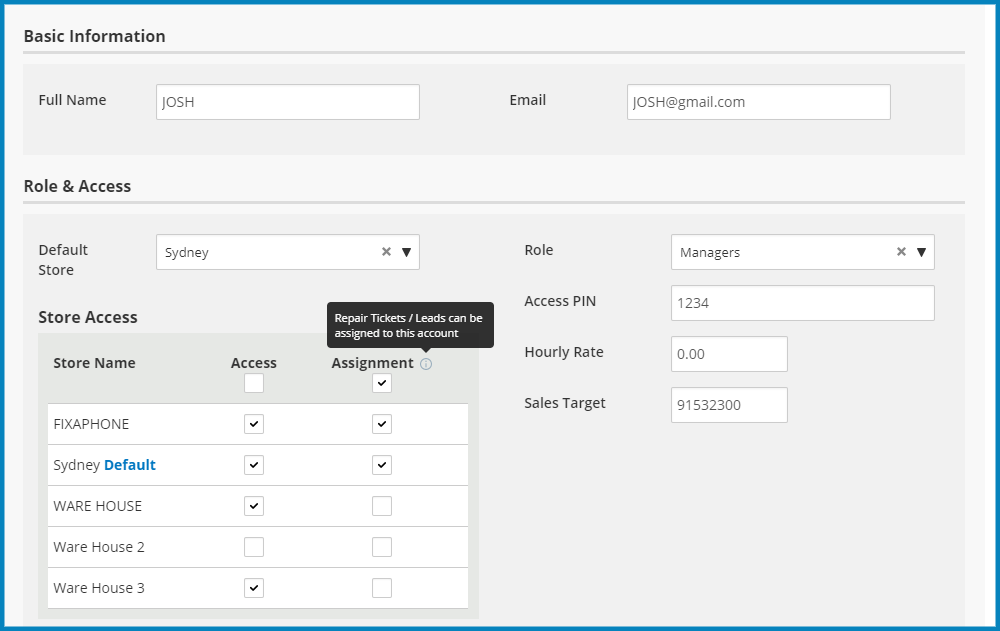 Status Validations
For accurate reporting against every item sold via 'Trade-In' module, we have added some validations against trade-in items. For example, if an item is representing 'in-stock' status, it cannot be deleted. For further information please check our knowledge-based article; https://repairdesk.uservoice.com/knowledgebase/articles/791691-how-can-i-sell-refurbished-or-pre-owned-cell-phone
WooCommerce Sync
To keep it easy for you, we have added a trigger in 'WooCommerce' integration to update the product description. If this trigger is enabled, product description in WooCommerce will automatically be updated if you change the item information in your account.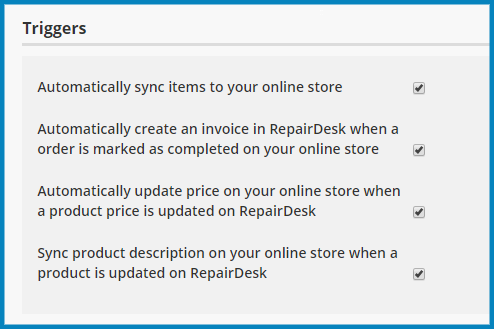 Bug-Fixes:
A bug was reported when trying to send a custom canned response from 'Manage Tickets'. The customized response was not displayed in the list of templates. This issue has been fixed.
An issue was reported that even if all the invoices email triggers were disabled, the system was sending automated emails to customers on invoice events. This abnormal behavior has been fixed.
A bug was tracked in the WooCommerce integration that it was not syncing the product images that were uploaded on the user account. This issue has been fixed.
Bug #672 – The option of 'copy selected language to other stores' was not working properly in the 'Language Editor'. This bug has been removed from the system.
The system was not allowing sending emails to clients manually. This problem has been fixed and now you can send emails with no failure errors.
Bug #554 – A problem was detected that the commission fixed for the 'Trade-In' module was not showing up in the 'Commission' report. This bug has been smashed and the report is now fetching correct data.
RepairDesk makes your life easier by helping you manage your work effortlessly and with just a few clicks. We have everything – from creating repair tickets to inventory management and more. Get a FREE trial of our all-in-one POS software for your cellphone repair store and see it for yourself!