Yes, it is finally here! The most awaited Customer Facing Display feature is now ready to use with a lot of advancements and interesting changes. Let's get into the details about what's new in this release;
Improvements:
Search Option for Employees
We have added a search functionality in a pop-up where the system asks for an employee's pin, for example, at the time of switching user or creating an invoice. It lets you search faster from a number of employees at your store location.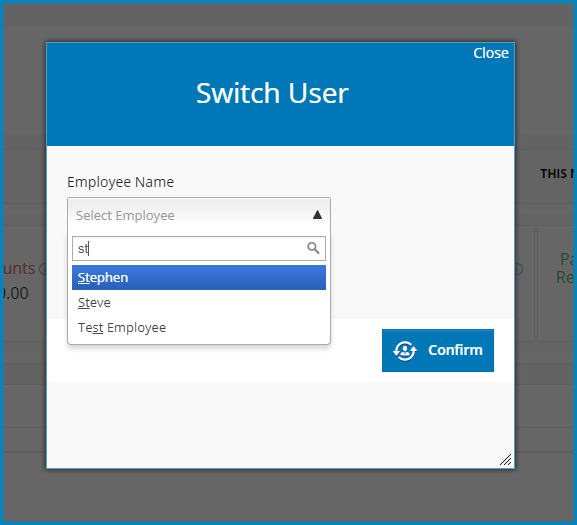 Freeze Reports' Rows
For a complete view of large data, we have implemented a solution that will fix the top-most row having column headings and the last row displaying a total of whole data, allowing you to easily scroll between rows containing different records.
Imp #682 – Employees' Names Sorting
Some design changes have been implemented in the 'Ticket Status' and 'Assigned to' fields under the POS section. Also, employees' names will now be displayed in alphabetical order when creating a ticket.
Imp #610 – Breakdown of 'Settings' Trigger
Previously, every store employee either had the full access to store settings or did not have access at all. Now, the 'Settings' trigger has been divided into multiple triggers so the admin can select between the different modules settings to give limited access to any employee as required.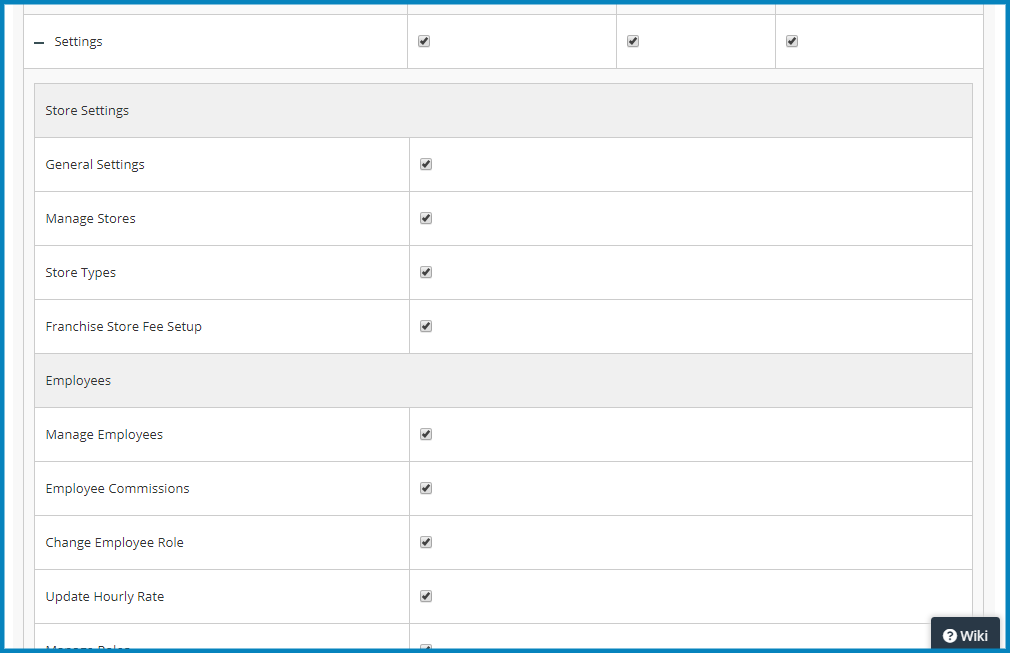 Customer Facing Display
We have revamped our Customer Facing Display module and it is now better than ever. Following improvements have been made in this section;
Your display screen will now show every step, that is, customer can view every action performed on the spot. Either you offer a discount, apply tax or add another line item, everything will be visible to your customers.
You will have different terminals to choose between, for example, if employee-1 chooses terminal 1, the employee-2 can choose terminal-2 and so on up to 9 terminals. This helps in dealing with multiple customers at the same time with their work orders displayed at their respective counters. If you choose the same terminal on two different counters, Customer Facing Display will work on the first come first serve rule and the later order will be placed in the queue.
From now on, Customer Facing Display will be presented in case of 'Refunds' too in addition to the checkout screen, trade-in purchase and ticket creation.
Details on the Customer Facing Display will be presented as soon as the customer is added from the POS or right after creating any service item.
Customers can now view their order details at the time of purchasing any accessory item too.
You can now state your desired terms & conditions to be displayed, in case of refund, trade-in purchase, ticket creation, and checkout.
While taking payment from the customer on checkout, you will have the option to either show pre-repair terms & conditions or post-repair terms & conditions.
Pre-repair terms & conditions will automatically be displayed at the time of ticket creation.
For your repair shop advertisement, you can set up a promotional banner that shows your discounts, offers or sales, on the customer-facing display whenever the screen is not in use by a customer.
Note: You can ask RepairDesk professionals for banner designs, and we'll provide you a fully customized banner for your repair shop, designed by our experts.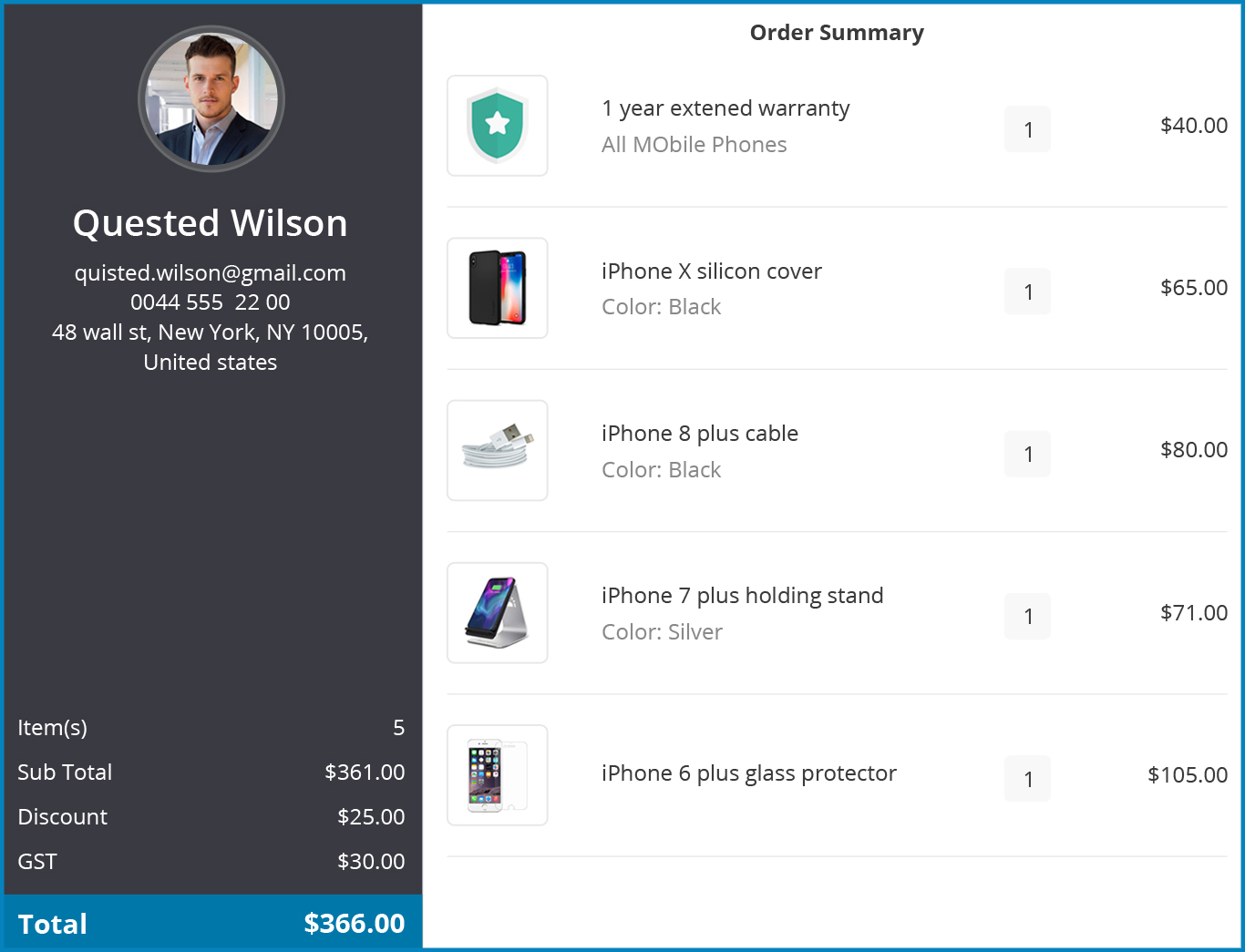 Bug-Fixes:
A bug was reported that it wasn't showing 'Start Shift' pop-up on the POS screen. This issue has been fixed and the pop-up is now working perfectly fine.
A tag named as 'Technical Repair Report' was not functioning properly on the service receipts. This issue has been fixed.
An issue in the 'Low Stock Report' was stated that it wasn't displaying a correct list of purchase orders. This problem doesn't exist anymore.
An error was tracked while transferring an inventory item from the low stock report that the cost price of the transferred item was always mentioned as zero. This bug has been removed.
RepairDesk makes your life easier by helping you manage your work effortlessly and with just a few clicks. We have everything – from creating repair tickets to inventory management and more. Get a FREE trial of our all-in-one POS software for your cellphone repair store and see it for yourself!