Welcome to another round of interesting improvements and bug-fixes in your very own RepairDesk web app. To run the operations smoothly, we have made two different teams in-house; the first team is responsible for the system stability and is solely dedicated for the bug-fixing tasks, while the other team works on the user-suggested improvements. Let's see what's improved and fixed in this release;
New Features:
Damage Part Report
To keep you aware of every inventory item, we have made a dedicated report to keep a list of all the faulty items and devices. In this report, you can find all the inventory items, accessories or parts that have been marked as 'faulty' and you can either create RMA against them, mark them broken or can add them back into the inventory.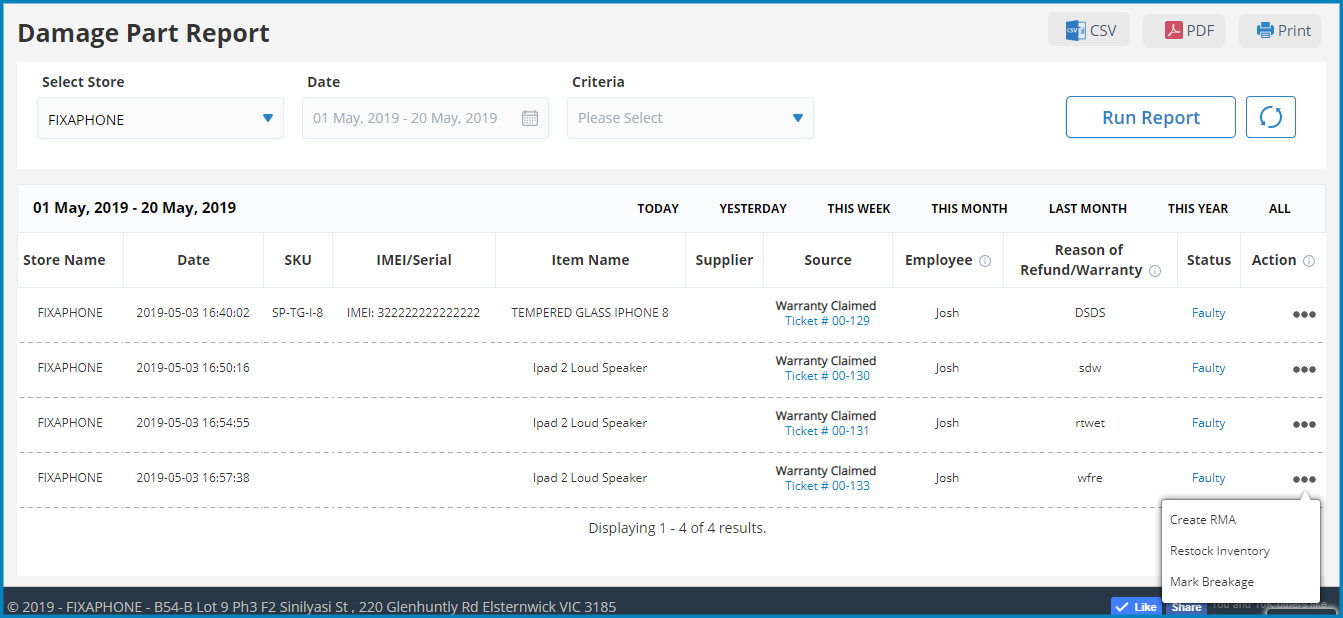 Improvements:
Advanced Search for Inventory Items
We have broadened the search for inventory items to make it easier for you to look for any inventory item. Now when you start typing in the search box, all related items will be populated in the list and you do not have to mention the exact full name for a successful search.
Imp #702 – Commission Exclusion
You'll now have the option to exclude commission from any specific inventory item or against any device repair and set the commission to zero as per your requirement.
Bug-Fixes:
We have successfully smashed 40+ minor bugs and here's a list of some important fixes;
An issue reported in the CSV import of bundled parts has been fixed.
A problem reported with the Accessories & Casual Items 'Notes' display has been fixed.
With this bug-fix, all the registered employees of a store can log in to their accounts without any hassle.
'Purchase Order' can now be created with multiple items selected from the 'Low Stock' report.
Users can now choose the customer's respective country code while entering their phone numbers.
With this bug-fix, any employee who has access to multiple stores can now view every store's details in the 'Sales Summary Report'.
We have fixed the bug and now any item connected to multiple devices will show up only once in the POS screen.
RepairDesk makes your life easier by helping you manage your work effortlessly and with just a few clicks. We have everything – from creating repair tickets to inventory management and more. Get a FREE trial of our all-in-one POS software for your Cellphone and computer repair store and see it for yourself!
Sign Up for a 14-day FREE Trial!