Our Customer Facing Display has been upgraded with one of the most awaited improvements, that is, the self check-in option for your customers! Give complete freedom to your customers and an excellent buying experience from the point they step into your repair shop to the successful checkout. Let's learn more about this and our other web app improvements below;
Improvements:
Customer Facing Display
Making your repair shop tasks easier and quicker, we have added the self-check-in feature that'll allow your customers to enjoy the self-service, with your pretty, attractive and catchy customer display screen. What else it can do, let's have a look;
Going into the integration settings, you'll now see another tab named as 'Self Check-In Configuration' that has the toggle to enable or disable the self-check-in service.
On enabling the self-check-in option, you'll see the dedicated button for it on the POS screen, trade-in purchase and at the time of creating a ticket.
It will display a form on the display screen, asking the customers to fill in their details.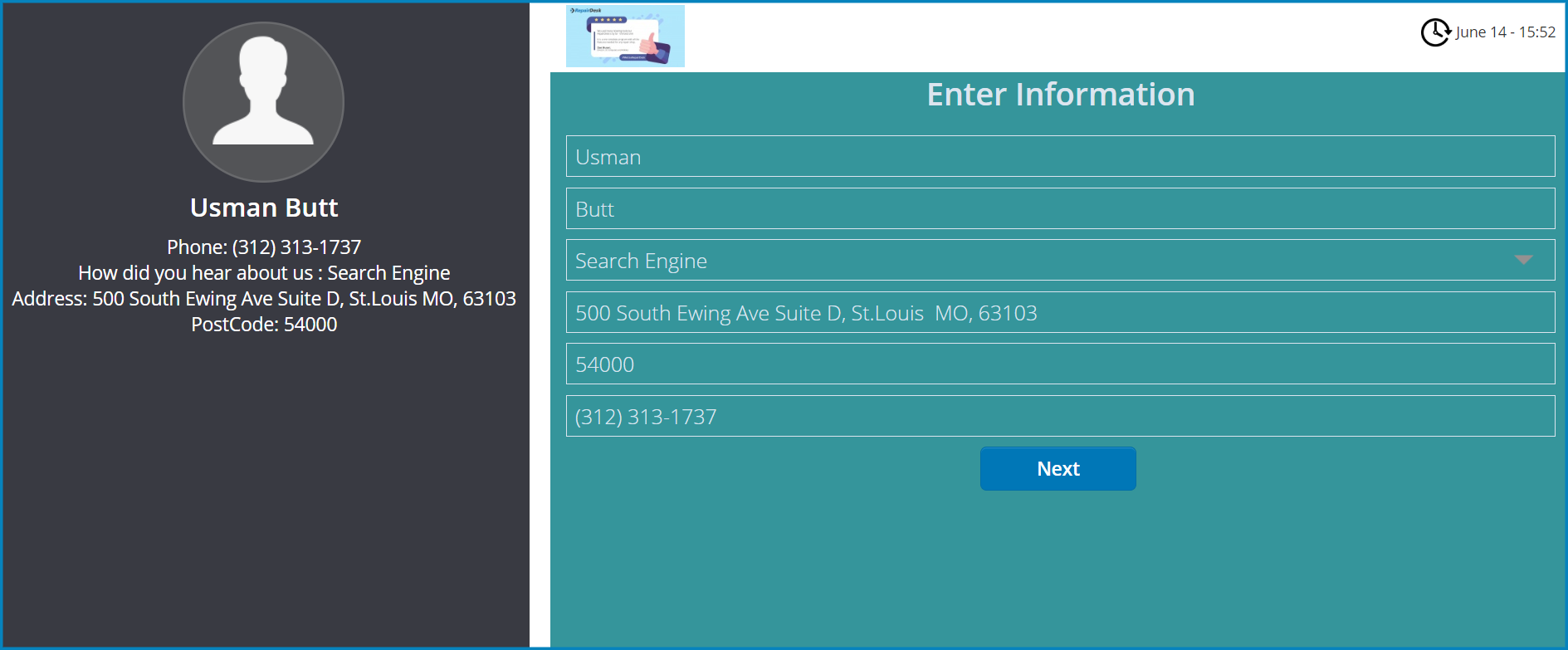 You can customize the customer form by changing its background color and text color. Select if you want to display your store logo and date & time, on the display screen.
Allowing you to choose between different fields, you can enable/disable form input fields and can also rearrange them by drag and drop.
You can also choose what information/input fields should be set mandatory in the form.
Your customers can now view their details as soon as they start filling in the form. Customer details will be populated and displayed
When the customer has successfully completed the form, his/her will be saved in the record and the POS screen will be populated with the same details.
In case of a trade-in purchase, some fields will be automatically set to 'required' if you have disabled the trigger 'Seller Details (Not Required)' from the store settings.
Some new options have been added while taking (pre & post) signatures from the customers, at the time of creating a ticket. You can choose to show them the order cart and terms and conditions before asking them to sign their ticket.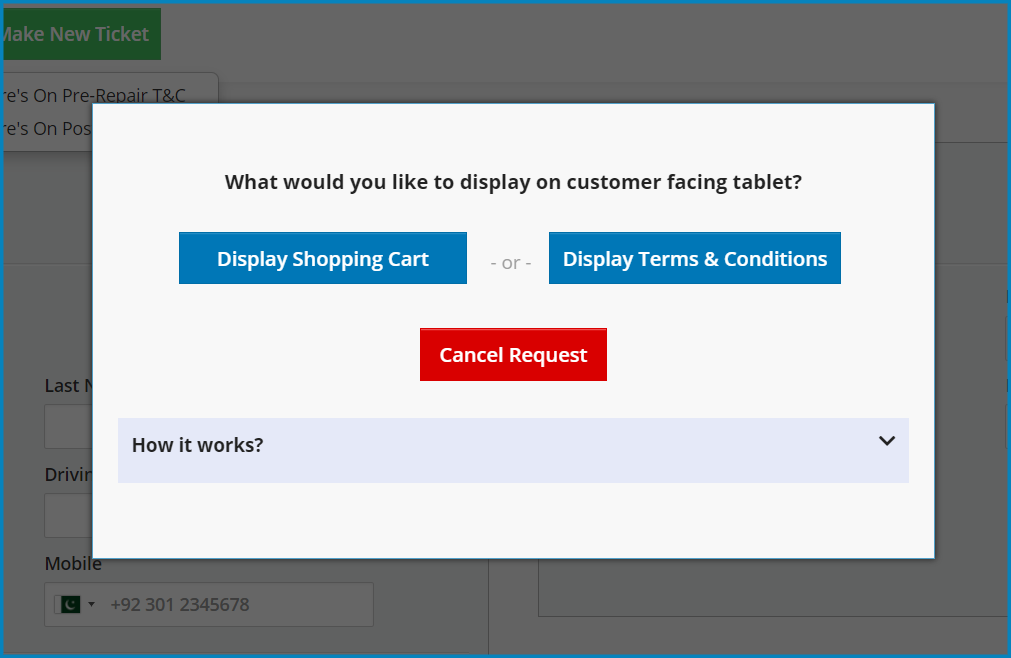 Other improvements in the Customer Facing Display includes 3 new toggles that allow you to easily select what to display at the time of in-take signatures;
Show order total on Customer Facing Display
Show price and tax on Customer Facing Display
Show discount on Customer Facing Display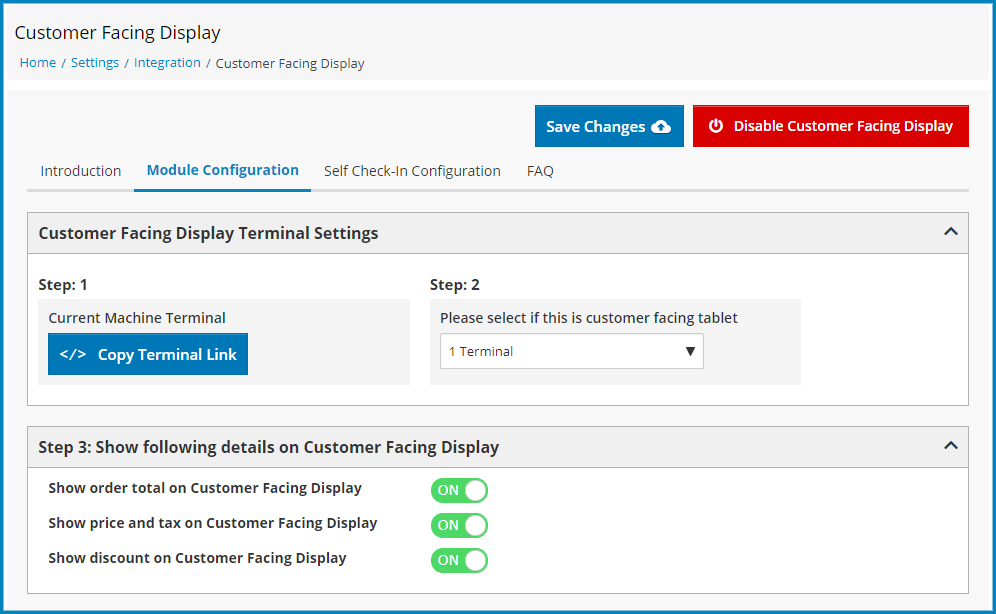 To get further details about how our Customer Facing Display works, reach out to the knowledge base article on How to Configure Customer Facing Display?
Inventory Refurbishment Module
We're very excited to announce that RepairDesk's refurbishment module is LIVE! This extensive feature will allow them to refurb serialized inventory parts and accessories with a proper work-flow and select employees who can access or edit those refurbishment tickets.
Select items as per your requirement, create refurbishment batch and track refurbishment cost. Learn more from our knowledge-based article on the Refurbishment Module.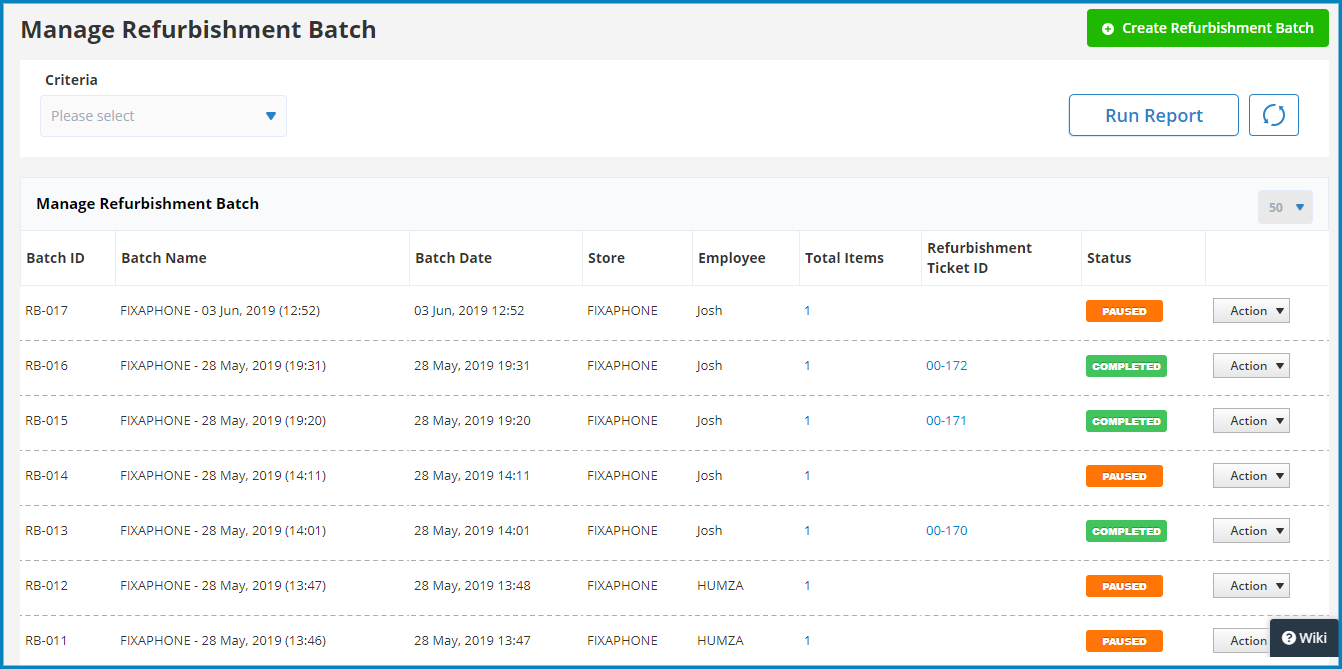 Trade-In Custom Status
This improvement lets you create custom statuses for the trade-in module along with some default statuses. You can enable/disable the custom status, set its unique name and representation color in order to differentiate it from others.
Note: You can not delete any custom status if it is currently in use.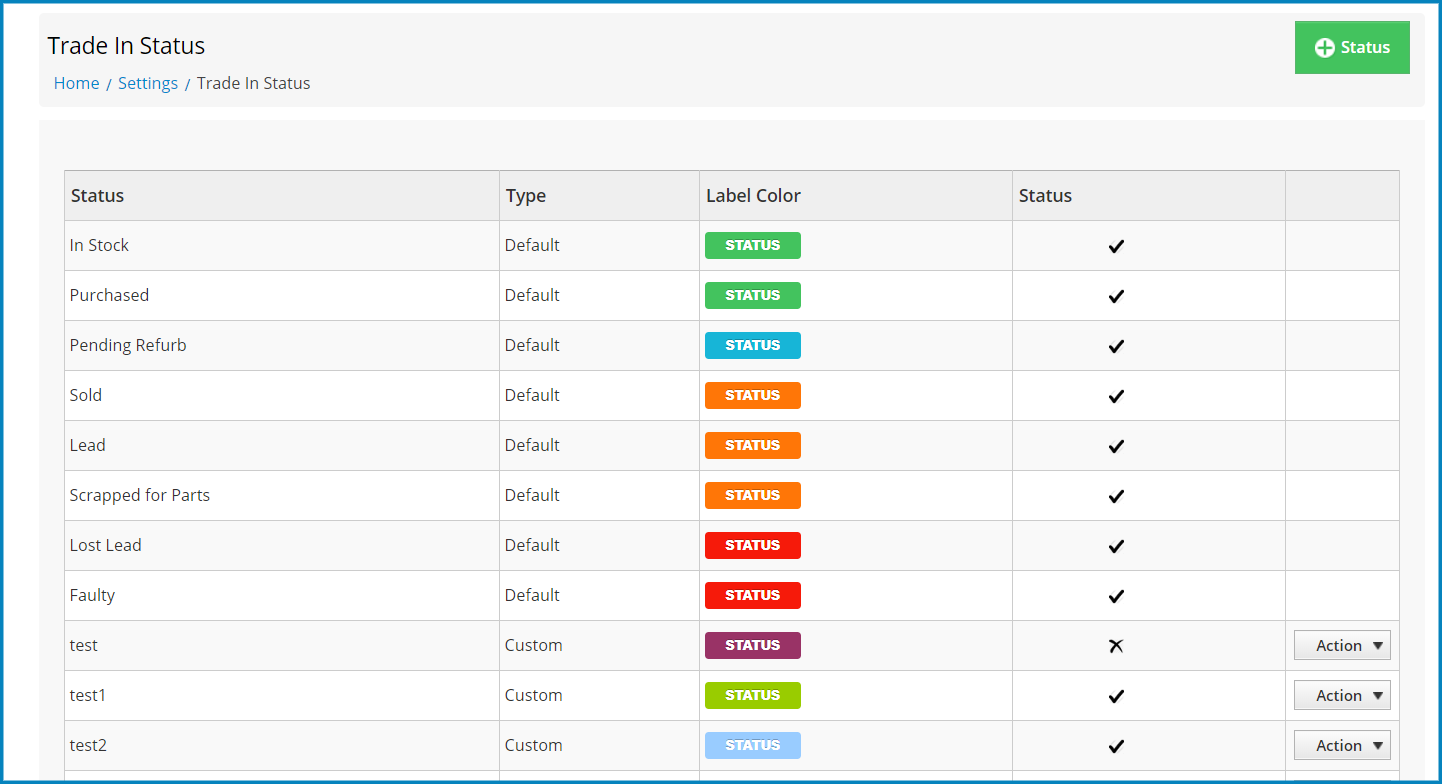 MobileSentrix Integration
This minor improvement will allow you to copy your endpoint URL directly from the configuration page and paste it into your MobileSentrix account for seamless integration.
Inventory Details Page
We have enhanced the inventory list and have added more details by introducing some new columns. These columns are SKU, UPC, valuation method, item condition, stock warning and reorder level.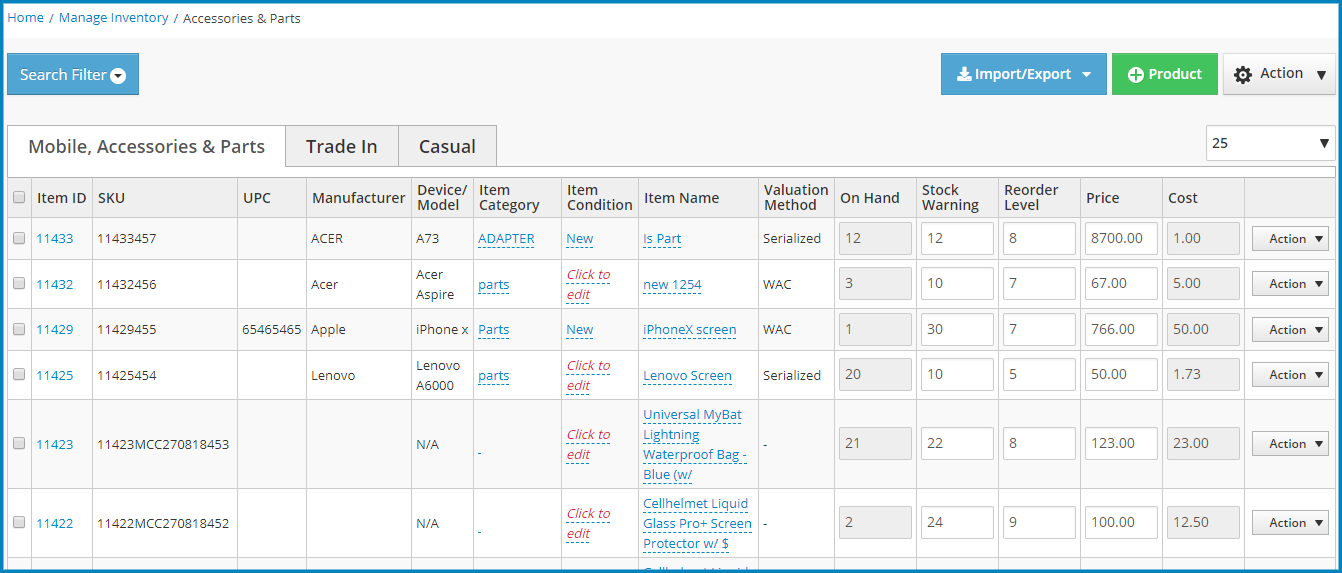 Also, you can now add serialized items under the 'product info' tab that was previously in the inventory stock tab. As shown below;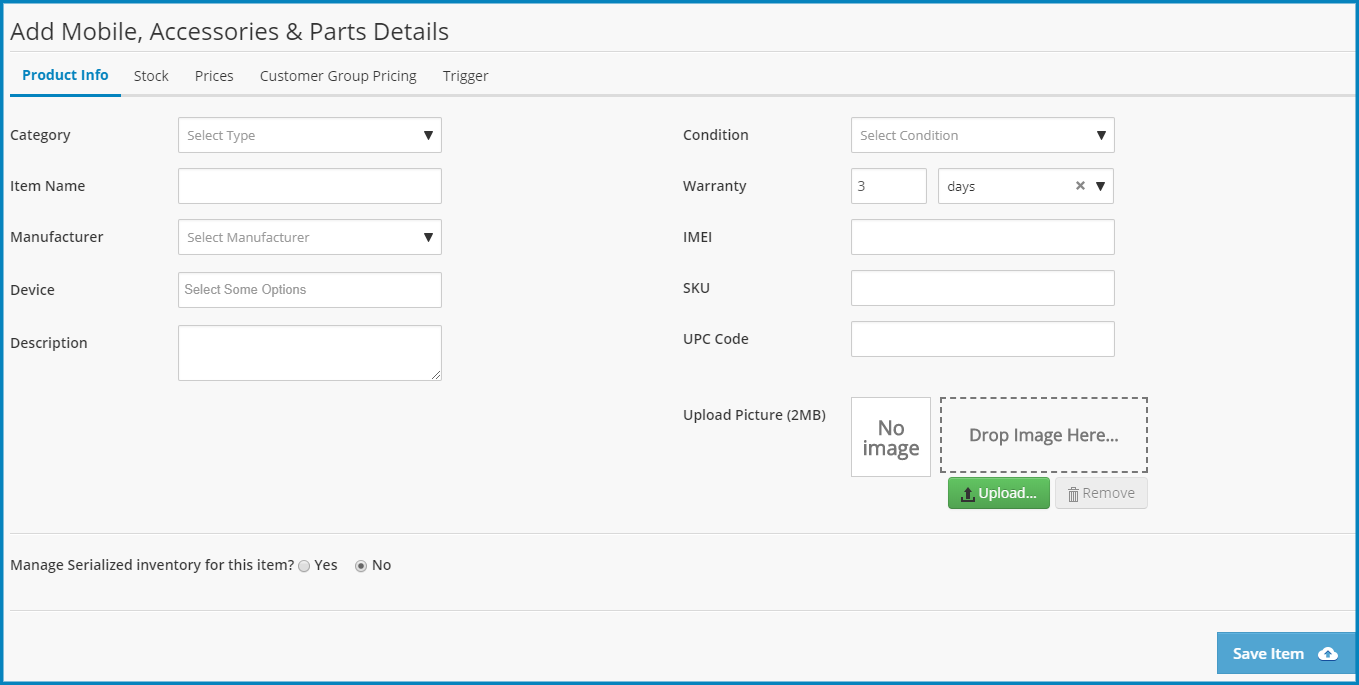 Bug-Fixes:
Going a step closer to stability, we have removed more than 30 bugs this time and here's a peek at a few of the bug-fixes!
We have rearranged the serialized inventory. Now you'll see the on-hand inventory items on top, followed by the sold items.
A reported bug of a blank reply via click-a-tell integration has been removed.
Shift ending email was not being sent to the employees even if the trigger was enabled. However, this issue doesn't exist anymore.
The search bar on the top header was not working properly if searched for a particular ticket. This issue has been resolved by our team.
Enjoy using the world's 1st iPad POS solution for Cell Phone Repair Business.
RepairDesk makes your life easier by helping you manage your work effortlessly and with just a few clicks. We have everything – from creating repair tickets to inventory management and more. Get a FREE trial of our all-in-one POS software for your Cellphone and computer repair store and see it for yourself!
Sign Up for a 14-day FREE Trial!