We are familiar with the importance of your customer for you and we also know how difficult it is to keep finding new ways to make them satisfied, happy and attached with you. Once again we have come up with another awesome feature that can make your relationship with your customer more fun and long lasting. We like to call it Customer Facing Display.
When completing a work order, it is often beneficial to capture a signature from your customer that indicates their acceptance before or after a repair is completed. We have developed Customer Facing Display widget that allow you to streamline checkout, displays order details & save customer's signature on a work order using any tablet.
The order details will be displayed on a separate device / tablet which is dedicated to customer approval and signatures. This helps repair shop owners in focusing more on their work as they need to ask the customer to come and sign the invoice.
Your customers can easily view the order details and after reading the terms and conditions, can put their signature on iPad or any other tablet. It will help the customer to keep track of his repair orders, trade-ins, costs and details of the job. In this way, you can deliver an exceptional customer experience at your repair shop.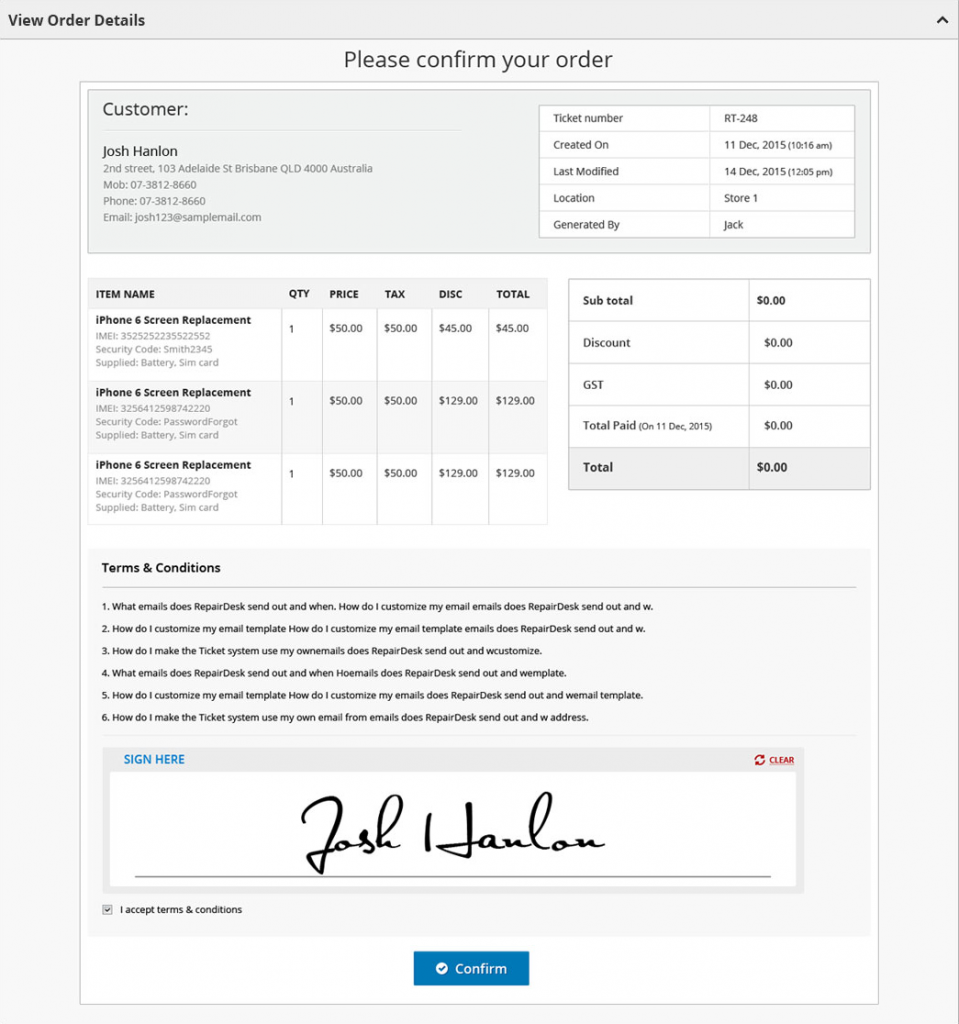 Another benefit of using Customer Facing Display widget is that your privacy will be protected. Sometimes, the repair shop owners or technicians don't like that customers can view their screens while taking signatures. By using this feature, you won't have to use your device for customer signature. Plus, you will be doing a favor for the customers by dedicating a separate device for them and believe me they LOVE favors!
Enabling this feature on RepairDesk is an easy and time-saving task. Just go to the Integrations in RepairDesk and click on Customer Facing Display. Enter your terms and conditions for pre repair, post repair and trade-ins and click connect. Generate iFrame code and a URL will be given to you which you will use on the customer facing tablet. When you create a ticket and checkout on POS, the customer facing tablet will display the order details and a section for customer signatures. After the confirmation, the repair ticket will be created automatically and you are good to go.
With Customer Facing Display, your customers can watch their repair jobs become a reality. It will boost your business by speeding up the accuracy of the tasks while your customers enjoy an awesome user experience. So, head over to RepairDesk now and start using Customer Facing Display.