Businesses struggle every day to get better and better for the satisfaction of their customers. Introducing new POS technology in your shops every now and then does not guarantee its success if the environment stays the same. Mobile solutions are meant to eliminate some of the problems found in almost every business. If you have not figured those problems out, then get ready to take notes as following are a few highlighted ones:
Freedom to Move:
Imagine a customer enters your shop demanding your help to find a certain item on the shelves and at the same time you have to enter data at desktop POS too. This becomes a difficult decision when at one hand you have a customer to make happy and at the other data is important to enter. Employees find it really hard to help customers around the shop and handle the accounts or desktop POS software at the same time.
In case employee chooses to help a customer, he takes the risk of losing information he was about to enter. And if the employee chooses to continue entering the data, the image of the shop is put at stake.
Inventory Issues:
Managing inventory with hands can be a mess. You can't possibly do the work of counting the items coming in, keep track of the number of items in your store and run to inventory every time a customer asks for an item that is not on the shelf.
Desktop POS software comes handy with managing the data about items and keeping a check on their amount in inventory. But the point they fail at is when you are away from the desktop and have to rush towards it just to get information of an item.
Less Space, More Products:
At the pace in which industry is growing, it becomes difficult to even keep track of the products that are introduced in the market every day. Every customer has his own choice and so you have to attract various customers you must have items from every brand in every category.
It is not necessary that you can grow the space of your shop with the growing numbers of products in the market. So it is always a challenge to shrink down the products to the limited space available.
Stay Paper Free yet Professional:
Using papers for writing down your business related stuff or to make receipts is more than an outdated strategy now. Customers don't usually like entering in a shop where the paper is still used. But the businesses who still use papers believe that it is the best way to stay professional. Moreover, writing on notebooks is always a risk as they might go missing leaving you with no way to back up the information.
The Solution: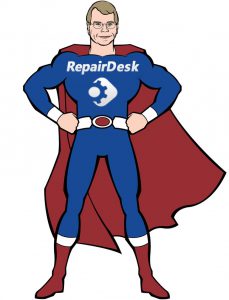 Now that we have highlighted some of the mostly stated issues people face in their retail businesses the question that arises here is What is the solution for these issues? Desktop POS software has been proving useful in solving most of these problems but with the growing needs of industry, their ability to solve issues is minimizing. The best solution to these problems is having mobile POS software.
RepairDesk iPad app is the ultimate solution which acts similar to the desktop app with giving you more power. It gives you the freedom to roll around your shop helping your customers while handling your shop at the same time.
You are made able to handle the inventory while you are on the move. You can enter a number of the items that have just arrived your shop while roaming in the shop rather than getting stuck in the inventory space. It also lets you keep the track of the amounts of every item available in your inventory so you know when you need to order more.
Using RepairDesk iPad app you can decide to shelf the items that are sold more often and have others placed in inventory but listed down in your device. So whenever a customer walks in to have an item that has less demand in the market you can just look up for that via your device and let him know.
If you think you are still thinking to subscribe mobile POS software, then it is the time you stop thinking and start acting. Get your RepairDesk iPad app today to solve all the problems which hinder your way to success.
Signup now to get free 14-day trial, no credit card required.