It's already the end of February so we're keeping things short and sweet too! Heading up fast towards stability and betterment, here are this week's enhancements and bug fixes of our web app;
Improvements:
Transaction Log Report
The following changes have been made in this report;
The system will not allow choosing an invalid date and the improved date filter will now fetch the accurate results.
Cutting out the clicks, you can now view all the shifts of the day along with their details when ending up any shift.
When exporting the report as an excel file, you can now view the 'source' of payment and 'employee name' with other details.
Imp #606 – Re-Added 'Yesterday' Option
Based on high user demand, the filter to view report details by 'Yesterday' has been added back in the following areas;
Reports Dashboard
Admin Dashboard
Manage Invoice
Multi-Store Report
Transaction Log Report
Sales by Item Report
How Did You Hear About Us?
Tax Report
Total Revenue by Customer Report
Employee Payroll Report
My Commission Report
Commission Breakdown Report
Sales Summary Report
Register Sales Report
Employee Activity Report
Imp #668 – Redirection to Dashboard
Bringing in the convenience, we have improved the functionality that once you click on your current 'Store Name', it will redirect you to the 'Dashboard' rather than reloading the same page.
Repair Triggers (For US Customers Only)
With this latest improvement, following two triggers in the 'Repair' settings will now be visible to US customers only;
> Charge Tax on Replacement Part Cost Price
> Charge Tax on Replacement Part Retail Price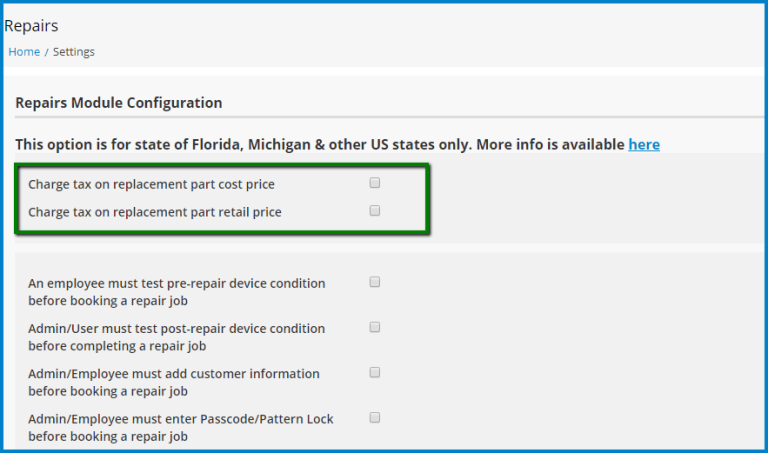 Employee Activity
Along with other activities of your team, you can now maintain, view and search all the employees' activities including inventory adjustment, estimates, campaigner, leads and other sections whose activities were not recorded previously.
Redirect on Update
An improvement in the flow has been implemented under 'View All Manufacturers & View All Devices' section that once you change any settings on either page no.2 or above, it'll redirect you on the same page with the updated settings.
Bug Fixes:
Bug #667 – A bug was reported in the edit ticket/invoice section that whenever customer group was selected against any customer, 'Sales Tax' was not updated. This issue has been fixed.
The design issue of the notification bar in the 'Store Settings' that showed up too small to click, has been fixed.
RepairDesk makes your life easier by helping you manage your work effortlessly and with just a few clicks. We have everything – from creating repair tickets to inventory management and more. Get a FREE trial of our all-in-one POS software for your cellphone repair store and see it for yourself!
Sign Up for a 14-day FREE Trial!