RepairDesk is back with its software update schedule once again! We apologize for being a few days late this time around, but we've made sure that our latest web release is totally worth waiting for! Our team has made a couple of improvements in different sections and has resolved a handful of bug-fixes. Here's what you've got to look forward to with this release.
Improvements:
Imp #498 – In-Transit Report
Multiple improvements have been made related to the inventory transfer module;
Inventory transfer process has been improved and made easier.
Some design changes have been made in the in-transit report.
Imp #552 – Transfer Inventory record will now have an additional column of 'Total Cost'.
If the 'Transfer Order' is canceled in any case, you'll now have the option to keep it back into the inventory record or mark the items as 'faulty' and keep their log in the in-transit report.

To learn more about this improvement, refer to our knowledge-based articles on;
How to transfer stock from one store location to another? & In-Transit Inventory Report.
Trade-In Import
We have made a couple of improvements in the trade-in import method. When importing items in .xls or .xlsx format via 'Trade-In', it will now offer the inventory mapping process and matching columns confirmation for record validation.
Important: If you delete any item from the trade-in section in the POS module, those items will also be deleted from the trade-in report to avoid any inconsistency in the data.
Imp #614, 678 – RMA Details on Warranty Claim
With this improvement, you can now set RMA status and supplier name at the time of 'Warranty Claim'. Reducing the number of clicks, supplier, and status fields have been added in the pop-up when claiming an item's warranty.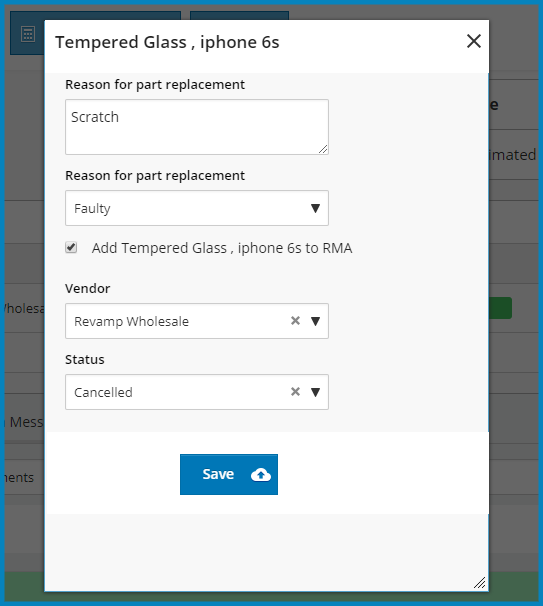 Imp #648 – Start Shift Mandatory
A new trigger named as 'Mandatory to start shift' has been introduced under 'Cash Register Settings' to keep accurate records of all the cash inflows and outflows. If this trigger is enabled, the employees must start their shift to perform any payment transaction successfully.
View Ticket Status with Invoices
We have worked on the user-suggested improvement and made 'Ticket Status' available on the invoice listing page. A search filter named as 'Ticket Status' has been added in the 'Manage Invoices' section, that will fetch the invoices records based on the selected ticket status.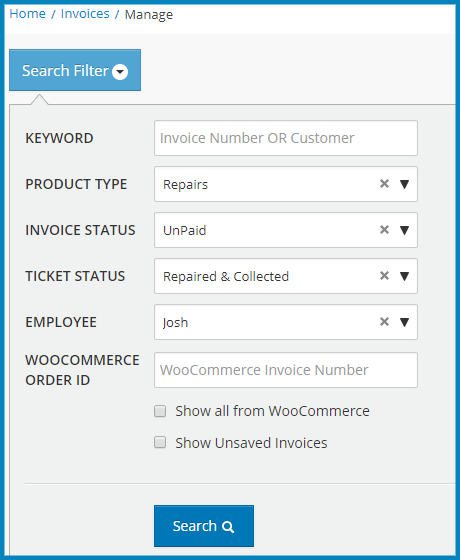 Imp #697 – Employee Activity Log
We have added an option to select multiple stores at a time in the 'Employee Activity Log' report, to let you view the activity records of other store's employees altogether in a single click.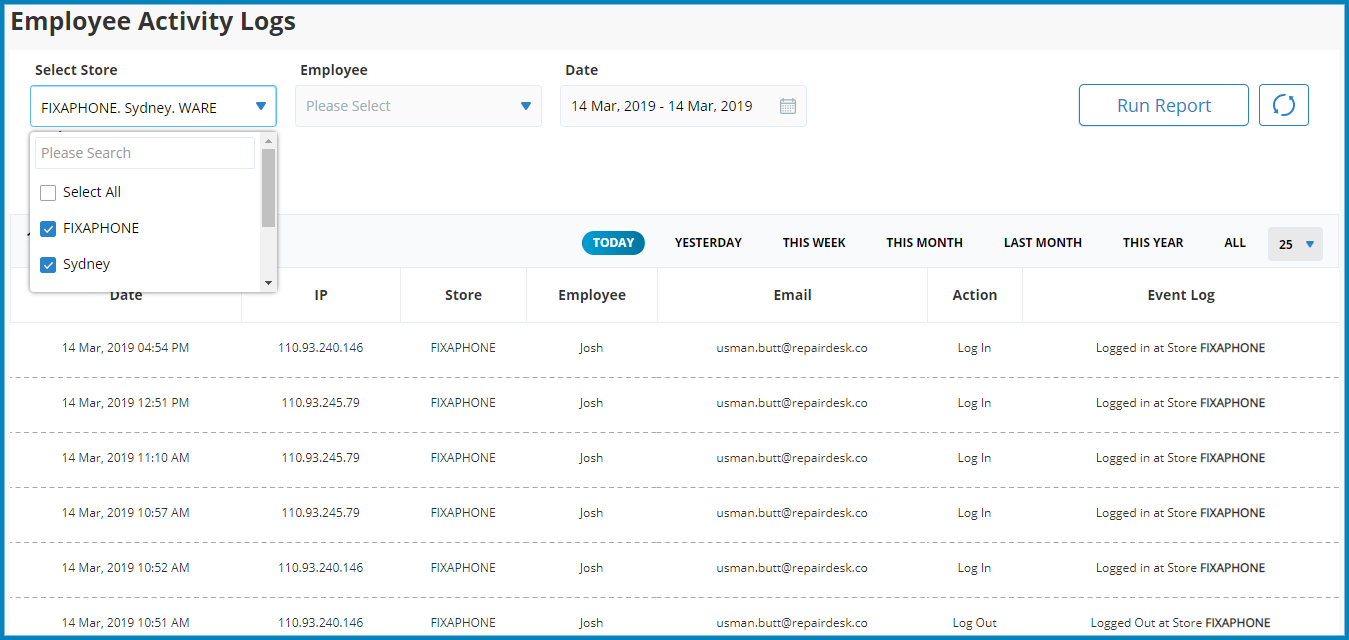 Bug-Fixes:
Bug #708 – With this bug-fix, 'method' filter in Register Sales report, that wasn't fetching the correct details, is now working perfectly fine.
Bug #707 – A bug was reported that whenever a ticket was transferred back from another store, it removed the ticket assignee from its details. This issue has been fixed.
The franchise fee option has been removed from the user accounts owning a single store location.
Bug #636 – An issue was reported that the admin action history was not tracked anywhere. This problem has been fixed.
A stated bug has been removed that the item's UPC code was not being searched using the SKU code field from the 'Manage Inventory' section.
A bug in the system was not allowing inventory adjustments in case of serialized inventory. This bug has been smashed.
An issue was stated that the tickets created from the 'Customer Portal' were not displayed in the user account, this problem doesn't exist anymore.
RepairDesk makes your life easier by helping you manage your work effortlessly and with just a few clicks. We have everything – from creating repair tickets to inventory management and more. Get a FREE trial of our all-in-one POS software for your cellphone repair store and see it for yourself!