When you are running a repair store, selecting a good payment solution becomes your top priority. This is because there are many hidden charges involved with some payment merchants. Another issue that many repair store owners face is using multiple software and devices at the checkout counter. This not only wastes time but also becomes quite worrisome when it comes to refunds. Shifting from one billing device to another may also lead to money loss if you have a cashier harboring thieving intentions. It has been observed that some cashiers tell customers that they will charge a part of the bill through credit card and part of it through cash. In reality, they will charge the entire bill via credit card and take the cash for themselves. This practice not only causes monetary loss but also ruins the reputation of your repair store.
Understanding these pain points, we have developed the perfect solution for all such issues. Its RepairDesk Payments, an integrated payment system that streamlines operations, brings security and transparency to your payments and helps you improve customer service. Our integrated payment solution speeds up cash flow and uses less time to put more money into your account. Payments are automatically posted and logged with integrated credit card processing and there is very little chance of theft. Here are a few other benefits that you will be getting if you sign up for RepairDesk Payments.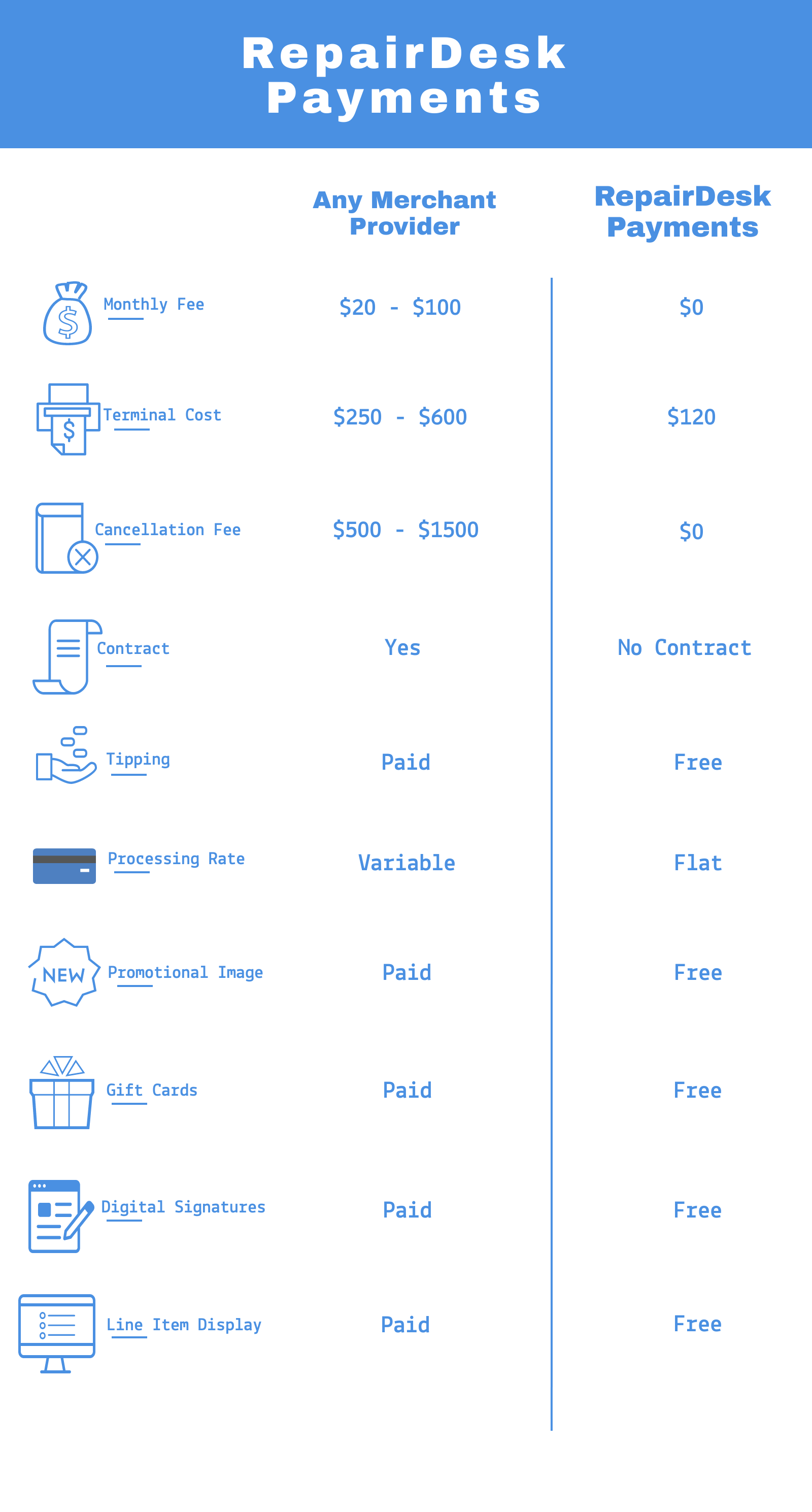 If you like RepairDesk you can fill out the Expression of Interest form below to become one of the first people to benefit from this offer.
[mailmunch-form id="853987″]
Enjoy using the world's 1st iPad POS solution for cellphone and computer repair shops & sign up for a free 14-day trial with RepairDesk now. RepairDesk is the ultimate cellphone and computer repair shop software that gives your repair store the right tools for any kind of job and is available for you right now.
Sign Up for a 14-day FREE Trial!