After months of waiting, Windows 11 is finally here. The new operating system from Microsoft has gotten everyone talking. Some are discussing its updated design, while others are commenting on its ease of use.
But how good is the new operating system from a repair standpoint? Moreover, what does this new version of Windows mean for computer repairs and computer repair shop software at large?
Let's discuss what Windows 11 is all about and how it affects the computer repair industry in general.
From the Ashes of Windows 10
Windows 11 is Microsoft's biggest major platform update since the launch of Windows 10 in 2015. To understand why it's taken so long for Windows 11 to come out – and how it was announced so suddenly – we need to talk about Windows 10.
Back in 2015, Windows 10 was released as the answer to a number of Microsoft's ambitions. It wished to fix past mistakes of Windows 8, the much-derided version that consumers were unhappy with. Additionally, Microsoft wanted to migrate everyone from Windows 7 and XP to a more updated platform, one where they could provide more updates (though not without issues) and gather more data.
The OS also sought to unify Microsoft's ecosystem with the then Windows Mobile and Xbox platforms. Microsoft believed that by shepherding developers to make apps using their Universal Windows Platform (UWP), they would be able to have a healthy ecosystem that ran on your computer, phone, and game console. So you could have, say, a computer repair shop software that works for your phone or Xbox as well.
Sadly, that vast ecosystem dream never materialized. Xbox fans didn't care about having apps on their consoles, and the Windows Phone platform slowly died out due to disinterest from both consumers and Microsoft itself.
This left Windows 10 to change up and focus on the home and enterprise PC market where it was comfortable. But to continue serving those markets, Windows needed to ditch what didn't work and adopt fresh ideas. Thus, Windows 11 was born.
A Window of Opportunity
As the new version of Windows to hit systems, Windows 11 brings with it a number of changes. The revamped user interface is one of the first things that users will notice. Windows 11 brings more rounded corners, more transparent windows, smoother animations, and a lot more to the table.
The most notable change is to the Taskbar. It now has everything in the center, including a redesigned Start Menu. The aim here was to make using Windows more intuitive and streamlined, which it does for the most part.
Other changes of note are new icons, context menus, redesigned notification and system tray areas, a new Widgets panel, and new Snap options, to name a few.
All of these give Windows 11 a clean and polished look that fits in with modern design aesthetics. This helps them capitalize on modern trends and align their software experience with that of the recent macOS versions starting with Big Sur.
What About Performance?
While the surface-level changes are appealing, what matters most to customers (and computer repair shop software users) is the performance. Here, there are certain changes made, for better or worse.
According to Microsoft, Windows 11 will be faster than Windows 10 when it comes to prioritizing tasks and processes. The company is aiming to leverage new technologies such as DirectStorage to speed up tasks and manage memory better.
However, in a performance test done by Techspot, there wasn't much change seen in Windows 11 compared to its predecessor. This puts into doubt Microsoft's claims, making people question how they are making these performance assumptions.
Additionally, many outlets reported that, in particular, gaming would take a performance hit thanks to the new Virtualization-Based Security (VBS). VBS basically means a combination of hardware and software will keep your system safe by sandboxing applications. This comes with a performance overhead since this sandbox will require extra memory and processor threads to manage itself.
And finally, Windows 11 falls into the trappings of any newly-released software with bugs and a lack of polish. The software may look great, but certain applications and system features might not perform as intended. Microsoft has certainly been taking its time with Windows 11, but it also feels rushed out the door at times. Bad news for computer repair shop software.
The Overwhelming Requirements
Perhaps the most contentious part of Windows 11 is the barrier to entry. Microsoft has made public the operating system's hardware requirements and they seem to be pretty terrible.
It seems that Microsoft really limited which computers could upgrade to their new operating system. Windows 11 has some stringent requirements in terms of processor, motherboard, and connectivity. The image below has the full details.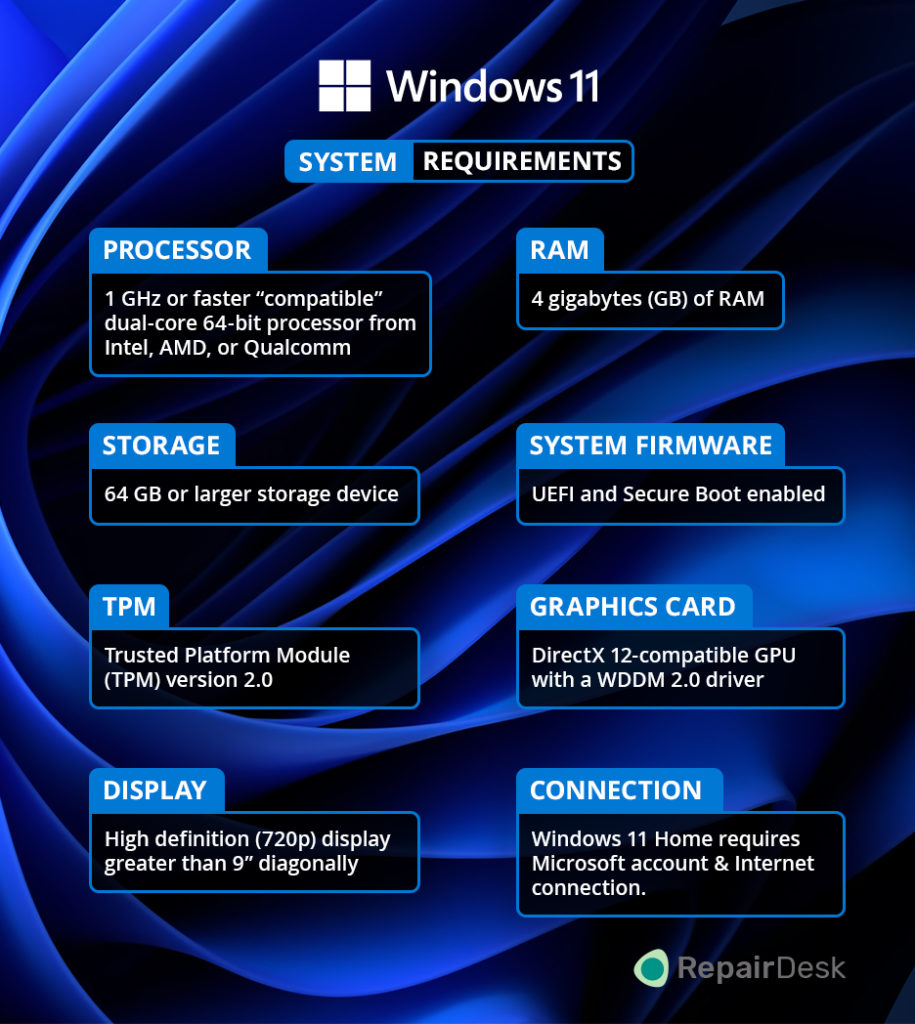 Processor requirements
Now, with this information, we can see that some requirements aren't very appealing. Starting off with the processor, Windows has curated a list of "compatible" processors. with their system. These include 64-bit processors only with speeds of at least 1GHz from Intel, AMD, or Qualcomm. This limits the pool of devices getting Windows 11 to just some of the systems to come out in the past 3-4 years.
Secure Boot
The next troublesome requirement is that of the system firmware, namely the UEFI and Secure Boot standards. The Unified Extensible Firmware Interface (UEFI) is a standard for motherboards that is commonly adopted these days. However, where the issue lies is Secure Boot, a technology that makes it more difficult for unapproved software to run on your system. Secure Boot needs to be on to run Windows 11 (in most cases) and is a requirement.
TPM 2.0
Next, there's the Trusted Platform Module (TPM) chip which protects your computer by way of encryption keys. TPM makes it tougher for malware and intruders to hijack your system. The problem here is that many machines prior to 2014 used the older TPM 1.2 standard, and Windows 11 requires the new TPM 2.0 to work. This makes it tougher for all but the more recent systems to install the OS.
Internet connectivity
Finally, Windows 11 Home requires a Microsoft account and an internet connection to activate. The OS will not be able to run with a local account unless you've got Windows 11 Pro. This is a problem for users who do not have an internet connection on hand or who don't want to provide Microsoft with telemetry data. It's also a problem for repair shops since they sometimes need to do a fresh install of Windows after working on it with their computer repair shop software. When that happens, they will need to log into a Microsoft account to proceed, causing privacy concerns and data issues.
What this means for computer repair shops
The switch to Windows 11 is going to be very enticing for some users, while others will be upgraded automatically. When that happens, many people are going to run into issues that are native to the OS. That's something a repair shop can't really fix.
The way this becomes even more difficult for computer repair shop owners is with the performance troubles, the annoying hardware requirements by Microsoft, and the capability to run programs on the system. Most computer repair shop software might not work properly on the new Windows platform due to bugs or other issues. And as we've stated earlier, connecting a store's Microsoft account brings in privacy issues, as does having a customer connect theirs.
And to top it all off, while there is a way for users to install Windows 11 without meeting system requirements, Microsoft has reserved the right to provide security updates to such users. This means that at any given time, you won't get security patches to your system and would be left vulnerable to the security issues Microsoft allegedly cares about.
Computer repair shops really are in a pinch when it comes to Windows 11. It's the most popular OS in the world and people are eager to get their hands on the new version. But a buggy and unruly platform can cripple their experience and make it more difficult for repair technicians to work with.