If you run a repair business anywhere in the world, chances are that you're refining your 2023 strategy to address business challenges these days. This can be a tedious task, but we're here to help!
Until yesterday, mobile devices and computers were a part of our lives. But now, they define our lives. At this point in time when 86.41% of the world's population is using smartphones, faulty charging ports and broken screens are inevitable.
Meanwhile, tech giants like Google, Apple, and Samsung are considering self-repairability options for their products.
So, where do we go from here?
If the idea is to upgrade your repair business system and keep 'moving with the times', let's start with an all-in-one invoicing and billing software as the first big upgrade. Why? Because your business needs to have a streamlined inventory management system that eliminates the hassle of manual data analytics.
Apart from managing piled-up repair orders, the coming years will require repair businesses to develop their online presence, innovate, and make necessary tweaks to cope with increasing customer expectations.
Here, we take a look at 7 of the biggest repair business challenges in 2023.
Establishing an Online Presence
First things first, repair businesses will have to work on establishing their online footprint. In a digital era, people who need their smartphones repaired will be relying heavily on the online presence of repair shops. This online visibility will be a business challenge you want to address from the onset.
Aside from developing an immersive website and throwing in engaging content on a regular basis, there should be an equal focus on promotions. What's the point of having an online presence that no one knows about? Social media platforms like Facebook, YouTube, and even TikTok are your channel to reach a bigger audience.
Taking Google into perspective, repair shops, like any other business, must stay updated with new guidelines and updates in algorithms. Not all marketing departments realize this, but these algorithms play the biggest roles in making or breaking a business. Simply put, SEO practices and redundant content worked until a few months ago, but not anymore.
A Battle of Tech Expertise
Leveraging technology to scale a repair business is not limited to investing in the best point of sales systems available in the market. The prevalent 'job hopping' trend has got a number of cell phone repair shop owners scratching their heads about the tech expertise they have at their disposal.
The market is saturated both in terms of job opportunities and the number of repair shops available for customers to choose from. While hiring a few extra technicians is a way to address this challenge, another great alternative would be educating and empowering your existing employees.
Ideally, watch and jewelry repair businesses should strike a balance by hiring the right number of highly-skilled professionals, along with some junior technicians. Simultaneously, it is imperative to upskill and re-skill your existing workforce. The resultant increase in productivity and accuracy is a sure shot at business growth.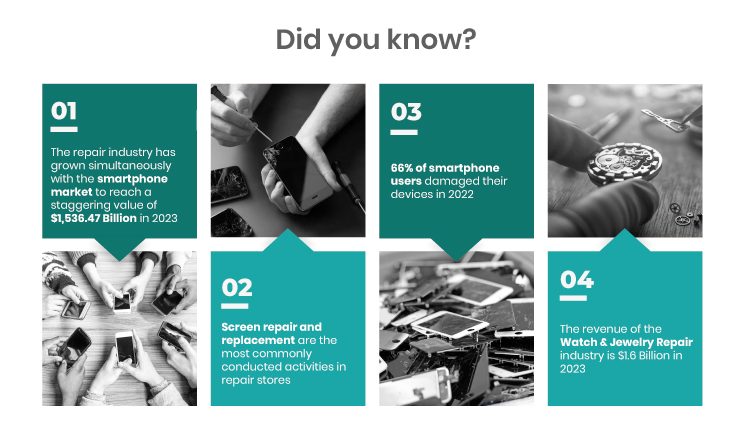 Self-Repairability
Samsung is adding more of its flagships to the list of smartphones with self-repair capability. And it's a similar story at Apple Inc. Repair businesses that offer basic services like OEM parts and screen replacement need to rethink their strategies.
In the coming years, repair businesses will have to extend their services to include highly-specialized fixes that are not covered by self-repair programs.
Becoming the most reliable cell phone repair service provider in your area will now take more than just tech expertise. Your inventory must be updated with spare parts for the latest smartphones in the market. Any instance of not being able to find compatible parts for a particular device can result in a lost customer.
Repair businesses of tomorrow must adopt seamless processes for ordering and acquisition of replacement parts through an optimum inventory management system.
Quality Control
Quality control is probably the most important aspect to consider when talking about the repair industry. It's a business challenge in the sense that there are multiple areas to consider, like timelines, warranties, and communication with clients.
Just like the other areas being discussed in this blog, there is a very narrow margin of error in repair businesses when it comes to quality control. Customers take mere seconds to look for another repair shop the moment they encounter the smallest of quality compromises.
Repair shops must ensure that they honor product warranties, and avoid taking advantage of customers who are unaware of existing warranties. Also, in cases where the warranties cannot be honored, the repair business must explain its reasons to the customer.
Exceeding Customer Expectations
Does your repair business answer customers' calls, texts, or emails? Do your technicians listen to what customers need and try to come up with solutions to solve their problems?
Here's another repair business challenge to address in 2023.
Customer behaviors are evolving by the day and one thing that is for sure is that they choose vendors who offer clear and consistent communication on top of repair services.
That settled, let's move on to the next thing customers prioritize – time.
Customers don't have time, and they don't want to wait for their gadgets to be repaired. They consider their smartphones to be indispensable items, so they do not want to risk leaving them, and the personal data inside them, at a repair store for too long.
Economic Crisis and Inflation
Looking at the current situation, anyone can predict that inflation and recession are here to stay. The repair industry will face the same reality and will have to find ways to grow while the economy shrinks.
With the economy's stagnation, both consumers and competitors are becoming more cautious with their expenditures. This is bound to reduce orders and slow down growth. Repair businesses will have to address the economic crises by implementing end-to-end cost controls to cut down the overall spending in every business unit.
Supply Chain Hurdles
Let's see what are we looking at:
The increase in prices of commodities,
The rise in freight charges due to the Russia-Ukraine conflict,
Supply chain problems for the repair industry due to the US-China sanctions
Spare parts and original replacement products are now more costly and tough to acquire than ever before.
This is where cell phone repair businesses incorporate best-in-class inventory management systems to prevent over-ordering items to compensate for backlogs. Instead, the focus should be shifted to long-term strategies and altering business requirements to prevent shortages.
RepairDesk offers a powerful, all-in-one inventory management and point of sale system to assist repair shops of all sizes to scale globally. Get in control of your repair orders and improve customer services to stay ahead of your competition in 2023.