As always, our team's core focus is to deliver a seamless  experience for our users. We have been busy working on product improvements over the past month and wanted to share a few highlights.
– Brand New Service Receipt Template: When you create a work order, do you want to use perforated paper to give customer one copy and keep the other?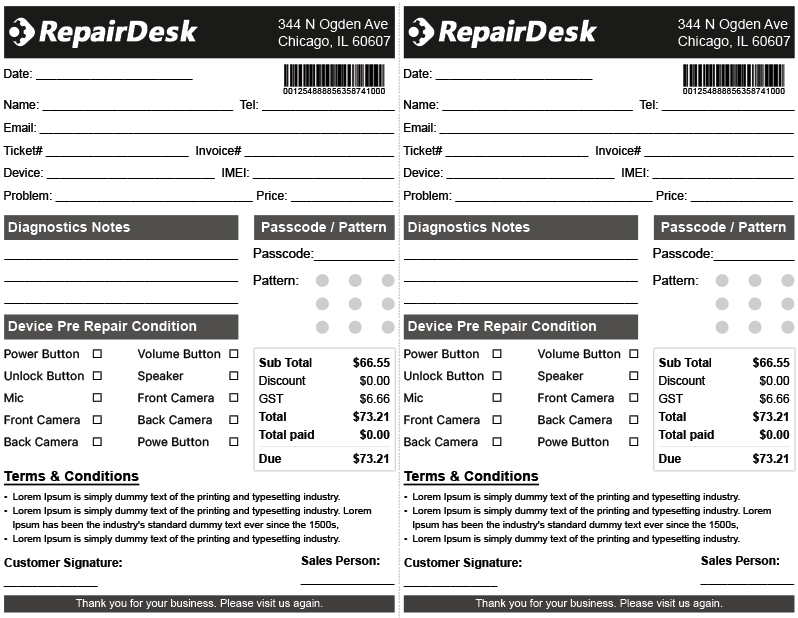 Now, you can! The brand new template lets you print a service receipt on a perforated paper which would basically shrink the work order information to half the page and make an exact copy next to it.
That means when you're invoicing your customer, you can make sure it reflects your business just the way you want it to. More information on how to use the new template is available here.
– Export Repair Tickets In Excel: Now export work order complete information in excel format to track and maintain record of your repair tickets.
That's not all, we have also added a "created by" field so you can import this information to your favorite BI platform to run analytics or perhaps use it to calculate commission.
– Search inventory via IMEI / Serial: On inventory listing section, we have recently added a new search field that makes it easier to search an item on the basis of IMEI or device serial no.
– How Did You Hear About Us: On point of sale while adding customer details now you can also specify how customer learned about your mastery.
– Improvements In Billing Cycle: We've revamped our Billing Section to give you more control over your billing. Now you can view Card information on file or update credit card information.
Coming Soon!
Trade In Module:
Good news for those of you who deal in selling refurbished phones, tablets or even computers. In the coming weeks we are rolling out fully loaded improved "Trade In Module". We've completely overhauled and fine-tuned this module which will allow you to purchase multiple trade-in items, track refurbishment cost and transfer trade-in units between store locations easier then ever before. So keep your fingers crossed.
MailChimp Integration:
Keeping up with customers is more difficult than 'Keeping Up with Kardashians'. That's why we are rolling out our integration which MailChimp. This will allow you to automate your marketing, design drip campaigns and newsletters to retain and acquire customers. So keep your fishing hooks ready!
We're now heading back to work on other important RepairDesk features, but leave us a note with any feedback or questions.