We all know that customers love those services which are provided in less time and without any delays. If a customer walks in your shop with a broken iPhone and you couldn't process the ticket/invoice due to slower POS software then you have already lost the customer as he won't be coming back again.
With the faster technology, the solutions have become swift too. To address the problem mentioned above, RepairDesk has launched the very first iPad app for cell phone repair shops which is a joy to use for managing your repair business.
RepairDesk iPad – POS Register is the best cash register and point of sale app for your cell phone repair shop. It works seamlessly while creating tickets, accepting payments and more. We know that being faster is the way to go and our iPad app is the perfect solution for that.
Our iPad app is absolutely FREE if you are subscribed to one of our pricing plans. If you still haven't subscribed, get in touch with us and we will walk you through the process. You can also register for 14 day FREE trial without providing any credit card information.
Here's what RepairDesk iPad – POS Register offers to cell phone repair shops.
Easier & Faster Repair Booking and Checkout Process
From creating a Repair Ticket to selecting Repair Category, from adding Product Details to selecting Pre-Repair Conditions, from opting out the Problem to selecting Parts, you will be able to streamline repair booking process with few clicks.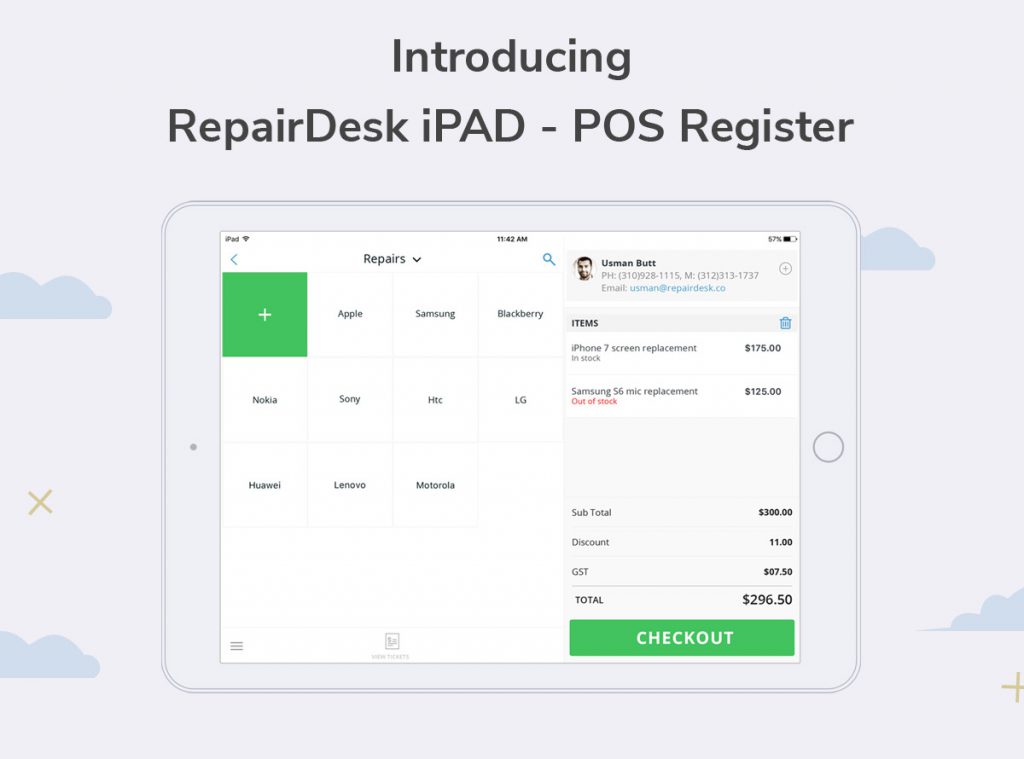 In-take Customer Signatures
The app is specially designed for those who don't want to stand behind the desk & want to sell inventory items or create a work order, add notes, in-take signature & attach customer details to orders while roaming in store.
Stripe and Square Payment Integrations
The dream of any repair business owner is to have a seamless POS solution which does not only manage the whole process but can be used to accept payment too. And what can be a better solution than an iPad app with payment integration? With Stripe and Square Payment Integration, the iPad app will become your own payment processor. You will be able to create invoice and accept cash, debit/credit card or any other payment type by integrating Stripe or Square with RepairDesk.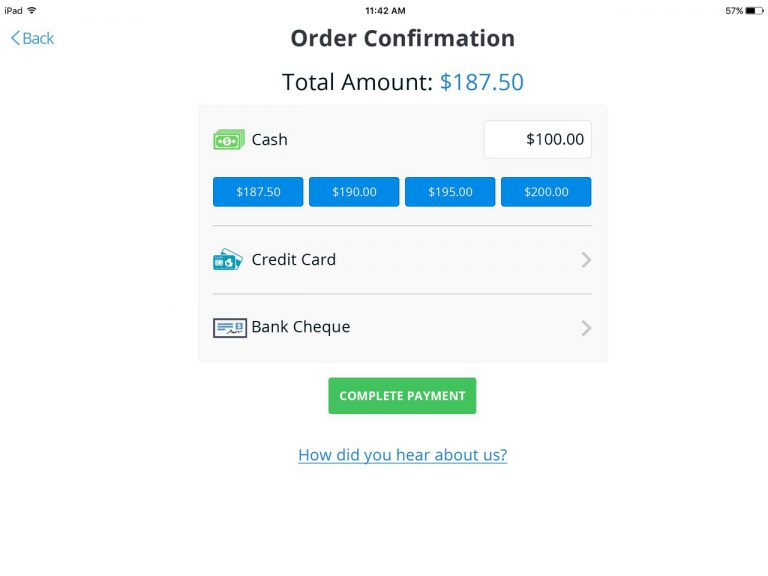 Robust Employee Tracking
Your employees can clock in/out of RepairDesk iPad app which helps you in employee time tracking, increasing efficiency and calculating payroll.
Manage Employees' Shifts and Registers
Now your employees can clock in/out of RepairDesk iPad app which helps you in employee time tracking, increasing efficiency and calculating payroll. Now your employees can start or end shift directly from the iPad app. It will allow you to maintain the transaction log with reference to the cash registers. Learn how you can start/end shift in iPad App.
Sell Trade-in Items
Within our gorgeous iPad app, you will be able to search any item w.r.t to its ID or scan it with barcode. Sell accessories, parts, mobiles and trade-ins with quick search and view items in different tabs on POS.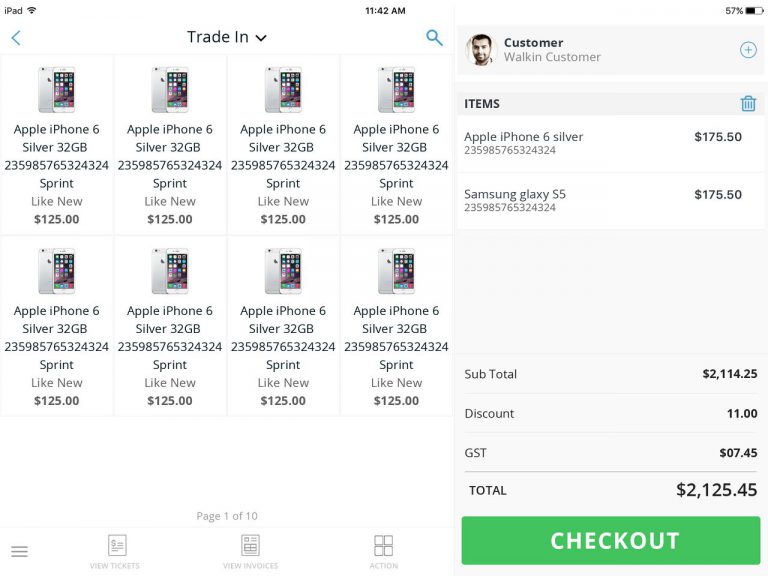 Work Offline and Sync Everything Automatically
Having a bad internet connection? Server down? No worries! RepairDesk iPad – POS Registers works in offline mode too. Once your internet connection is stable again, you can sync everything with automatic or manual syncing. You can create tickets and invoices in offline mode and sync your data when connected with internet. Isn't it the best feature you will ever have?
Upcoming Features:
Estimates
PayPal Deep Integration
To get started, check out our Knowledge Base Articles for step-by-step instructions on how to use RepairDesk iPad App.
If you have tried RepairDesk before, and it didn't work out for you; it's almost a different product now. Signup for a free 14 day trial now.
We would love to hear your feedback about our work with RepairDesk iPad App. If you have any questions or issues, feel free to contact us because your opinion matters to us.