Team RepairDesk is here once again with another round of user-suggested improvements. We're continually improving the features of our web app and want to keep you up to date with all the changes we're making. Here's a list of all the improvements that we've made to RepairDesk this week.
Improvements

 
Take Online Payments via Appointment Booking
If you're using our RepairDesk Payments integration, store owners in the United States can get payments online by adding the button 'Pay and Book Appointment' in their Appointment Booking widget.
When going into the integration details page, you'll see a new tab named 'Accept Payments' from where you can tweak the settings of this new feature.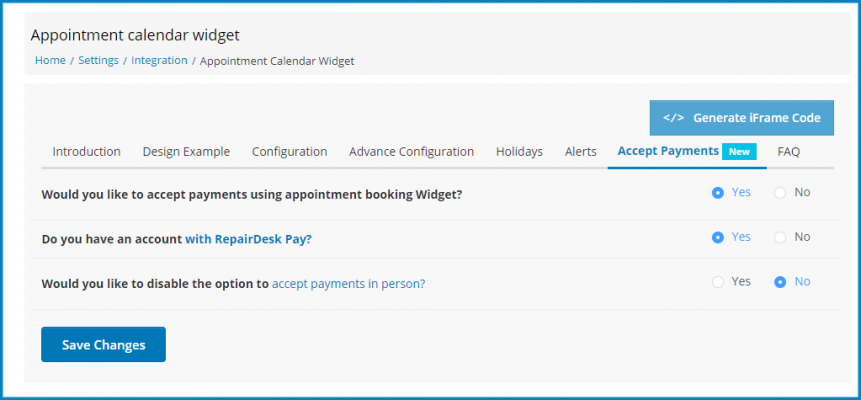 Here's what your customer will see when booking any repair job from your website;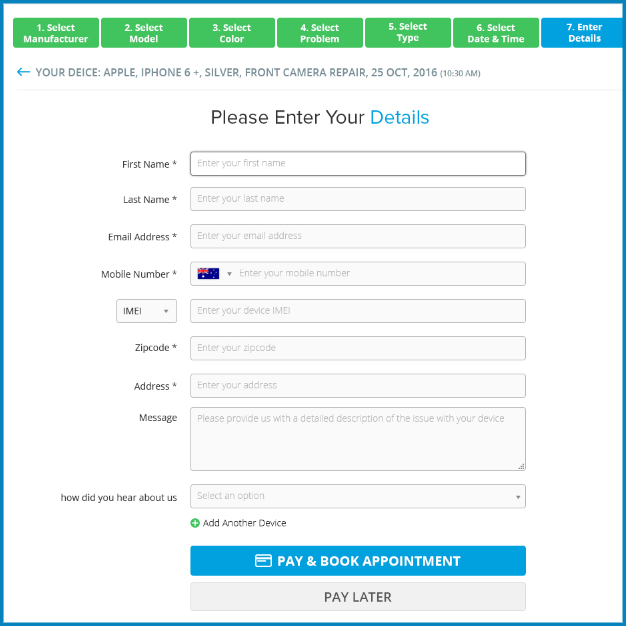 **This feature is currently available for US merchants only.
For this functionality, a set of new, beautifully designed emails have been added. These emails will be sent to your customers based on the service type they select while booking a repair job. After completing the payment, a lead will be generated, an in-app notification will appear, and the employee will immediately receive an email for the payment just made. Payment history and all details will also be recorded in the system. To know more about how to setup Appointment Calendar, read our knowledge-base article on the RepairDesk Appointments Booking Widget.
Import/Export Manufacturers & Devices
Another value-added improvement has been introduced in the RepairDesk web app that allows you to Import/Export the Manufacturers or Devices list from your account. Upload a list of products in no time, and with a single click, you'll have all the details in your system. Learn more in our knowledge-base article here.
Gift Cards (Enterprise Version)
With the latest improvements in the Gift Cards module, you'll see the following changes;
IMP #1040

 – Our customers can now create multiple gift cards with the same value, or if you have gift cards present physically, you can scan them and add in inventory.

IMP #1034

 – Users can now add a recipient for whom the Gift Card was purchased. Add the details and notify the person via email about their Gift Card available at your store.

Collect customers' signatures for record-keeping and confirmation when someone comes to collect his/her Gift Card.

Customers cannot create a ticket for the Gift Cards alone or with any repair job added.

Employees at repair stores can now customize and print Gift Cards labels as well.

Thermal receipts printed for the Gift Cards will now have respective Gift Card serials on them.
 Learn more about How to Use Gift Cards in RepairDesk?
Search Items via Physical Location
Products and repair parts added into the inventory can now be searched by their physical location. It'll enable employees to locate which item is placed at what location.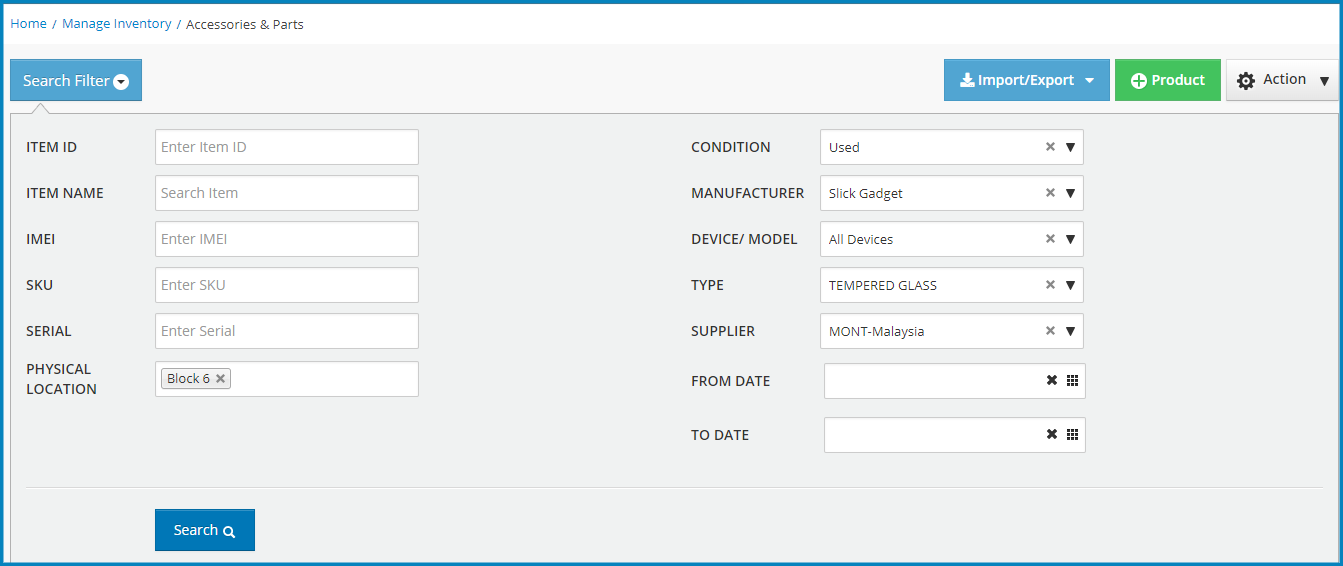 Inventory Label
An improvement was made to avoid confusion on the Trade-In labels. Use the dedicated tag with the name 'Purchased Date' to show the device's purchased to date and use the 'Additional Info' tag to display other information related to the device.
To reduce scrolling and to save time, you'll now have the SAVE button above the serials list of any item. It'll save you from the hassle of scrolling down multiple pages when you have just updated the price of the item.

Change Inventory Valuation Method
Based on the product category, repair store owners can now set and change valuation methods for each category. By default, the valuation method will be the Weighted Average Cost.
Bug-Fixes: 
It's important to us that we deliver a solid experience to you and that you're aware of how that experience evolves over time. Let's take a look at some bug-fixes from the past two weeks.
An issue has been resolved as stated by the customer that, SMS notification was continued to stay in the queue and were not delivered against some events.

We've fixed the issue where the Supplier filter in the Purchase Order section was not working properly.

A new macro/tag is added on the receipt with the name 'Change Due' to inform both shopkeeper and the customer that their change is due for the service they availed.
That's all for now! Stay tuned and join RepairDesk for managing your online store sales and building a safe business from home.
Sign Up for a 14-day FREE Trial!