RepairDesk has launched a brand-new mobile app for cellphone and computer repair shops. The repair shop management software has added a host of new features and services to its Mobile app for both iOS and Andriod.
The new RepairDesk Mobile app includes many of the base features found in both its web app and its iPad POS Register app, also available on Apple devices. The new feature set includes the following modules:
Create/update repair ticket
RepairDesk users can use the Mobile app to create repair tickets on run-time, and update them as required. All the major functionality that is present in the iPad app, is now also available on the Mobile App.
Add notes & upload pre-/post-repair attachments
When creating or updating tickets, users can add additional diagnostic notes and upload attachments to them. These attachments usually range from images of the device to special documents related to it. Users can also take pictures directly from within the app, or use the Gallery to select the images they wish to upload.
Collect signatures before or after a repair is completed
Using the Mobile app, users can have customers sign off on repairs before or after they have been completed. The signatures can be collected just like on the Customer Facing Display using an Apple Pen or any other capacitive stylus that is compatible with Apple and Android devices. This makes it a whole lot more convenient for repair shop owners to have authorization for every repair, not to mention being able to review it any time through the Mobile App.
Create/update invoice
Just like creating or updating a ticket, the new RepairDesk Mobile app allows users to create or update an invoice. These invoices are generated when a repair is complete and payment is due. Using the RepairDesk app, repair shop owners can create and email invoices to customers, who can then pay for their repairs without any hassle.
Add payments for repairs
The Mobile app also allows users to add payment methods for each repair that they work on. Currently, the payment methods supported are cash payments, or any payment method that has been created on the web app. When you add a payment method, you'll be able to see a list of available payment methods, which you can select and apply to your current repair.
Pull up reports
You don't have to log in to your RepairDesk account on a computer to check daily or weekly performance of your business, anymore. The RepairDesk Mobile App has got all the reports for you to get updated about your inventory, sales, taxes, employee, customer, and everything else.
Employee clock-in and clock-out
Employee management has never been this fun. Your employees can log in to their employee accounts and mark their attendance from their phones and you can view the employee reports from yours. Yup, the employee clock-in and clock-out feature has made the RepairDesk app even more awesome.
The RepairDesk Mobile App is available for both iOS and Android devices on the Apple App Store and the Google Play Store, respectively. We hope that with this new mobile app, you'll find a whole host of convenient options for your repair store management.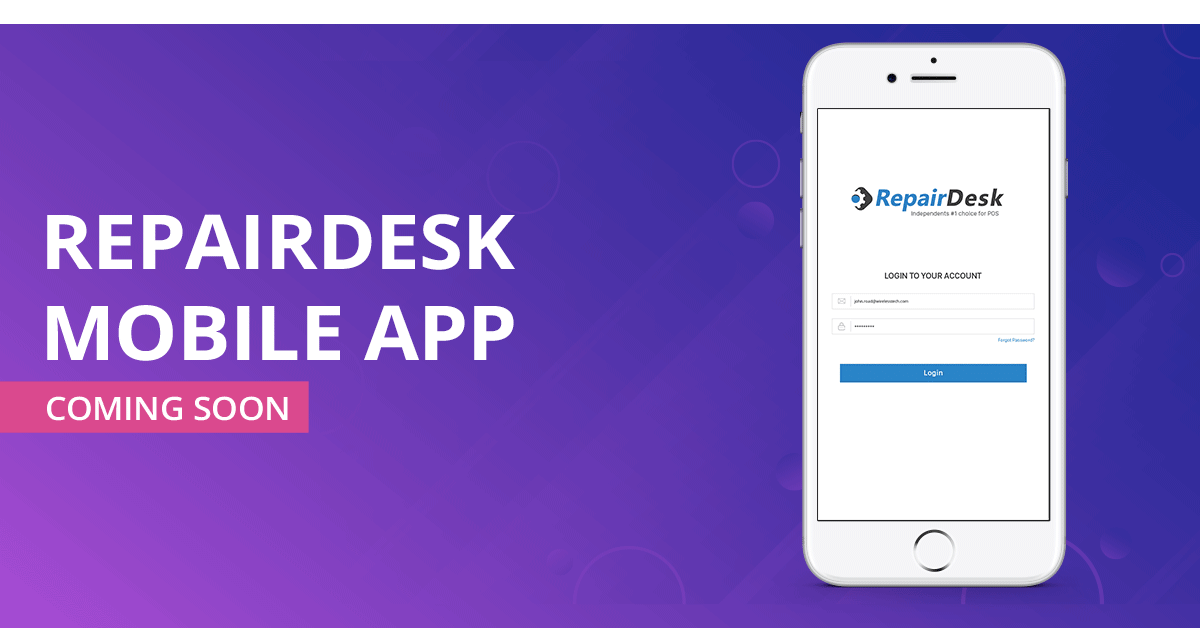 If you're still on the lookout for a repair shop management software that takes care of it all, we recommend going with RepairDesk, the world's #1 repair shop POS software for independents. We take care of all your day-to-day repair store activities, from creating tickets and invoices, to managing your inventory, to keeping track of your employees, to generating reports, and so much more! Take care of your marketing efforts automatically and integrate with over 40 different services using RepairDesk. Sign up for our FREE 14-day trial, and make your life a whole lot easier with RepairDesk and its many offerings.